Sidekick staff picks up the pace in 5K planning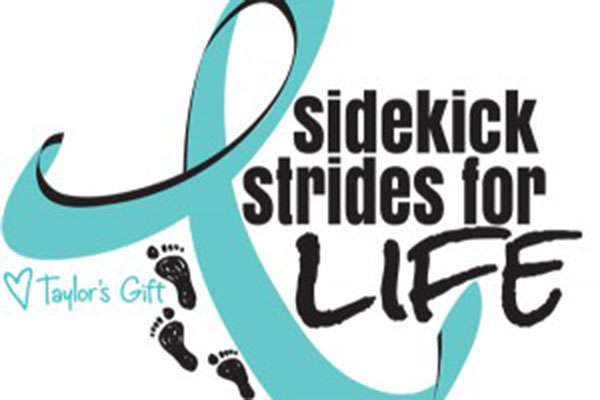 Editor's note:
Due to a lack of registered participants, Saturday's Sidekick Strides for Life 5K and Fun Run at Andy Brown Park East will be rescheduled for a date later in the school year.
Payments will be returned to all who have registered. The Sidekick apologizes for the inconvenience and appreciates your support and interest. We hope you can join us at the rescheduled date so please stay tuned to Coppell Student Media for any updates.
by Kristen Shepard
Staff Writer
In the years past, December in D115, the Sidekick's room, is abuzz with plans for the annual Sidekick Garage sale, but this year, the sale is being postponed until Spring as the Sidekick Strides for Life 5k takes ground. This year, The Sidekick will partner with the Taylor's Gift Foundation on Dec. 8 to sponsor a community 5K.
In her second year as The Sidekick's business manager, senior Addy Buigas-Lopez came up with the idea of a fun run based on the success of several of Coppell's other 5Ks.
"I'm familiar with and have participated in many 5ks around the area, and I know they are a fun way to turn a profit and raise funds," Buigas-Lopez said. "Each year, The Sidekick works to come up with a fundraiser and a community service activity, but the 5k will allow us to do both in one event."
On Dec. 8, Andy Brown Park East will be filled with runners, walkers and joggers of varying ages. Until then, registration is open at all CHS lunches and will open soon online. The cost is $35, and anyone can sign up to participate.
Profits from the registration fees will go to The Sidekick to help cover the cost of technology, printing and competitions for the staff. T-shirts are included with the $35 registration fee, with $10 going to Taylor's Gift.
Taylor's Gift was founded in 2010 striving to promote awareness and participation in organ donation. The organization is based in Coppell and was created in memory of Taylor Storch, an 8th grade student at Coppell Middle School East who died in a ski accident. When her parents, Todd and Tara Storch, made the decision to donate her organs, she was able to improve the lives of six people.
"Having opportunities to partner with local events is always great to bring attention to our mission," Taylor's Gift Founder and President Todd Storch said. "[My family] has lived in Coppell for nearly 20 years and this is a community that is built on compassion and service. Partnering with The Sidekick and the Coppell schools is always fantastic."
Through the proceeds from booths and T-shirt sales, Taylor's Gift will be able to add funds to its annual scholarship account and help provide financial assistance to those touched by organ donation.
For the 5K to succeed and raise as many funds as possible, The Sidekick will be looking for as many interested participants as possible.
"We think this will be a success because Coppell has a large population of active residents who we think would be eager to participate" Buigas-Lopez said. "The hardest part of planning up to this point is working with the City of Coppell to have the event insured, it's a lot of paperwork and little things you wouldn't think of."
The entire Sidekick staff is coming together to make the event a success. Some staff members are running in the event itself, while others will be working the registration table or passing out cups at water stops.
Staff members will be passing out forms and collecting registrations on stage at lunch throughout the school week up until the 5K date, which is less than two weeks away. For all participants under the age of 18, a parent or guardian signature is required.
In the two weeks leading up the Sidekick Strides for Life 5K, the Sidekick staff will be busy planning and preparing, though not without excitement and anticipation.
"This is a good fundraiser because it's different," editor-in-chief Michelle Pitcher said. "A lot of organizations have traditional fundraisers that they do every year, so there's a lot of room for new ideas. We're really excited to get out into the community and try to do some good."