New community services requirements keep dual credit students busy
By Luciana Mendes
Staff Writer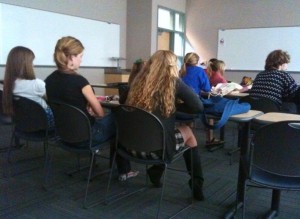 Signing up for dual credit, most seniors did not realize the workload that came along with a more flexible schedule, and many Government 2301 students have embarked on a project that takes many hours of outside class work to complete.
"I have been using service learning as an ancillary part of my courses for about four years now," North Lake College Government professor Amy Smith said. "This year is the first year it became mandatory."
President Barack Obama and Vice President Joe Biden are setting a goal to ensure that all middle and high school students must complete 50 hours of community service a year. A new tax credit, worth $4,000 in exchange for 100 hours of public service a year, will be established.
"I'm not so sure about Obama's idea of service learning," senior Sarah Huffman said. "The students who need financial aid the most are the ones who will be working full-time. How are students expected to excel academically, hold a job, and now do all these hours of community service? There are only 24 hours in a day."
Obama and Biden hope to build national guidelines for service-learning, giving schools the ability to better develop programs for community action and get students directly involved and aware of the world they live in.
"I think the concept is good in theory," senior Shaelyn Macedonio said. "Through volunteering for an organization called Project Graduation at North Lake, I'm beginning see the importance of dedicating myself to serving my community. As teenagers, it is important for us to learn the value of this commitment early on in life."
Seniors enrolled in dual credit are required to complete 20 hours of service learning over the course of the semester. It is their responsibility to get in touch with one of the agencies which has been approved by their professor in order to get started. From there, they must attend orientation and schedule hours of volunteer work, which will be recorded on a time sheet. These hours are due to the North Lake Community College by Dec. 1 in order to receive credit.
"A lot of students have work after school around dual credit and it is very difficult to schedule in extra hours for service learning," Huffman said. "It would have been really helpful if someone warned us over the summer that we would be expected to undertake such a big project. That way, we would have more time rather than rushing last minute to get hours."
The Service Learning program is a chance for students to participate in organized service experiences that meet community needs, fusing education with direct community service.
"Service learning has great potential," Smith said. "It is my intention to see students, especially my dual credit students, see how others live and have them exposed to diversity. Unfortunately, most dual credit students view this project as a burden rather than a great opportunity to grow."
At the end of the semester, Government 2301 students are expected to present a proposal they have created for a plan of political action dealing with the branch which they volunteered in. The purpose of this project is to take class knowledge and apply it to real world situations.
"It has been very busy thus far, but I am excited to see how the experience shapes up when everything is all said and done," Macedonio said.