Storms stir up Coppell wildlife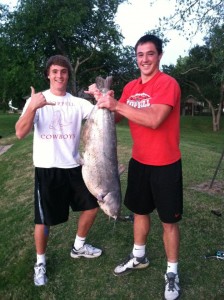 By Jordan Thompson
Staff Writer
For the first time in 11 years, Coppell students were ordered to duck and cover due to the threat of a tornado on April 3. The remarkable storms not only sank their teeth into a number of cars and sky lights, but they also injured and in some cases killed dozens of ducks and squirrels as well as sent house pets missing or to the pound.
"We had about six dogs show up here after the storm," Coppell animal control's administrative technician Nina Williams said. "The storms most likely blew open a few gates around town."
However, every dog that was reported to animal control was eventually reclaimed by the owner. It was animals that inhabit Coppell's parks such as ducks, squirrels and fish that had an alarming number of deaths.
"There were more ducks injured by the hail than any other animal we came across," senior animal services officer Charlene Trego said. "Naturally we could only help so many of them. That size hail can easily kill small animals."
Not only was the baseball-sized hail dangerous because of its size, but also due to quantity. Hail fell so thick that it caused a sudden water temperature drop that killed catfish, bass, bluegill and carp in many of Coppell's ponds. An alarming number of fish were spotted floating atop the duck pond, where juniors Tanner Masters and Josh Self found a dead catfish weighing in at 40 pounds.
"We would walk around the pond and there would be dead fish everywhere – probably about 50 dead fish total," Masters said. "Then we saw this huge catfish and brought it to shore. It weighed an easy 40 pounds which couldn't be easy to kill."
But the traumas against Mother Nature in Coppell were only slight in comparison then what occurred in Lancaster.
"Just a few days ago we learned that 48 house pets had to be transferred from Lancaster's local animal service office to the SPCA of Texas," Trego said.
The SPCA of Texas transferred 42 dogs and six cats from Lancaster Animal Services in order to allow staff to concentrate on housing pets affected by the storms and reuniting Lancaster residents with lost pets.
The storms reached every corner of North Texas in some way. While Coppell houses did not suffer nearly as much damage as many homes in Lancaster and Arlington, nearly every person knows someone with a destroyed windshield or roof. And while no pets in Coppell have been seriously injured, the community has been reminded of the power weather has over the tallest power line to the deepest part of a lake.