New Tech hit hard by strong hail storms
By Jay Carroll
Staff Writer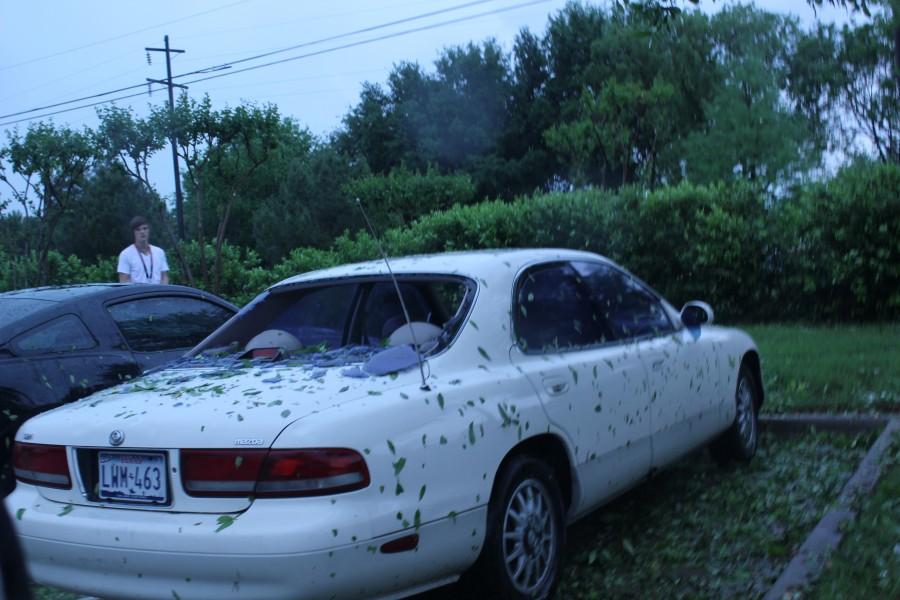 Violent, ominous storms bringing hail, gusty winds, drenching rains and multiple tornadoes rolled through North Texas on Wednesday and Coppell residents, students and teachers are left to deal with the aftermath of the storms.
At CHS around 1:30, students were made aware of a dangerous storm system moving through the area. Around 2:15 students were told to follow duck and cover procedures and get away from any windows as the heaviest part of the storm moved through Coppell.
While, luckily no one in Coppell was injured during the violent storms, the destruction it left behind was not something to smile about. Cars, houses and New Tech High School were severely affected by the large hail that came with the storm.
New Tech High School students and teachers walked out to find their cars with broken windshields, sunroofs, and rear-view mirrors and hail dents on their cars.
"One of my teachers cars was flooded and every window including the sunroof were shattered," New Tech sophomore Davis Haddock said.
Almost every car in the parking lot at New Tech was damaged severely.
"I drove my car home, but it is going to be totaled," New Tech junior Hannah Snowden said. "Many cars had busted sunroofs and their cars were flooded with leaves and glass in the seats."
While cars probably took the biggest impact from the golf and baseball sized hail falling from the skies. The roof at New Tech received a beating. Students say there was hail that went through the gym ceiling. The storms strong hail core also affected classrooms.
"Hail was coming through the gym ceiling and water was leaking everywhere," Snowden said, "It sounded like a train."
There was multiple roofing companies that arrived in Coppell shortly after the storm to fix damage to houses, or tarp was could not be fixed. The hail was so big that it even knocked a cross from the St. Ann Catholic Parish across the street from New Tech off of the roof. Streetlights were also damaged from the brute force of the violently rotating storm.
"The worst storm damage I saw was a [large] piece of hail landed on my friends back window and knocked it inside of his car," New Tech sophomore Dillon Braun said.