Students find expression, creativity through dance at CHS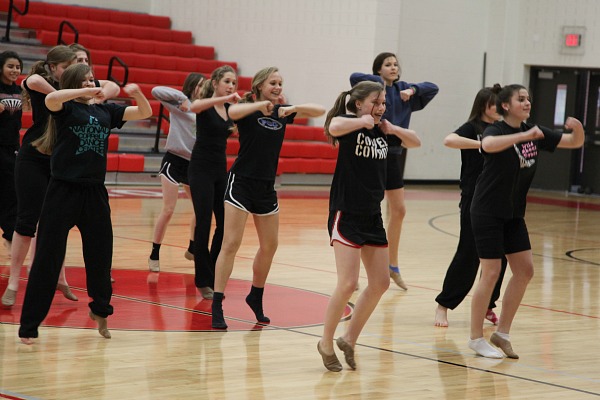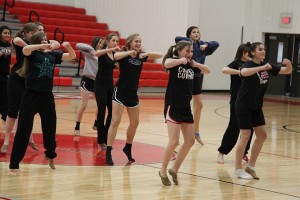 By Annie Wen
Staff Writer
The expression of dance is unlike any feeling in the world. It is movement that cannot be described with words. It is individual to the dancer. It is as unique as the person on the dance floor.
For some dancers, it starts at a young age. Senior Jenny Katlein has been dancing for 15 years now.
"My sister who is four years older than me was enrolled in dance by my mom," Katlein said. "I would go with my mom to watch my sister dance and I wanted to dance, so my mom enrolled me in dance."
Katlein dances for the Top Hat Dance Centre in Lewisville. At Top Hat, Katleino trains in ballet, pointe, jazz, contemporary and tap. She is a member of the Lariettes at Coppell High School.
"I can honestly say that joining Lariettes has had such a positive impact on my dancing and my love for dance," Katlein said. "Lariettes has given me the self-confidence I always lacked as a dancer. I feel like I get shot down for what I can do at my studio, but in Lariettes I feel like I am respected for my dance abilities, and as the humble person I strive to be, all I needed was some respect for what I can do as a dancer to gain confidence in myself."
Katlein plans to further her dance even further past high school and into college. She was accepted into the SMU Meadows School of the Arts.
"When I got accepted into the SMU Meadows School of the Arts, into the dance program, I just knew that that was where I was meant to be," Katlein said. "At a good university and in one of the top college dance programs. I want to become a nutritionist/dietician specifically for dancers because I have found that eating habits and exercise habits are a lot different for dancers compared to the average person, and I don't feel that dancers are aware of it."
For Katlein, dance is not just a physical activity. It is a release from stress and it provides her with the ability to showcase her talents in a way that is truly unique to her.
"I like to dance just like anyone likes to play soccer, baseball [and] tennis," Katlein said. "It's an artistic outlet that I have found I have a natural talent for, and I am truly the happiest person and feel like I am on top of the world when I dance. It's just such a feel-good hobby. Dance gives me an outlet from all of the stresses of school, family; just life and I love it."
While Katlein has love for the art of dance she recognizes that, as with all things in life, there are difficulties and struggles of it as well.
"I feel the pressure of having the ideal dancer's body constantly," Katlein said. "I am short so I especially feel the need to watch my weight by eating healthy and working out at the gym everyday on top of dancing every weekday morning and Monday-Thursday as well as all day Saturdays at Top Hat."
Another dancer at CHS, freshman Allison Conte, agrees with Katlein on the struggles of maintaining an "ideal dancer's body."
"I've definitely struggled with body image and I know many other girls that have too," Conte said. "I think it is because you have to look at yourself in mirrors constantly for hours a day, every day. It is also really intimidating seeing other girls at competition that look skinnier and more muscular than you are, and it really starts to get to you."
Conte is an officer of CHS's freshmen drill team, the Silver Stars. Outside of school she dances for the Coppell Dance Centre. Unlike Katlein, Conte did not start dancing when she was little; it was something she found later in her life.
"I have been dancing for five years," Conte said. "I tried almost every other sport and I did not like any of them and when I tried out dancing, I realized that's what I really wanted to do."
Conte trains in many styles as well: jazz, ballet, contemporary, lyrical and hip-hop. While she is not sure of what she wants to do with dance later in life she is sure that she will continue dancing all throughout her high school years.
"Dance has always been something I look forward to going to," Conte said. "I love going, especially after a bad day at school, because dancing is like a stress reliever. Dance is basically my whole life."
While many dancers do pursue formal training, other dancers find the desire and motivation in themselves to learn by themselves and to teach themselves. For junior Daniel Lian, his "teachers" were the people he watched on TV and on his computer screen.
"I started dancing my eighth grade year, " Lian said. "I saw a clip on YouTube of Michael Jackson's 25th anniversary Motown performance of Billy Jean. I threw on socks, and tired it on the living room floor. I failed, but it was not the last time I drew inspiration from someone."
Lian's love for dance was sparked after movies such as the Step Up series and shows such as "America's Best Dance Crew" were released.
"Dancing was just becoming more commercialized during that time," Lian said. "Seeing how easily the dancers moved made me want to learn how to do the same, and their performances served as a catalyst for something that became more than a hobby for me."
Lian is a member of CHS's Art In Rhythm or A.I.R. Crew. Recently, Lian and the members of the crew formed First Step Charity Organization, an organization that allows them to use their dance for a good cause.
"Since my friends and I formed First Step Charity Organization, I feel I have finally found a practical outlet for my dancing," Lian said. "We donate proceeds from dance events we host to causes such as Rise and Conquer foundation for children with Crohn's disease or Ulcerative Colitis."
While Lian has found a true passion for dance he recognizes the difficulties of being able to pursue it as a professional career.
"It definitely does not guarantee a stable salary," Lian said. "Anything concerning art involves a bit of risk, and usually, the reward compensates for it. It is always good to have other prospects for backup."
But all in all, Lian continues to take his dancing abilities as far as he can.
"I like dancing because I feel I can translate the music people hear to music they can see," Lian said. "It's exhilarating to see people do things a human body should not be able to do, and make it look awesome. It's also fun."
Some people find a calling in sports, in music, in art. However, for other people of the world, all of that combines into one and becomes dance.