Jordan selected for All-American team
By Mary Whitfill
Features Editor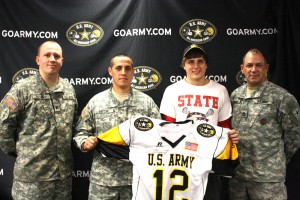 Nick Jordan, a 165-pound kicker for the Coppell High School varsity football team, has been selected to play in the 2012 U.S. Army All-American bowl. This elite group of 'All-American' players will be playing in a game at the Alamodome in San Antonio on January 7, 2012.
Fox Sports on MSN.com reported that John Meyers, Director of Strategic Communications, Marketing and Outreach, U.S. Army Accessions Command, said the following:
"Nick is a talented athlete whose leadership and teamwork qualities have made him a standout at Coppell High School. Only the strongest wear the Army colors, and Nick possesses similar mental, emotional and physical strengths to Army Strong Soldiers. We are proud to honor all of the U.S. Army All-American Bowl players and congratulate each of them on their selection."
Jordan is currently rated as the #12 kicker in the country and is committed to play for University of Texas at Austin in the fall.