Golf tournament held for the Taylor's Gift Foundation
By Caroline Carter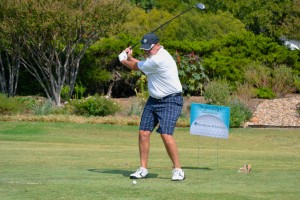 Staff Writer
As golfers and volunteers arrived on Friday for the second annual Taylor's Gift golf tournament at Brookhaven Country Club, a poster with all the recipients of Taylor Storch's organs reminded them why they are supporting such an important cause.
On March 15, 2010, thirteen-year-old Coppell resident Taylor Storch lost her life in a skiing accident while on vacation in Colorado. Her parents, Todd and Tara Storch made the choice to donate her organs as Taylor's final gift. The Taylor's Gift Foundation was then created to promote organ donation awareness.
Over the past year, the Taylor's Gift foundation has grown into a well-known organization across the country. From what started as a segment on WFAA, Taylor's Gift soon gained media attention from across the country reaching television programs such as "Good Morning America" and "The Ellen Degeneres Show."
"We hear from the official organ donor registrations in the states that when we do something that is on TV, the state registrations increase," Taylor's Gift founder and Taylor's father Todd Storch said. "The biggest impact would be when Tara [wife and Taylor's mother] went on Ellen. We got statistics back from about twenty different states showing how the very next day we spiked organ donation registry."
In one year Taylor's Gift has reached thousands of people across the country and reached almost 15,000 followers on Facebook. With the organization continuously growing, Taylor's Gift hosts and attends multiple events a month around the country.
"We have a number of different events that we annually do," Storch said. "The way our foundation is structured, we either do speaking engagements, corporate sponsorships, or fundraising opportunities. The golf tournament was definitely a major event for us… It raises money for the foundation, helps us sign people up to be organ donors, and raise awareness for the overall foundation."
In addition to golf, Friday's activities included a silent auction. Over 130 people participated.
"I really wanted to support Taylor's Gift," Coppell First Baptist Church youth minister Charley Hellmuth said. "The Storchs are friends of ours, and I could think of no better way to support them."
Tara Storch opened the shotgun tournament with the ceremonial first drive. The remainder of the day consisted of the players going around the course to play at different holes sponsored by various companies in the Dallas area.
Coppell parent Jason Runnels, a volunteer for the organization, participated in the golf tournament last year and was excited to do it again this year.
"It is a great event with a great cause, and I like to do anything I can to support the organization," Runnels said.
This is not the first time for Runnels to help out with the organization. At the Taylor's Gift Volleyball Tournament in late July, he, his wife, and two daughters volunteered at the event.
"We did check ins and several other things," Runnels said. "Just about everything they do we try and get involved in some way."
Though Runnels did not volunteer for the event, there were many other people helping out during the day. From filling gift bags to finding sponsors for the event, the volunteers were a key element of making the day a success such as Taylor's Gift event director, Linda Medina, who oversaw the planning of the day.
Medina was originally a volunteer for the organization during the very beginning stages of Taylor's Gift. But as the organization grew, she became the foundation's full time event director.
"My background is in event planning, and so I started talking to Todd letting him know that I would be willing to help," Medina said. "Then pretty soon one event lead to all the events. I believe that organ donation is the number one curable cause of death. If people knew and understood that they have to select to be one, but people don't know that they have to make a choice about it because they don't like to think about death."
For one golfer at the tournament, this was very much true when making the decision to donate his kidney to his best friend. Former Dallas Cowboys cornerback Everson Walls participated in the golf tournament. For him being an organ donor meant saving his best friend.
In December of 2006, Walls announced that he would donate a kidney to best friend and former Dallas Cowboys teammate, Ron Springs who had diabetes. The surgery was successfully completed in the spring of 2007. Walls then created the Ron Springs and Everson Walls Gift for Life Foundation, which is how Walls become connected with the organization.
"I know Todd very well, and we clicked when we first met," Walls said. "We are going to be doing a couple of things in the near future. They're a lot busier than our foundation, so I'm going to just try and help them out as much as possible."
On Friday night, the event came to a close with announcements of who won the auction items and prize drawings. Storch was very pleased with how the day unfolded.
"Overall the day was a success," Storch said. "When we heard golfers talking about it, they said that it was some of the most fun they have had at a golf tournament. And compared to last year we had more golfers play and raised more money for the foundation than last year."