Madison Ford
Staff Writer
As local elections roll around, Coppell gears up to elect the ideal group of representative to guide the city into the future. At Coppell High School, some students have closer ties to the election than most.
 For Mary, a CHS senior, and freshman Darcy Dungan, the upcoming elections signals their mother, Amy Dungan's run for Place 5 on the Coppell ISD School Board, and an opportunity for an even greater role in their academic careers.
Amy Dungan's run for Place 5 seems to have been a long time coming. Having been involved in her children's education since her son started in the Coppell High School system, Dungan has gradually become more involved in Coppell ISD schools. One of her most prominent roles being PTO president at virtually every level of the school system.
"My mom has pretty much, ever since I was in kindergarten and before because of my brother, been on PTO," Darcy Dungan said. "She has been the PTO president so many times and she's been so involved in everything in our school. She's very good with all kinds of school related stuff."
Her commitment to the Coppell ISD education system stems from her desire to provide students with a high quality education.
"I am very passionate about this district and the educational opportunities for all the students that are enrolled in Coppell ISD," Dungan said. "I think that we have an amazing opportunity to educate the students in this area. I want to be part of this system that is offering education to all the students enrolled in Coppell."
Dungan's extensive qualifications make her a competitive candidate as well.
"I have been on teacher planning committees, action committees, calendar committees," Dungan said. "My experience in this district is extensive, and so I feel like I am very, very familiar with all aspects of the administration. I feel like I am really qualified for the jobs."
Dungan's experience in the district is not limited to PTO president; she has been involved in numerous Coppell special programs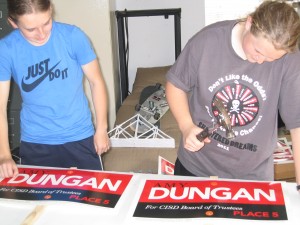 which has given her varied insight into the workings of the district.
"I have been involved in all aspects of the district; I've known kids that have been in the gifted program, the MTA program, all kinds of different programs in the district," Dungan said.
One of Dungan's many qualifying characteristics for this position is her ability to analyze issues and develop a decisive view on them before acting on them.
"She is one of the people who actually thinks about what she wants to say before she says it and she actually thinks before she put her vote in, and she wants to know every little detail before she does things," Mary said.
If elected, Dungan is planning on taking on the role head on.
"One of the things I'd like to do, if and when I win the election, is to become very familiar with the legislative representatives that we have in our area, because we are all in this together when it comes to budget financing from the state," Dungan said. "That's what it comes down to. It's making sure we have the dollars to be able to pay the teachers, so that we get the best quality teachers that will be able to stay here in Coppell and educate our children."
Another point of interest in Dungan's agenda is that of community involvement. Dungan hopes to bring the entire community together.
 "I know a lot of people in this area, I am very well connected and I think most people would agree that know me, I am very well connected," Dungan said. "And therefore, I would like to make sure that we understand the needs and desires of the community, and what their expectations are for their children. We are going to have some huge concerns coming up, so we are going to have to have community input. And I want to make sure that the community, that their thoughts are understood, as well as their concerns."
Another way Dungan feels she could put her skills into place is in the interim between this year and next with the reevaluation of the efficiency of the district and looking at the possibility of redistricting.
 "There are some elementary schools that may have more students than they need, or they are not able to get the best quality education because they are limited on space, or they have other things that are influencing their day," Dungan said. "So we are going to have to reevaluate some of those concerns about how we are going to place students in the schools, and how we make sure that we get them a community school if at all possible."
Dungan hopes she can adjust with the changing flow of education and help the district face new ideas with confidence.
"I think education is changing," Dungan said. "And so we need to be constantly out making sure that we are looking at new and innovative approaches and involving the students in those decisions. The students know the latest and greatest technologies, and they also come up with great ideas, and if you watch them closely, I think that sometimes you can see from what their action, new and exciting ways to teach concepts."
To keep students engaged in the learning process, Coppell ISD provide various options for students to participate in courses, such as night classes and online classes, that better fit the specific need of students. It is innovations such as this, as well as searching out creative financing for various limited budgets, such as food, that Dungan hopes to continue in seeking out in order to keep students interested in their education and their school system.
Growing up dreaming of a better education for her children, Dungan has committed a large portion of her life to ensuring the best quality education for her family and her community. As Dungan moves to play a greater role in the Coppell education system, she hopes that her extensive experience in the field and her resolve for excellence will pay off with an election.