Olbermann at a crossroads
Chris Cummins
Staff Writer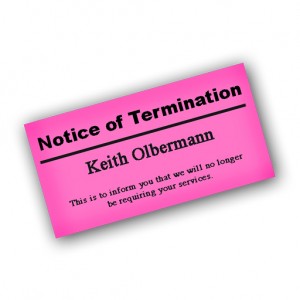 Keith Olbermann, the mercurial and highly opinionated liberal host of MSNBC's popular talk show "Countdown with Keith Olbermann" has been fired. After eight years with MSNBC, during which Olbermann's perfectly timed rants, packaged and readied so as to be immediately go viral once on YouTube, became something of a legend and helped transform MSNBC from a small fledgling network into a bastion of liberal opinion.
Olbermann was among the first of the cable pundits, a daily presence among late night cable airwaves, emanating his presence and opinion in equal amounts of polish and forcefulness, and on most evenings, would draw in enough viewers with his trademark smirk and acerbic criticism of conservative policies and politicos, the evening would end, and Olbermann would sign off with a defiant grin, ready to broadcast his opinion once more the day after, and after, and after that.
Olbermann, surprisingly enough, started his broadcasting career not in a pundit's chair or in talk radio, as most of his competition did, but rather in a little known cable sports network, ESPN. Foreshadowing what he would do to MSNBC's ratings and credibility, Olbermann became the star driving ESPN's meteoric rise, and soon became known as the first among equals among ESPN's broadcasting chairs. Funny, irreverent, and sporting a mustache that would have made Ron Burgundy jealous, Olbermann was a true original, following in the bold steps of the original color commentator, Howard Cosell, and turning SportsCenter into a massive ratings draw with his humor and insightful commentary, trademarks that continue to this day. However, then as now, Olbermann was no stranger to controversy.
While to the viewing public Olbermann and ESPN seemed the best of friends, behind the scenes it was quite a different picture. Fights were rampant, as were feuds between co-anchors, one of which caused a fellow anchor Olbermann was feuding with, Suzy Kolber, to rush into an ESPN bathroom and burst into tears because of Olbermann's comments, according to an apology Olbermann posted on ESPN.com. However, in 1997, after over five years that saw him and the network he worked on become stars, Olbermann left ESPN, amidst angered accusations that were lobbed to and from the network and Olbermann alike.
Olbermann was now at a crossroads. Forever after his firing, he would be known as a double-edged sword; an anchor with an abrasive, almost destructive personality, who, when he wasn't able to draw in large crowds with his fiery rhetoric and on screen antics, would be busily engaged in petulant squabbles with anyone within reach of his (very large) verbal lash. Then came MSNBC.
Olbermann was hired in 2003, and turned MSNBC into a nightly news channel that was able to offer a liberal alternative to Fox News, and he soon drew over one million viewers on a regular basis. However, the friction Olbermann was famous for soon became overwhelming, and he was in constant conflict with network executive Dan Abrams from his hiring until his firing. Leaving MSNBC with both sides looking to hurt the other, Olbermann abruptly ended Countdown on a Friday in January with nothing more than a curt explanation, and no information as to what his future plans were, or if he was even going to continue in the broadcasting business.
Now, Olbermann looks to continue his punditry on Al Gore's cable channel, Current TV. A small market which draws in around 40,000 to 50,000 viewers, best known as the channel in which the Rotten Tomatoes launched it's cable version, the channel gives Olbermann the chance to do what he does best, and perhaps create a whole new media empire from which to assail the right, again and again.