Looking at the vast Southwest Airlines headquarters in Dallas at 9 a.m., Coppell High School senior Zahra Shaikhali puts on a bright smile on her face and walks into the building, illuminating the busy, corporate environment surrounding her. That trademark smile follows Shaikhali wherever she goes.
"[Shaikhali] is always smiling, very approachable and just always willing to help out," Coppell High school AP Biology teacher Dr.Bianca Benitez said.
Shaikhali spent eight weeks as an intern in the Lead Ops and Scheduling program at Southwest Airlines last summer. In her time there, Shaikhali aided in the process of training pilots and helping them become captains by organizing materials and creating daily schedules for trainees. She also helped in checking inventory and gave tours to new employees.
She utilized her time at Southwest Airlines to gain new skills such as planning and leadership. She was able to do so when arranging schedules and talking to new people.
"The program required a lot of planning and time management." Shaikhali said. "They gave us a lot of amazing opportunities, which helped me learn how to plan things more effectively."
Shaikhali specifically strove to improve her management skills. She was prompted to do so by applying these skills to her daily tasks from a chat with Southwest Airlines CEO Bob Jordan.
"He talked about how important it is to be open to new experiences, and be willing to learn." Shaikhali said.  That really stuck with me, and it was the most important thing I learned."
At first, Shaikhali needed time to adjust to the corporate, spontaneous environment that Southwest exudes. In due time, she learned to juggle all the tasks she had at hand, and used it as a learning experience.
"Specifically in my department, we were doing something different every day, so I couldn't really count on having a set schedule," Shaikhali said. "I learned to be open to new challenges and to be flexible with my schedule."
She honed these new skills into extracurricular activities such as coaching tennis, Red Jackets, and reporting officer for Technology Students Association (TSA). She was also able to strengthen skills such as networking and organization, which catches the eye of the people she interacts with.
Southwest Airlines facilitated the adjustment process to accommodate the interns by creating a welcoming environment in which they could more comfortably adapt into.
"Southwest's work environment was very fun, warm, and kind," said Coppell High School senior Sana Shine, a Southwest Airlines  social media intern. "Everyone was so willing to help [interns] grow and learn, and they really want to see us succeed."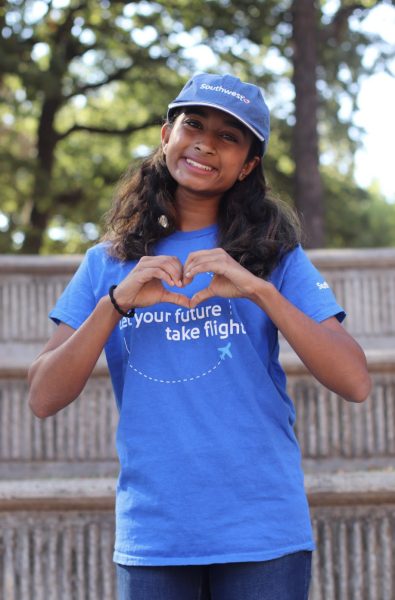 Despite working in an aerospace company, Shaikhali desires to go into computer science. Instead of allowing the difference in mediums to intimidate her, she embraced the new experience, and used it to help her go further onto the computer science path and realized that there was more to aerospace than what meets the eye.
"I assumed working at Southwest would be very business or pilot based but I realized that there's a full tech department that worked to create the software on the planes and there were so many technical and computer science aspects that I hadn't thought about before," Shaikhali said.
Shaikhali thinks the key to acquiring new opportunities is to be open minded and to partake in a variety of career paths before committing to a career.
"Even though my internship wasn't computer science related, being in a corporate environment, getting to build those relationships, and getting those experiences were so important because it made me accustomed to a work environment,"  Shaikhali said.
Shaikhali's journey with Southwest Airlines doesn't begin and end with just this summer. She plans to apply for Southwest Airlines' college internship program, where she has the potential for a full time job offer in the technology department.
"Being in the Southwest tech department sounds like an amazing opportunity for me, and I'm really excited to see what the future holds for me at the company," Shaikhali said.
Follow @anvita_bondada and @CHSCampusNews on X.