I close out of TikTok and eye the bookshelf in the corner of my room. 
I have a diverse arrangement of genres, characters and memories within the tear-stuck and earmarked pages. Coming out of quarantine, my futile stack of books had become a victim to my book-buying addiction and had exponentially expanded into well over 200 stories. 
So I sat confused, as the book community that I had related to and grew as a reader from, had become an endless scrolling through videos of "best spicy book recommendations" or "rating my books in spice levels!"
The creation and influx of BookTok or Book TikTok during the COVID-19 lockdown led to an rise in the number of book reviews and the audience of fiction books. What started as a simple way to share a hobby, turned into an audience that could dictate an author's career. Each book became a trend that came and went, but the theme of "spicy TikTok" became a prominent trait as books began to be reviewed and marketed towards their "spiciness."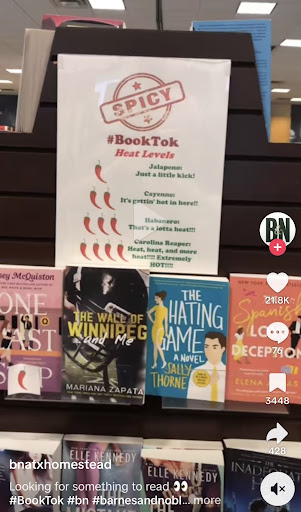 Spicy books are what BookTok and all social media platforms and bookstores call books with explicit content. Now books are marketed under this title, and if you walk into Barnes & Noble, straight ahead you'll find a sign that says, "Spice up your life with these BookTok romances!" This is not a simple trend in literature, but a shift in the advertising and content repeatedly seen in books declared young adult or meant for teenagers under 18.
 Now there are adolescents buying books to see the 'hype' and falling into the trap of not having content restrictions. "Spicy books" are now the center of BookTok and any book that targets a large audience becomes viral overnight. Adolescents who are surrounded by readers of such books are intrigued into buying and reading them, creating an uncensored exposure of inappropriate books to readers. 
The disturbing part is not the content of the books and its normalization, but the audience who is targeted. Books are reviewed on media platforms are measured by the spiciness of the book, influencers not emphasizing or even mentioning content warnings.
The problem now is not that this phenomenon exists and has been circulating, but its consequences on adolescents. 
Seeing trends on BookTok, and viewing videos with hundreds of thousands of likes has driven uncensored curiosity to pick up a book, read it and consider such content normal at a young age. What used to be the age of reading to feed creativity is overridden and forgotten.
The psychological effect on adolescents and normalization of this shift is untalked about and shrugged upon: "It's not a big deal, everyone has a choice in what they read." Yes, but they should be at least aware and intentional in content consumption, not going off trends and media.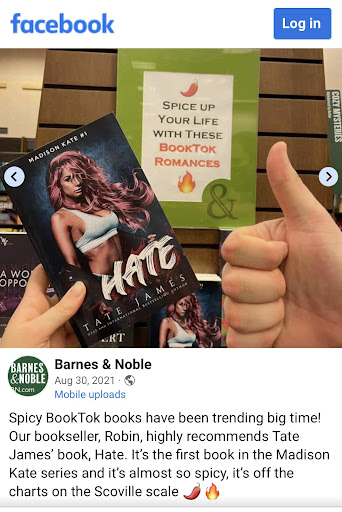 Not only has the online audience grown exponentially, but now authors are exploiting the title of these books, marketing them on social media as well as creating new trends for more underage teenagers to fall into. Under the label of 'tropes,' authors emphasize the 'spiciness' in their books, again without content warnings, and BookTok labels them a "must read."
The solution to this is not only to bring awareness of the harm of these trends, but also understanding the importance of content restrictions. The content that may seem normal to an age group or demographic is not representative of the population and it is the review/producer's responsibility to address that. Many books have trigger warnings or contain sensitive topics, so labeling it as a "five-star read" does not take away from the duty to make sure it is suitable for the audience on a platform.
Just like you check the ratings of a movie, don't underestimate the content or its effect on books. Choosing not to read books with mature themes is a personal choice and should not be deemed unusual, despite the trends and viral books promoted by the book community. Taking the youth away from young adults should not be normalized, especially when they are unaware of the content they are getting into.