From the sandy beaches of Corpus Christi to bustling College Station, Coppell tennis coach Alyssa Noonan has traveled across the state with her family for tennis tournaments. But ever since stumbling upon Coppell, Noonan has brought a sense of family to the Coppell tennis program. 
Older brother Jay Noonan was the first member of her family to pick up a racket, but Coach Noonan followed closely in his footsteps. Throughout the years, he became a coach and mentor, teaching her everything he knew about the sport. 
"I said we're going to need to do this the right way or we're not going to do it at all," Jay Noonan said. "I taught her the grips, strategy and footwork and she was great. She was one of the hardest working kids that I'd ever had the privilege of coaching."
Coach Noonan encountered a lot of success in her tennis career at George Ranch High School in Richmond, making the varsity tennis team all four years, attending the regional tournament all four years and placing third at regionals three years in a row. 
"Tennis did a lot for me because my family and I went through some difficult times and always having the court to turn to was something that really helped me," Coach Noonan said. "The sport has done so much for me in that way and helped me connect with other people. It's always been a big blessing in my life."
Aside from coaching tennis, Coach Noonan is also a professionally licensed chemist. 
After graduating high school, Coach Noonan attended Texas Tech University to study chemical engineering for a year, then transferred to Sam Houston State University and switched her major to chemistry. She obtained her minor in education which is when she fell in love with teaching chemistry.
Coach Noonan returned to George Ranch straight out of college and was asked to help coach the school's tennis team after her first semester. 
"Having the opportunity to make a positive impact on someone's life is the reason why I'm in this," Coach Noonan said. "I love the technical side of tennis, but getting to actually be there for someone and mentor them through their years of high school and give them a great experience is what it's all about."
Coach Noonan spent seven years at George Ranch, then applied for the tennis head coaching position at Coppell High School, not expecting to get the job. The interview process started with Coppell ISD Athletics Director Kit Pehl.
"I ended up meeting Coach Pehl and a few other people here on campus and I just instantly felt connected to everyone I met," Noonan said. "I loved where I was before too, so finding something super special up here was very impactful for me. When the offer came in, I had to accept it because it was a once-in-a-lifetime opportunity for me to change my life and the kids in this program are making as big of an impact on me as I am on them." 
For the head tennis coach position, each candidate underwent a 30-45 minute screening with Pehl and then an in-person interview for hopes of getting the job. 
"Between the screening and the in-person interview, the blend of competency as a coach and relationship with the kids was what set her apart," Pehl said.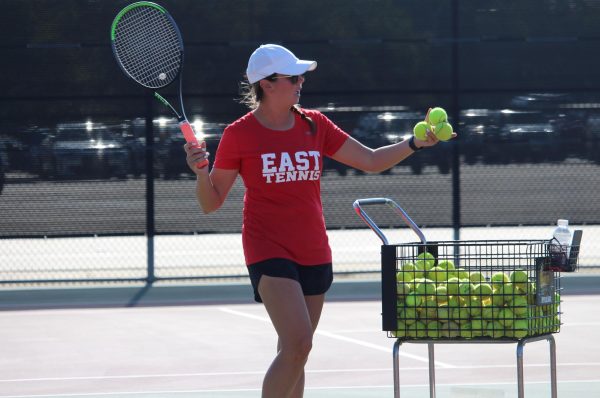 According to Noonan, the Coppell tennis program had a strong foundation before she arrived. The team already has implemented high intensity drills, focused practices and very competitive matches on their schedule, but she seeks to add more structure to the program. 
"As time has gone on over the course of this fall, we've gotten grittier, tougher and we're dealing with adversity better than we did early on and I would give her credit for that," Pehl said.
Aside from the competitive aspect of tennis, Noonan carries memories of her family with her onto the court wherever she goes. Several of the drills that she runs during practice are the same ones that her brother used to run with her when they were children. 
"The kids have had a really positive response to the things that we're bringing in and it's really important to me that every player in the program feels very seen and like they belong here," Noonan said. "So that's at the root of all the decisions we're making. We're just trying to make sure that every player has the best possible experience here."
Aside from just being a coach, Noonan makes it a priority to connect with each player in the program. 
"Coach Noonan has done her best to try and build a connection with every single person, regardless of if they're playing or not," Coppell sophomore Gabby Rice said. "She gives everyone the equal chance to play. Even if you're at the bottom of the roster, she still gives you a chance to fight your way to the top.
Follow Ava (@avakjohnson4) and @SidekickSports on X.