It is a sunny and tremendously hot day as new Coppell High School Ninth Grade Campus students wake up bright and early to get ready for their first day of school.
For many of the students at Coppell High School, this day seems like nothing new. It is like any other first day of high school they have had before. However, for the new crop of CHS9 students, this day marks more than just another first day, it marks the start of their high school careers and represents the beginning of their journey to college and adulthood.
The students make their way to CHS9 and walk through the doors with bright eyes and a sense of awe as they try to navigate their way through the hallways and find their classes.
"There's still that sense of awe and wonder and a little naivety about what's happening," CHS9 biology teacher Laronna Doggett said. "They're trying to find their classes and figure out lunch and the hallways. I would say it's organized chaos but there's not a lot of organization. I've told a lot of people this but I promise that there are always a lot of nerves on the first day, even if they walk through that door and act like they have got it all figured out."
The experience was new and exciting for some but others felt overwhelmed by the new challenges that the high school presented.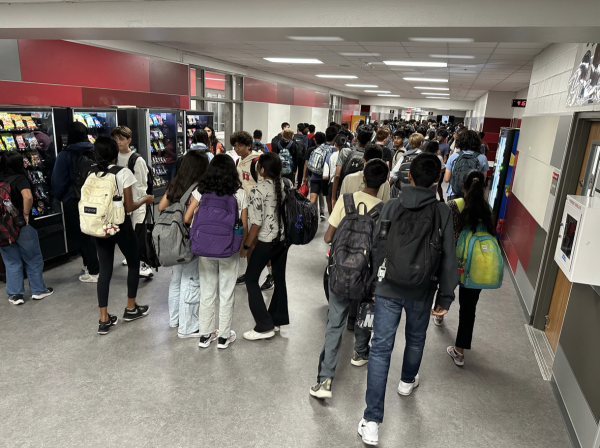 "It was overwhelming. The hallways were really crowded and I was not prepared for how long the classes would feel," freshman Reid Womack said.
It was not just the hallways that were overwhelming for the new crop of students. The lunch schedule required some adjusting to as well.
"Lunch was chaotic," freshman Ravali Mocharla said. "I know we are moving it to hour block lunch soon but I don't know how we are going to fit everyone in the cafeteria."
As the week went on, students began to adjust to the new class length, find their way around the building with ease and even make friends in their classes.
"I was scared that I wasn't going to be able to talk to anyone in my classes, but as the week went on I was able to make friends in all my classes and feel comfortable so I'm glad," freshman Jenani Sivamani said.
CHS9 students quickly realized that they would need to work harder to keep up in their classes if they want to succeed.
"I wasn't expecting it to all dawn on me so fast," Sivamani said. "I was thinking the transition [from middle school] wouldn't be that bad but by the second day of school we had quizzes and homework. I noticed a change in the schoolwork and realized that your grades have a bigger impact and it's something I've been thinking about all week." 
The change in academics was not the only thing that came as a surprise to the freshmen, the change in extracurricular activities was also quite surprising.
"I've never done marching band before," freshman Anika Upadhyayula said. "Playing and moving around and having to memorize new music has been challenging. I used to be an oboe player but I switched to saxophone and it has been easy to learn and band camp definitely helped."
Though CHS9 only gets to host freshman students, teachers cherish the opportunity to mold students as they start out on their high school journeys.
"I still think there's a lot of excitement and wonder as they meet all the new people because all three middle schools are coming together and it's new, at the high school it's very been there done that," Doggett said. 
Follow Nyah (@nyah_rama) and @CHSCampusNews on X.