Frisco welcomes one-of-a-kind Universal Studios Theme Park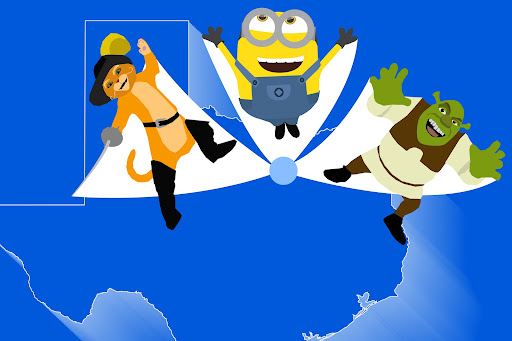 Living off of Panther Creek, Frisco resident Rizwan Ahmad's home is mere minutes away from the to-be constructed theme park. Ahmad was initially excited about the development, before realizing its proximity to his home may be a nuisance.
"I don't want a rollercoaster passing my window while I'm doing my work," Ahmad said, "Nor do I want pedestrians outside my subdivision where my children are playing."
A new place to create lasting memories and experience the magic of Universal is coming to Texas. On March 7, Frisco City Council approved Universal Destinations & Experiences' plan to build a one-of-a-kind Universal Studios Theme Park in Frisco. 
The park aims to provide a unique experience for children under the age of 10 and is expected to open by June 2026. 
Universal Studios decided that the city of Frisco, with its rapid growth and young demographic, would be an ideal location for its new project. The company has purchased 97 acres of land for the development of the theme park, parking areas and adjacent resort. 
The park will be approximately a quarter of the size of Universal Orlando and will focus on creating a family-friendly environment. Animated characters old and new from iconic Universal Studios films will walk around greeting visitors and entertaining audiences through scheduled performances. 
Many residents have had similar concerns as Ahmad about the possibility of compromised safety, increased traffic and overcrowding in the city. Citizens have been vocal about their indignation towards the location of the park, questioning why it's being built so close to residential areas, and the unease that it has caused them. 
Approving the park's creation has been a divisive issue that has created conflict between neighbors. Some think that the park compromises too much for them to look forward to its creation, while others believe the benefits that it may bring will outweigh any negative consequences. 
"The park coming to the city [Frisco] is amazing," Frisco resident Nick Ali said. "Property prices will soar and more fun will be brought to Frisco, benefiting our residents, businesses and visitors." 
Projects of this size have the potential to impact cities far from their location. Coppell's central location, access to tollways and highly-rated school district make it a hotspot for residential growth. 
"What we've seen in the past with major employers is that when they relocate employees to the Metroplex, many of these newcomers gravitate towards Coppell," Coppell ISD Board of Trustees President David Caviness said. "It's difficult to gauge the overall impact at this point."
Despite the growing population of Coppell schools and worries about capacity constraints, Caviness said the school district will accommodate any students that may transfer to Coppell ISD.
Because Coppell is further from construction, residential views on the project are more positive than those living in Frisco. Many families and children are excited about the opportunity to have a Universal attraction nearby. 
"I'd love for there to be a Universal Studios in Texas," Wilson Elementary School second grader James Buffington said. "I love all the rides and things to do in the park." 
A focus on interactive sessions for children and enchantingly designed landscapes will set this park apart from the rest. Universal Destinations & Experiences announced that the minimum height requirement for rides will not exceed 36 inches compared to the average 45 inches in other parks, further emphasizing the targeted demographic. The park is expected to attract nearby residents in contrast to the larger Universal Theme Parks in Florida and California, which are catered towards a broader national audience. 
Concept designs which indicate the proposed layout for the park along with an in-depth traffic impact analysis have been released by Universal Destinations & Experiences in an attempt to ease public concern about traffic and overcrowding. The outline shows that only 30 of the allotted 97 acres will be used for the actual park, the rest will be used for parking spaces and lodging areas. Surrounding the park will be a border of greenery to separate it from nearby residential areas. 
The park has the potential to bring a great deal of change to its surrounding region. It is expected to  allow DFW to offer an exclusive experience to theme park enjoyers around the nation. This increased attention is expected to benefit businesses and boost the names of lesser known towns in Texas. 
Follow Sameeha (@ssameehaa) and @CHSCampusNews on Twitter.