Evergreen lessons from Walnut Hills High School
Hill providing "support mechanism" for students, staff alike through over a decade of service to CISD
Editor's note: This story has been revised from its original version. 
Lessons learned from his childhood in Ohio have stuck with Anthony Hill for decades, following him to the Coppell ISD Board of Trustees place where he now sits.
Hill has served on the CISD Board of Trustees since 2007, making him the most experienced trustee. In the 15 years, Hill has racked up accolades involved in different projects in education around Coppell and overseen major approvals from the board such as the opening of New Tech High @ Coppell in fall 2008 and the start of the International Baccalaureate (IB) program at Coppell High School in December 2008 and Pinkerton Elementary School in March 2016.
Hill's niche for education can be traced back to his own years as a student at Walnut Hills High School in Cincinnati. As a regular volunteer at sports events and concession stands, Hill formed an initial interest in community service.
As a student at Wittenberg University in Springfield, Ohio, Hill became involved in mentorship of underclassmen – a theme that would continue past graduation – along with the Small Business Institute ​​to review financials and make recommendations to the owners of a local heating and air conditioning business.
Upon graduation from Atlanta University with a Master of Business Administration, Hill joined IBM as a financial analyst in upstate New York, volunteering in community activities for IBM. Hill was a mentor for the Ulster County Big Brothers and Sisters for six years and a volunteer for Poughkeepsie High School to encourage minority students to get involved in careers in science and engineering.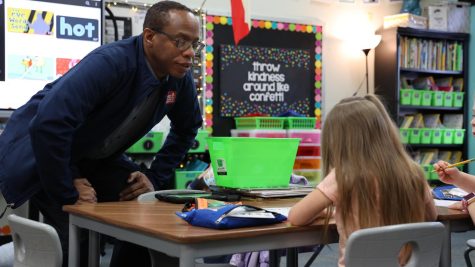 "Teachers can't do it alone, and parents can't do it alone," Hill said. "You always need that additional support mechanism and mentoring is an easy way to get involved."
Hill relocated to Texas in 1992, starting off as an elementary student mentor at Northwest ISD and Carrollton-Farmers Branch ISD before moving to Coppell. Hill was introduced to former Coppell ISD assistant superintendent and longtime volunteer Vonita White and this connection brought him to his first position in the CISD: a member of the District Educational Improvement Committee (DEIC). 
"Having mentored in education before, it was an easy stepping stone to get involved with education," Hill said. "Being involved with those entities allowed me to seek out opportunities in the Coppell community when I first moved."
However, Hill's involvement stems from decades of experience in the education niche and an interest in observing how students and teachers are doing on a daily basis.
"When I'm able to see students perform or work in a class setting, it helps to bring out all of the work and decisions made in the boardroom," Hill said. "It helps me to see the needs and aspirations of students, but also the talent and joy that our students have when they have necessary support."
Hill's interest in the community has garnered him a reputation for being everywhere; eagerly observing students' basketball games, cheering students on choir performances, leading Youth and Government groups and judging science fair competitions alike. 
"He's everywhere, he's very dedicated and involved," Board of Trustees President David Caviness said. "He takes his role very seriously. He's the type of trustee we all strive to be like."
His experience and calm nature makes his perspective valuable to other trustees. Hill's experience often provides a baseline for decisions based on how similar decisions were made in the past. 
"He's steady. During disagreements within the board, he's measured in his responses," Caviness said. "His demeanor and experience is what bridges the gap when we're having our discussions. And not many people know this, but he's got the best sense of humor."
Board of Trustees Place 7 Jobby Mathew is the newest addition to the board and looked to Hill, who he knew for six years prior, for guidance in acclimating to being on the board.
"He's poised, and he's thoughtful," Mathew said. "He'll always get down to the facts of a situation and make sure that's where the focus is. If the board runs into any situation, he's able to bring up previous similar experiences in a constructive way."
Hill's current projects outside of the Board of Trustees include his role as director of the North Texas Area Association of School Boards (NTAASB) and director of the Texas Association of School Boards (TASB) Risk Management Fund. He is also the liaison between CISD and Metrocrest Services to help members of CISD who need it with food, rent and utility services. As such, he advocated for the Sack Summer Lunch program for students during the summer.
Yet if a list of all of Hill's expansive projects within and larger than CISD were to be compiled, these activities would only be a fraction of it. 
"I believe that it comes down to selfless service," Hill said. "It's not about me; it's about the young people that are being served and it's about teachers and staff being supported with what they need and we can offer to them."
Hill's actions characterize as prioritizing the students of CISD first.
"At the end of the day, when you become the student that graduates from CISD, your profile is the culmination of all those experiences from the start," Hill said. "When you look at graduates, especially those who've come back to CISD as teachers and administrators, you want the same outcome for future students even if the pathway doesn't look exactly the same. It's a great thing to see the success of the young people that have gone through CISD."
Follow Yaamini (@yjois12) @CHSCampusNews on Twitter.
Leave a Comment
About the Contributor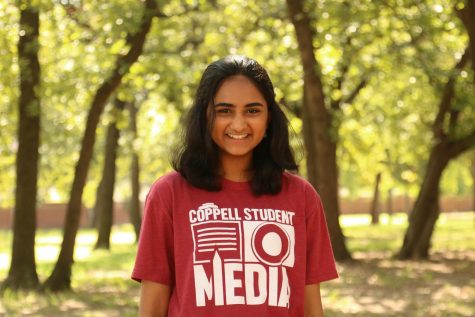 Yaamini Jois, CHS9 Editor
Yaamini is a senior, second-year writer, and CHS9 Editor of The Sidekick. Yaamini is a staunch supporter of the Oxford comma and considers her only major...