Goyal in business: elected District 11 DECA president
During her childhood summer stays in India, Coppell High School junior Anveshi Goyal would sit keenly behind the counter of her family's grocery store that sat right below her home.
While her cousins attended school, to keep herself company, Goyal would count the money accumulating in the cash register, converse with the customers and assist in the circulation. At that moment, she was given the first glimpse of the business world she would soon immerse herself. 
On Jan. 25, at the Texas DECA Career Development Conference student business competition at Irving Convention Center at Las Colinas, Goyal was elected District 11 president for 2023-24, which serves Dallas and Rockwall Counties.  
Goyal took her chance to run for district president to create a bigger change. She was motivated by the doings of CHS senior DECA District 11 2022-23 President Dilan Patel.
"Seeing [Patel] up on the stage at last year's competition and being confident and passionate about DECA inspired me," Goyal said. "I wanted to get that same opportunity he had to lead students who are interested in business on a larger scale than what CHS was."
The process to run for district president consists of an essay, exam, an interview with board members, campaigning and networking at the district conference and a speech to District 11 prior to voting. 
Patel also interviewed Goyal as well as other candidates to evaluate their performance and efforts.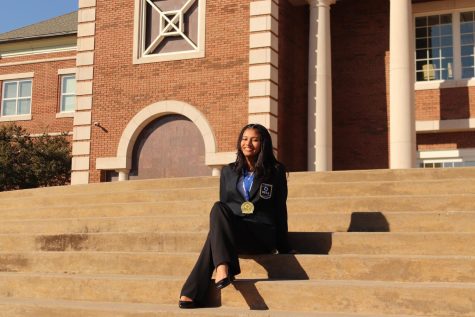 "Goyal specifically, had a lot of poise with her answers," Patel said. "She was confident, had a lot of good mannerisms and had a clear, golden vision in what she wants to achieve in the district."
Goyal aims as District 11 President that students in DECA are provided with more social networking opportunities.
"One of the biggest things DECA has give me is lots of new friends and connections," Goyal said. "I want to make sure that opportunity is extended across all chapters. I think it's important for students to start making connections and growing skills early on in their life, so it can help them along their life in college and in the business world."
After surpassing those steps, Goyal had to appeal to voting delegates from each chapter to get their vote.
"I have a tendency to underestimate myself," Goyal said. "In my head there was no way I could've won [the presidency], so when they said my name, it was very surprising. I was excited and could not stop smiling."
Goyal's interest in business began when she was young and only flourished more as she grew up. When selecting a career pathway to follow in high school, business seemed the most fit.
"As I grew older, a lot of my peers were more interested in STEM, IT or health," Goyal said. "I found myself not as passionate about those areas, so it seemed that business was the most obvious choice."
Goyal first turned to the Coppell DECA chapter in her freshman year as her older sister, Shivani Goyal, also participated in high school.
"
She had great analysis during classes and participated a lot. She is one of the best students I have had in the last few years."
— Richard Chamberlain
"My first year was a little weird, because it was with the CHS9 DECA chapter and they were still starting off," Goyal said. "On top of all of that, it was also online. It was difficult, because we had to record ourselves and weren't speaking eye to eye with a judge which hurt [my partner and I]"
CHS junior Sri Achanta partnered with Goyal in their sophomore year. Together they were able to advance to the International Career Development Conference in the Travel and Tourism Team Decision-Making event.
"Goyal and I live right next to each other, so it was easy going to each other's houses and studying and practicing a lot," Achanta said. "That grew our friendship and our strengths in DECA."
Although DECA calls for public and impromptu speaking, it wasn't always a strong suit of Goyal.
"Throughout elementary and middle school [at Valley Ranch Elementary and Coppell Middle School East], everytime we had to give presentations in front of the class I would be freaking out for it," Goyal said. "I would get up in front of the class, speed through my presentation and be nervous."
Being in the moment during DECA competitions enabled Goyal to think quickly on her feet and build savviness.
"Practicing speaking without a speech helped me improve, because public speaking is being able to be confident, even if you don't have everything perfectly rehearsed," Goyal said. "You should be able to speak and know what you are talking about. Having to go up in front of a judge who knows a lot about the business industry and being able to sit there and confidently speak benefited me."
Goyal also helps out the CHS DECA Chapter through her service as executive vice president of marketing. She encourages and advertises to students in the business pathway to join DECA and assists with the administrative aspects.
"The position gave me the confidence I needed to run for District 11 president as I knew then that I could succeed in a leadership position regarding DECA," Goyal said. 
Academically, Goyal pushes beyond the limits to educate herself further in business and marketing.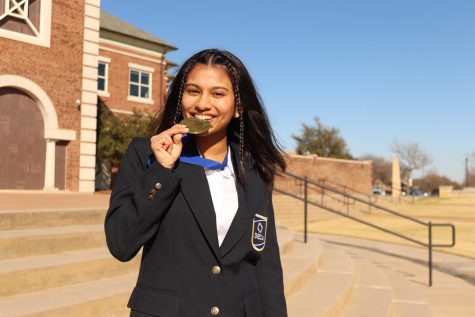 "[Last year, Goyal] made a 100 on a project which I rarely give, just because you have to go above and beyond the rubric to get to that point," CHS DECA advisor and business teacher Richard Chamberlain said. "She had great analysis during classes and participated a lot. She is one of the best students I have had in the last few years."
Goyal possesses a friendly and down to earth attitude that is apparent to others. She is also acclaimed for her determination and effective work ethic. 
"[Goyal] is a bubbly and outgoing character," Achanta said. "She seems shy at first, but after you get to know her, she is super kind and always there for you. She is so strong in what she does and whatever she has her mind on, she is able to do."
Goyal utilizes her drive to reach her objectives in all aspects of her life. 
"If I am not succeeding in something, I feel like I am doing something wrong," Goyal said. "That helps me stay motivated and work towards any goal that is in my mind."
Just as Goyal did in her family's grocery store, she hopes that students of DECA discover their place in the business world.
"I want to further the passion for entrepreneurship that all the students that joined DECA have," Goyal said.
Follow Sahasra (@sahasrachak24) and @CHSCampusNews on Twitter.