Fragosa-Deck's signature bubbly personality guides students into the world of health science
As students enter the classroom eager to learn about the inner workings of the human body, they are greeted by fake skeletons Willy and Velma ready to immerse them into the world of health science and the unity of body systems. CHS9 health science teacher Amber Fragosa-Deck enters the room radiating positivity while getting ready to begin a full day of teaching.
For the past three years, Fragosa-Deck has been teaching health science and sports medicine to freshmen, enlightening them on various topics related to real life scenarios in the medical field. Despite graduating from the University of Texas at Arlington in 2012 with a degree in Athletic Training, teaching health science wasn't her original intent. Fragosa-Deck was an athletic trainer at Red Oak High School for one year and at Flower Mound High School for six years.
"I loved helping athletes but it was a big time commitment that was hard on me," Fragosa-Deck said. "I loved what I did but I also loved my sports medicine career, so health science was a good transition for me."
Fragosa-Deck grew up in Fort Worth and also worked in Lewisville ISD prior to coming to Coppell. 
"I liked that Coppell was a smaller school district and I've always heard good things about the community, so I applied right away when I saw a job opening, and thankfully, I got it," Fragosa-Deck said.
For 11 years, Fragosa-Deck has been teaching sports medicine and health science, but her favorite thing about teaching is when a student truly understands the content.
"I like to see the moment when it finally clicks," Fragosa-Deck said. "We can do all these things and build diagrams but I really love seeing the moment when the student really understands it and it all makes sense to them."
Fragosa-Deck details that her favorite part about teaching health science is when she gets to share her knowledge on the human body. She often acknowledges that not just kids, but adults, lack knowledge about their bodies and how they work. In order to do that, Fragosa-Deck tries to find ways to really impact her students' way of thinking and introduce them to familiar and fun ways of learning complex content.
"Her fake skeletons around the room, Willy  and Velma, are really helpful as recently we learned about the reproductive system and she was able to take out the body parts and let us use them to help us learn," freshman Manisha Williams said. "She's really relaxed and interactive with us and it's helped us a lot."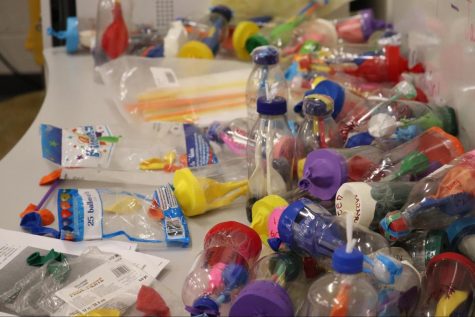 Fragosa-Deck also attempts to connect with her students on a deeper level by using relevant and engaging ways of teaching to create a positive environment, such as her use of vocab activities and reward systems in her class.
"Her teaching helps me think about things in a different way as she words it in a way that makes you think about and understand content at a deeper level," freshman LeMariam Bantenew said. "We do a vocab activity at the beginning of the week and she rewards us when we get the vocab right and [with doing that,] you are able to learn new things every week and put it together at the end of the year."
Fragosa-Deck often collaborates with other teachers in order to come up with better suited lesson plans for specific students. 
"She is someone who is always bubbly and always willing to go above and beyond to make sure my students feel welcome and included in her class," special education teacher Kara Schmidt said. "My group of students love to go to her classroom and the fact that she's able to make content that is challenging just so accessible to them and for them to understand what's going on and feel like they're a part of that class is amazing."
Fragosa-Deck continues to strive to motivate her students and involve them into the world of health science. She encourages them to learn about all the things they don't know about the human body and the medical field, but mostly, to always continue to follow their passions.
"I love when years down the road, students stay in touch with me and they tell me [that] they got into nursing school, or that they're becoming a physical therapist, or something where they're becoming successful by pursuing their passions," Fragosa-Deck said.
Follow Rhea (@rhea_chowdhary) and @CHSCampusNews on Twitter