Dedication is a key chord
Conkovich takes over as CHS9 choir director
A plethora of words exist in the English language, but there is only one that perfectly sums up CHS9 choir director Katherine Conkovich: dedication.
Added to the 2022-23 CHS9 staff prior to the school year, Conkovich showcases her talents and choir proficiency through her teaching. 
Music is a complex form of art that requires a deep love and passion to pursue it. The movement of the music caused by the countless number of notes allows true emotion to be involved in the work that Conkovich does everyday. 
"I grew up singing my entire life," Conkovich said. "My mother was a choir director [at the Dallas Opera Children's Chorus and for the Texas Boys Choir] and now she teaches voice. After seeing her do that, I loved choir so much and I wanted to be a part of it and continue with it for the rest of my life."
Conkovich currently works at both Coppell Middle School West and CHS9, giving her the opportunity to teach multiple age groups. With the ages varying from middle school to high school, Conkovich details how her work dynamic is very different between the two jobs.
"Since vocal technique is something that is started in middle school choir, students continue to build new skills in their vocal technique in high school due to the continuous voice change and advancement in repertoire level,"  Conkovich said. "The change from middle school to high school is the continuation of building these vocal technique skills and a change in repertoire that gives students opportunities to grow as musicians and performers."
Conkovich obtained her degree in music education from Abilene Christian University in 2016, but did not stop her education there.
"This will be my sixth year [teaching]," Conkovich said."I have taught mainly middle school and worked with a little bit of high school. Right now I'm getting my master's at Southern Methodist University, I take nightly classes once a week to get my Master's in music education."
Being new to Coppell, Conkovich's arrival prompts her joining a new team in Coppell ISD. CHS Choir director Bona Coogle shares her experience of working with Conkovich and their connection as colleagues.
"She was so excited to join our team and we were very excited to have her," Coogle said. "Even from the beginning of the summer, she came and helped us with the Coppell Summer Music Camp and attended multiple meetings before school started to have questions answered. She's a wonderful person. She's very kind and caring, from a colleague and friend's perspective."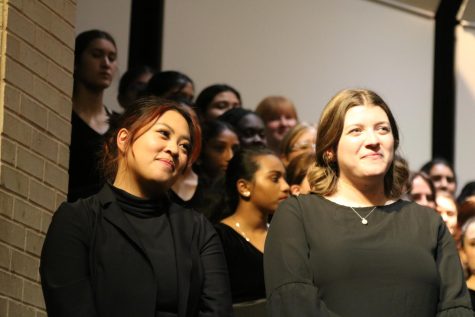 Conkavich has been given a new team in terms of students as well. The art of music requires much skill and technique to both teach and learn, which, in turn, requires trust in the relationship that a student and teacher create. 
"She helps put energy into the music and really pushes me," CHS9 Treble A student Caroline Klement said. "Even if I don't get something right, it's OK, she always wants me to improve. I think it's helpful to have someone who is always pushing me to be a better singer."
Through passion and hard work, Conkovich hopes to impact her students and help them become better musicians with the development of technique. She also hopes to lead them in conducting music at the winter and spring choir concerts.
"I grew up singing my entire life and I really take this [job] from experience and what we do everyday in the classroom to give students feedback and help them become better musicians," Conkovich said.
Follow @CHSCampusNews and @rhea_chowdhary