Band victorious in area marching competition
BEDFORD – The time is 1:12 p.m., and Coppell Band assistant director Riaz Mohammed leans over to a flutist. With one step on the turf at Pennington Field, they, in tandem, determine the ground is neither wet nor slick enough to prevent the band from performing its best. 
And so the show went on. 
Within 15 minutes, the band clinched a spot in finals, in which only 12 of 32 bands advanced. In yet another 15-minute run at 8:30 p.m., it had been named the 2022 UIL Class 6A Area B Marching Contest champion.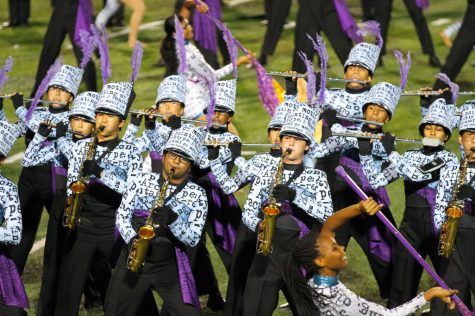 Even in fall temperatures and periodic rain, the band remained undeterred from the goal at hand: competing at state.
"As a woodwind, the rain is troublesome, so we had to cover our instruments as we walked to the field," senior flutist Rhythm Khandelwal said. "That really messed up our tuning, causing us to sound flat, so we had to quickly fix that. Physically, while we marched on the field, each step felt as though we were sinking into the turf, so we had to exert a lot of energy, especially when we marched quickly."
As the less-than-optimal conditions subsided moving into finals, Coppell Band shone, particularly in the fourth movement where the tempo slows down after a fiery third movement according to junior drum major Ananya Balaji. 
"Our closer really draws the audience in as we click off from 180 beats per minute," Balaji said. "My highlight was meeting all of the other drum majors and talking about their experiences and band was really interesting."
Marching shows normally consist of three movements, while Coppell's show "Archetype" is made of four. Each musician learns and performs significantly more music, rendering this year's show particularly challenging. 
Each movement tells the story of an archetype found within media—literature, art, film. On Friday, the band will take this narrative to the Bands of America San Antonio Super Regional Championship as well as the UIL State Marching Competition in San Antonio.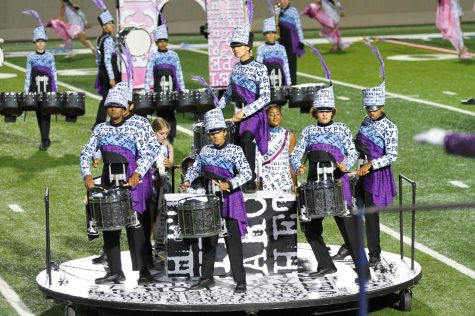 "[For state,] everyone needs to work on getting into the mindset of each archetype (artist, explorer, lover, hero) to really portray that emotion and have everyone in the audience feel even more connected," Balaji said. 
And while the front ensemble's soft hymns glitter in conjunction with the brass section's loud roar, the audience erupts in applause, cheering the band on for its journey to state. 
"We've had some rough rehearsals, but after placing first, we've definitely gained confidence in ourselves and the show," Khandelwal said. "Being area champions is an honor, and it's not only a product of rehearsing. It takes mindset and confidence:  things that we'll take with us to state."