180 degree turns of tone in "Eurydice" engaged audiences
Bits of humor mixed with theme of grief create unique atmosphere
As the sky turned dark many eager Coppell residents filled the seats of the Black Box Theatre. Friends, family and excited audience members were introduced to the inviting aura of the play with mystical lighting and old, greek-like architecture placed in front of them.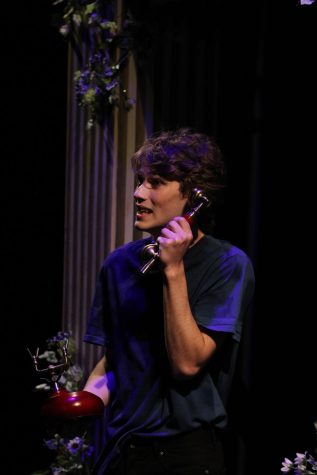 On Friday, the Cowboy Theatre Company debuted its awaited fall play "Eurydice." It is depicted as the Greek tale of Orpheus through the perspective of Eurydice, who is Orpheus's wife. The play describes a story of young love and family relationships. 
 "The show is exhilarating to watch and has authentic and genuine father and daughter relationships," sophomore build crew and sound op Harika Uppuluri said. "The show will impress the audience with its incredible set designs and captivating performance." 
The young heroine has to rediscover her past and learn to navigate through the underworld.
The overall ambiance of the production truly set the tone for "Eurydice" and invited the audience to the play. The lighting work played a key role in setting the scene in "Eurydice" as changes in lighting represented a change in location. In contrast to the usual interpretation, the underworld had a brighter lighting than the real world. 
"How the underworld was more alive than the real world was really unique because most of the time people would think the real world was the characters' sense of comfort but in this play the underworld is their sense of comfort," sophomore ensemble cast member Tvisha Jindal said.
Along with lighting, sound was essential to creating the mood of the play. And the rainy October evening was the perfect date to present "Eurydice" as water dropping was a key sound in the production. The water droplet noise represented a time change or to indicate a flashback scene.
"Eurydice" stood out to the audience as it had a shocking and jarring ending. The final act of the play left the audience in awe and provided room for interpretation.
"This play was a bit vague in a sense that there were a lot of different directions we could have gone with this play," Jindal said. "This idea of a love story where she doesn't pick the love interest, really draws people in. Even with the version we presented, you [the audience] got to pick what you are getting from the story."
Follow @CHSCampusNews on Twitter