Prakash pushes music to new limits
To listen to an improvised segment of the concert, click on the box to the right. 
Three…two….one…and then the art unravels. Slowly at first, but getting louder with each drum beat and guitar pluck and violin string.
All in a matter of seven minutes and 46 seconds.
Somewhere the percussionist was lost in his instrument, each tap to the tabla taking him further. The guitarist strummed the strings like each new chord brought with it a new world. Their eyes were closed, as if they knew the piece by heart.
This was the magic that unfolded at the Coppell Arts Center Friday night. The effect of music also applied for the audience.
"I loved the whole vibe," attendee Santosh Tiwari of Coppell said. "I was able to immerse myself in the music. I would close my eyes and imagine the beats of the music. And, the kids sat down through the whole concert."
The most interesting part of this piece was that it was improvised. 
"During the pandemic, I had a lot of time to get my practice regimen back in order," singer Aditya Prakash said. "I would give myself tasks to complete, like little challenges. One thing I did was sing a really fast improvised scale or raga without stopping."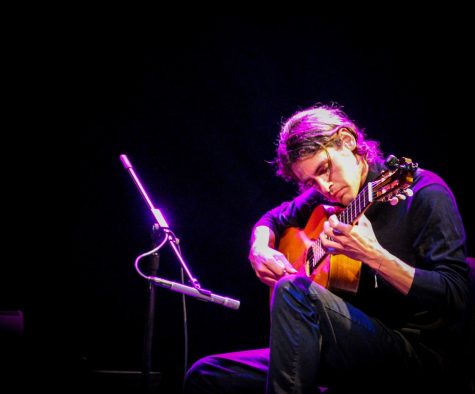 Upon this progressive practice, the nature of the song became something else entirely. 
"I would time myself for two minutes, and then go for three minutes, four minutes," Prakash said. "And then in May 2020, that number became seven minutes 46 seconds. Soon, it wasn't a task anymore. It was an immersive experience."
Prakash, who gained his fame upon a tour with world-famous sitarist Ravi Shankar, grew up in Los Angeles as a child of first generation immigrants. Prakash's cross-cultural identity reflects at the concert Friday night. 
One composition,"Flamencico", took traditional Spanish Flamenco music and fused it with Prakash's Indian roots. Prakash was inspired to create the song upon his tours with legendary dancer Imran Khan as he watched Flamenco singers.
"There was this vocal percussion that this Latin artist was doing, it was his own kind of style," Prakash said. "All these different words caught my ear. I put this composition together from these different sounds."
It was this cross-cultural interaction of music that attracted the Coppell Arts Center to Prakash.
"One of the most important things about the Coppell Arts Center is to provide high quality, world-class art," Coppell Arts Center marketing/ticketing supervisor Trevor Meagher said. "This is capturing the mission of putting in world-class art for everyone. Everyone can find something cool, whether you want to hear Carnatic music or local talent. Aditya is such a great encapsulation of that."
Prakash's objective as a musician had been to push the boundaries of music, but that wasn't just achieved in the concert hall. Women came to the concert wearing salwar kameez and dupatta scarfs, a homage to their Indian heritage. The concert brought with it a social cohesion. An Indian family explained the traditional instruments used to a white couple. Clothes were an eclectic blend of cultures.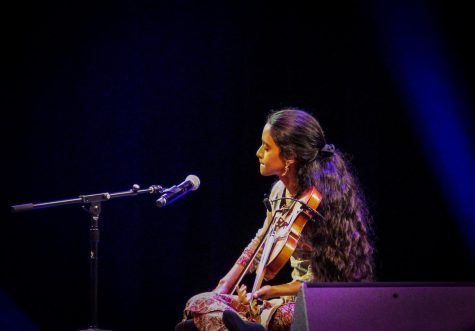 "I'm finding my personal connection to Carnatic music," Prakash said. "I'm not thinking about it as Carnatic music, fusion music, or jazz music. I'm not thinking about music separately. I'm fusing everything into my sound. It's something that I'm exploring, and I think that's a journey."
Follow Anushree De (@anushree_night) and @CHSCampusNews on Twitter.