First half hopes crushed in season-ending loss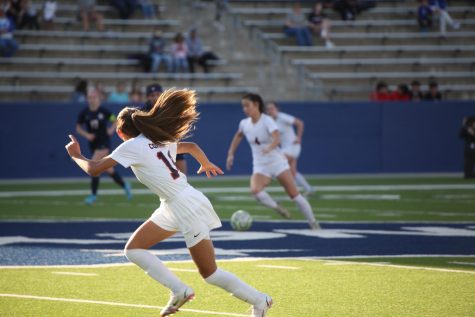 McKINNEY- The stage was set.  Same place, same stakes, one year later. Last night, the Coppell girls soccer team faced the Allen Eagles in the Class 6A Region I bi-district playoffs at McKinney ISD Stadium in a win-or-go-home matchup. 
The Cowgirls stepped up to this challenge, ready to face its opponent.
But it wasn't enough, the Cowgirls (15-5-2) season ended in the same fashion as last years bi-district match, and fell to the Eagles (18-2-3), 3-1, ending its season.
"[Allen's] forwards are really good so we had to keep them at bay," Coppell coach Fleur Benatar-Whitten said. "Scoring was hard for us. We had a couple of chances that we should have had but didn't, [along with] finishing and recovering after our goal."
The match was scoreless at the half. Knowing that the Eagles would likely switch up its play style, the Cowgirls adjusted.
"We knew they were going to change their system so we had to be ready to change if they changed and we adjusted," Benatar said. "We had to keep people moving in and out. There was an ebb and flow to that [second] half, people were getting tired so we had to watch minutes. There were a lot of things going on."
Within the first three minutes of the second half, Allen senior forward Taylor Spitzer put the first score on the board. Six minutes later, Coppell senior forward Reneta Vargas tied the game, capitalizing off a kick to the center of the net.
"[Vargas] went out right after the goal, that hurt us a bit and we didn't know if she [was going to come back out]," Benatar said. "Overall, she's the one that could make or break things in the final third. It hurt not having her there and disrupted our flow. We had to recover and keep filling gaps until we could figure out when she was going back on and what we were doing."
The Cowgirls held the 1-1 tie until the 15:31 mark, when Spitzer braced and sent Allen to victory. Shortly thereafter, another Allen goal finished the Cowgirls season.
"We had a great season and next year is going to be good, we have a lot of work to do with other people," Benatar said. "It's going to be about how well they can work together and how well I can groom the next group."
Follow Torie (@torielpeck) and @SidekickSports on Twitter.