Stepping away from standardized testing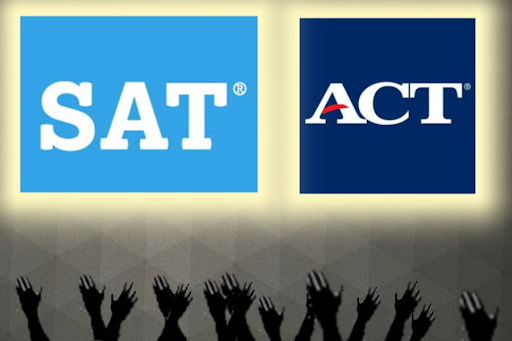 Dear High Schooler, 
We're writing to inform you that your SAT registration on December 4, 2021, at Coppell Hs, has been canceled.  
It's not my inbox that receives the email, but my friend's.
My phone lights up with a chime when she sends me a screenshot of the email, accompanied by a short text. Did you get this? My blood pressure is unreal rn. A few hours of frantic researching and calling later, we're able to settle down. The SAT date itself is not canceled; seats have just filled up at CHS. 
As current juniors, the two of us are fortunate enough to have evaded the trial of finding SATs and ACTs during the 2020-2021 school year, the entirety of which we were virtual for, but thousands of students were not so lucky. Met with similar emails throughout the pandemic, students wrestled with cancellations, anxiety and questions to a level heightened even from the normal amount when dealing with standardized testing. They wondered if the already daunting task of summing their high school achievements into a palatable application would be further soured by the absence of their test scores. 
"I would get slightly relieved every time they would postpone or cancel the test, but then I just got all nervous again," CHS senior Grace Meng said. "I knew that I would just have to take it later and later. It was demotivating to have all of these tests be canceled because I was like, 'why am I studying so hard?'"
Each of the three tests Meng registered for in fall 2020 were canceled, keeping her from taking the SAT until her spring semester.
With cancellations pervasive since 2020 and only lately beginning to decrease, many colleges and universities throughout the nation have declared a test-optional admissions process. Recently, many of these policies have been extended, citing a renewal of a more holistic approach to application review. 
In turn, a decline has emerged in the importance of standardized testing to college applications. Though debated upon, I think this is ultimately beneficial. 
It is no secret that these tests take a toll on students. And yet, nothing of consequence reached the heart of the situation or was able to remedy the problem for years. 
"
People are more than just their numbers. Everyone's doing different things. What you look like on paper can only determine so much of your future.
— Michelle Hertanto
Coppell ISD  is an amazing school district. Our city is stocked with incredibly smart kids. The pressures of rank, GPA, college admissions and test scores, however, are the perfect propagators for unhealthy amounts of competition. 
"At CHS, there was this pressure to be better than everyone else," Texas Academy of Mathematics and Science (TAMS) class of 2023 student Neha Nagarajan said. "Everyone will help each other out [at TAMS]; They'll take two or three hours out of their time just to help you. I didn't find that as much as CHS."
Though she registered for numerous dates throughout her application process to TAMS, each of Nagarajan's tests were canceled. She applied without a SAT score. 
"My opinion has changed so much about that application," Nagarajan said. "I used to think that these tests were the most important thing. Now, I really feel like what matters is having something you're genuinely invested in."
Having – or more often, finding – that thing one is genuinely invested in is another daunting task high school students face. Spending hours in test preparation classes and poring over expensive test preparation books limits the time in which students are able to discover and truly devote themselves to what they love and are good at. Let's be clear: the time a student puts into these tests varies wildly. Studying for standardized tests is an intensive task for some and barely an effort for others, and students therefore lose different amounts of their time to test preparation. This disparity would persist even with a lower importance given to the tests. Still, an overall lower standard of pressure opens more opportunities for students to explore their interests. 
University of Texas at Dallas junior and CHS 2019 graduate Michelle Hertanto recalls the extremely competitive nature of Coppell and pressure to be at the same or higher level than her peers taking a toll on her mental health. 
"People are more than just their numbers,"  Hertanto said. "Everyone's doing different things. What you look like on paper can only determine so much of your future."
The tests, after all, are formulaic. Studying for an SAT or ACT  is a repetitive task, mainly devoted to memorization and recognition for certain types of questions and how to solve them, a contrast to the format of traditional classroom tests and Advanced Placement (AP) tests, which College Board also offers. AP tests require specific subject study, and while they may follow a certain pre-decided format, the content of the tests and types of questions remain variable. Even after remodeling in 2016, intended to make the test more relevant to what students learn in school, SAT and ACT questions remained characteristic to the point of having named categories – for example, 'command-of -evidence' questions and 'words-in-context' questions on the SAT and 'usage/mechanics' questions and 'rhetorical skills' questions on the ACT.
The predictability of the tests is a benefit for students with the means to spend hours mastering each type of question, but having a necessary job, lack of economic means to pay for expensive test preparation classes or a less thorough background of the material from school can immediately disadvantage a student who doesn't have the means. As a former admissions dean wrote, scores can almost always be traced back to family income and education level. 
One of the intended benefits of standardized testing, however, is that sometimes, scores do surpass these boundaries. In these circumstances, a disadvantaged student who may not be able to involve themselves in dozens of extracurriculars but who was able to study their way to an incredible score is able to burnish their application. 
A test-optional future, therefore, would be extremely beneficial. Students who would gain from including their scores would be able to do so. Those who are not, however, would not be penalized by being required to submit a score that could hurt them. 
High school standardized test scores are used by colleges in order to determine how well a student will be able to handle academic rigor at the college-level, but while scores can be indicative of a student's background, they are not always likely to be indicative of their future. 
"There are so many people I know that didn't do well [on standardized testing] but are thriving now," Hertanto said. "Everyone just has their own paths, and you can do what you need to do to get there. The tests seem a lot bigger than they are when you're in the middle of it all."
Let's continue taking steps back from standardized testing. They are steps in the right direction.
Follow Saniya Koppikar (@SaniyaKoppikar) and @CHSCampusNews on Twitter.