Anandkumar whirling her way forward
The à la seconde. 
Revered. Sought after. Finally accomplished. 
The à la seconde turn had been a goal for Coppell freshman Aishwarya Anandkumar, a dancer since age 3, for almost five years––five years of practice, dedication and repetition. Practice. Dedication. Repetition.
In September 2020, Anandkumar gradually began to see results. 
"When I finally got it, I felt this big sense of accomplishment," Anandkumar said. "It was like I was floating off the ground. To a dancer, that feeling is pretty much unforgettable. Dancing can be a big challenge, and ever since I successfully got these turns, that moment is still one of my favorite dancing memories."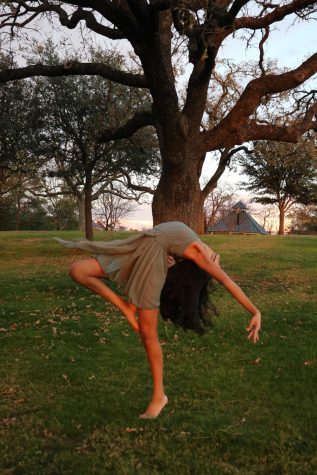 Anandkumar has been surrounded by music from a young age––her mother Radha Sugumaran's singing alongside riffs emanating from TV musicals forming her early consciousness. Sugumaran's decision to enroll Anandkumar in her preschool's ballet class ultimately shaped the course of Anandkumar's artistic career. 
From preschool ballet, Anandkumar progressed to dance studio classes. She has been with the Federation of Gujarati Association of North America (FOGANA) since age 6, competing in various states in the categories of folk, garba and raas. Since, Anandkumar has also been involved with jazz, lyrical, contemporary, tap, ballet, musical theater and hip hop dance, along with the Silver Stars drill team at CHS9 and Bharatnatyam with Sur Sangam dance company. 
"I like American dancing because there's so much versatility," Anandkumar said. "There's times where you can be graceful and show a lot of emotion, or when you're allowed to be sharp and sassy. Sometimes you just have to focus on the technique and feel the rhythm. With Indian dancing, I like how precise each moment is and how I get to connect with my culture. With Sur Sangam, especially, I get to be part of a team and travel to compete at FOGANA."
While the diversity of the various styles demands a high level of versatility and adaptability, Anandkumar approaches each with a different method of the same concept: emotion. 
"[Bharatnatyam] is about telling a story," Anandkumar said. "With jazz, tap and ballet, I usually focus on smiling and having fun. With contemporary [dance], it's a more literal interpretation of the song and lyrics that influences how you should emote."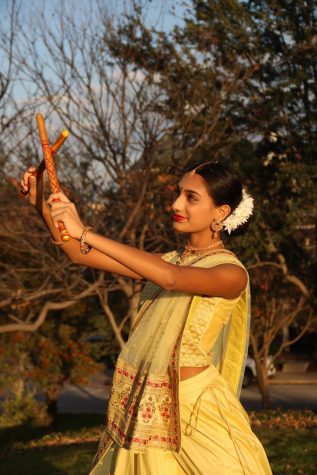 Anandkumar currently takes classes at Dance Machines dance studio three nights a week, one of them being under the tutelage of instructor Candi Taylor-Waugh. 
A normal class by Taylor-Waugh begins with stretching for about 20 minutes and a review of the previous week's content. Then, students will learn between six to 12 counts and work on polishing the new material. At the Sur Sangam dance company, where Anandkumar dances under the instruction of Indu Mangrola, a normal class might start with learning the meaning or mythology behind a dance.
With both, as with most dance classes, the dancers are held to high expectations.
"All of the teachers here have the same things to say about [Anandkumar]," Taylor-Waugh said. "She is going to do everything that you need, every time you need it. She is always going to go full-out, and she never says never."
Mangrola offers similar praise, having taught Anandkumar since she was 6. She especially details Anandkumar's expertise with teaching younger kids. 
As a fifth grader, Anandkumar assisted with dance camps for kids ages 6 to 11 at the Melvas Smith School of Dance. She took up the responsibility in 2018 as well. This year, Anandkumar helped choreograph a dance for the teens group along with fellow FOGANA member and CHS9 freshman Nidhi Shashi. 
Anandkumar struggles to attribute her successes to any single mentor when they have all made such a big impact on her life. Her mother and her many teachers have all been influential, she says, and she is especially grateful for the senior dancers at Dance Machines––Coppell High School seniors Madison Minnick, Chloe Dufur, Payton Watkins, Daniella Goff, Brooklyn Anderson and junior Juliana Hunt.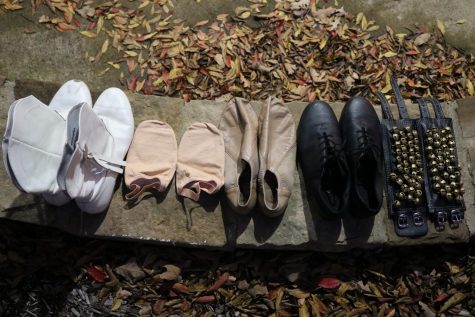 "[Anandkumar] is extraordinarily helpful and polite," Mangrola said. "She is always there whenever I ask."
"Those girls have been like older sisters to me," Anandkumar said. "I look to them, especially because they can balance dancing outside of school, school homework, and school activities."
But it has not just been the guidance of her peers helping her out. Dancing itself has aided Anandkumar in perfecting her work ethic and time management skills, especially with having to figure out when to schedule time to dedicate to her schoolwork and how that will subsequently affect her dancing. 
In the past year, Anandkumar made dancing her priority simply because she had the time. Now, she has developed a newer plan to study for tests and quizzes and finish whatever homework she can on the weekend to prepare for her dance classes taking up her time during the week.
"It's about putting in the work, though," Anandkumar said. "The effort is natural for something you love. It's about having the passion for something and willing to work to get where you want to be."   
Having come out of a busy game season with the Silver Stars, Anandkumar is looking to the future, hoping for a season with FOGANA after a COVID-19 induced pause and diligently working on dances for her upcoming American dancing competitions next semester. 
But for now, at least, Anandkumar's mind is spinning with possibility. 
Follow Saniya Koppikar (@SaniyaKoppikar) and @CHSCampusNews on Twitter.
Leave a Comment
About the Contributors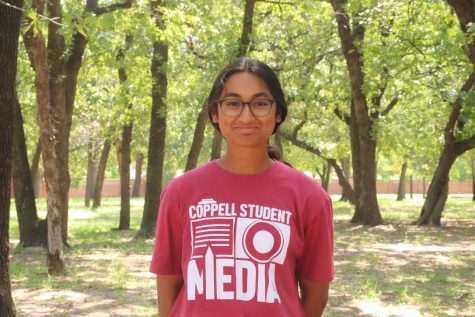 Saniya Koppikar, Staff Writer
Saniya is a junior and a first-year staffer of The Sidekick. She is entirely too committed to her Goodreads Reading Challenge, enjoys music and obscure...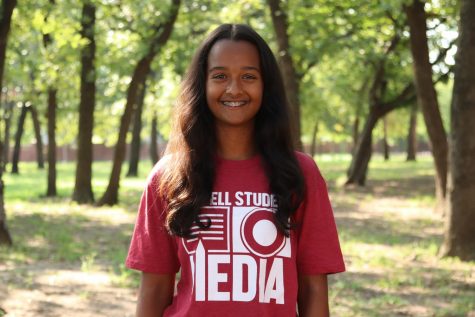 Nandini Muresh, Photo Editor
Nandini is a junior and the photo editor for The Sidekick. She is in the Coppell Color Guard, and outside of school she enjoys doing Taekwondo, dance,...