Booster club buttresses IB program through multiple avenues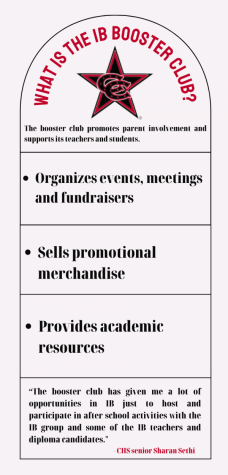 Many co-curricular activities, from sports to fine arts, have booster clubs at Coppell High School. But did you know that the International Baccalaureate (IB) program, an academic organization, has a booster club? 
The CHS IB Booster Club members are parents of students currently enrolled in the IB program, graduates or students who aspire to take IB classes. The main purpose of this club is to organize events and fundraisers and offer academic resources to students taking IB classes. 
Although the IB program began at CHS in 2009, the right moment for forming a booster club was not present until the beginning of this school year. After receiving an evaluation from IB in February, IB Diploma Programme Coordinator Michael Brock noticed the program could foster connections with the community. 
"It is a requirement from IB that there are connections between the program and the community that it's not just [the school] offering classes," Brock said. "Even though [the booster club] is in its early stages, [creating a booster club] was a quick way for us to start that process."
The IB Booster Club differs from other booster clubs as supporting an academic program is different from supporting athletics and performing arts. 
"Many of [parents] are doing the jobs that our students want to do when they grow up," Brock said. "Being able to provide expertise about working and living abroad or how to manage moving around in your career will be valuable for these kids. It's not just about providing a cake for a ceremony or being there to build financial support for the program. It's really more of a way for parents to be more involved in the educational process for their students in the IB program."
As the IB program was at risk for being removed last year, the booster club plays a significant role in garnering support and interest of Coppell residents in order to keep the IB program alive at CHS. One method that the booster club has chosen to captivate people is selling IB merchandise. 
"I love having little IB merchandise," Coppell High School senior Shreya Premkumar said. "It makes me happy to be able to have something that I really care about. IB has changed my schooling so much. I just like having merchandise and I think it's a good idea." 
The CHS IB Booster club has run into some challenges in terms of publicizing IB despite utilizing social media and other digital platforms. Nevertheless, the benefits for the students and the teachers keep the club motivated. 
"Even in this age of social media, it is hard to reach incoming freshmen and sophomores about making the decision to choose IB," Place 1 trustee Leigh Walker said. "When you have a great product to sell and amazing educators that really believe in IB, it makes all of this worthwhile and pretty easy. #BrockRocks. He has an incredible heart for the kids and this program. The IB educators are all top notch."
However, Premkumar thinks the club could emphasize how IB is a unique learning experience at the events it hosts. 
"The only reason I joined IB is that they were holding an IB fair where a bunch of the IB teachers and students came and explained to me what IB was," Premkumar said. "We didn't really have that during COVID-19, so a lot of people missed out on the opportunity. The IB Booster Club can hold more events for people to learn more about IB because I know it's very daunting at first and seems like a lot of work. In reality, if you are an IB person, it doesn't feel like work and it's a really enriching curriculum and I wish more people knew about it." 
The combination of academic support while having the opportunity to make memories with fellow IB classmates enriches CHS senior Sharan Sethi's experience.
"The booster club has given me a lot of opportunities in IB just to host and participate in after school activities with the IB group and some of the IB teachers and diploma candidates," Sethi said. "I've had a lot of fun just going to some of the club's after school experiences. With a more academic focus, I think that [the club has] provided us with materials that stimulate the exams which will enhance our academic experience." 
Follow Varshitha (@varshitha1128) and @CHSCampusNews on Twitter.