Limitless mindset propels Patel towards Air Force
While most high school juniors are working towards getting their driver's licenses, Coppell High School junior Adi Patel is up in the sky learning how to fly airplanes to receive his private pilot's license. 
Patel has had an appreciation for aviation ever since he can remember. When he was younger, he loved going to air shows, flight museums and watching YouTube videos of people flying airplanes. However, he did not always want to be a pilot in the U.S. Air Force. 
When he was at Coppell Middle School West, Patel wanted to pursue aeronautical engineering. He was able to learn more about aeronautical engineering through his mother's cousin, who was studying the subject. 
"I think I knew that I wanted to fly when I wanted to be an aeronautical engineer," Patel said. "I just didn't think that it was realistic. I thought 'only certain people can do this." 
He shares the love for aviation with his father, Ritesh Patel.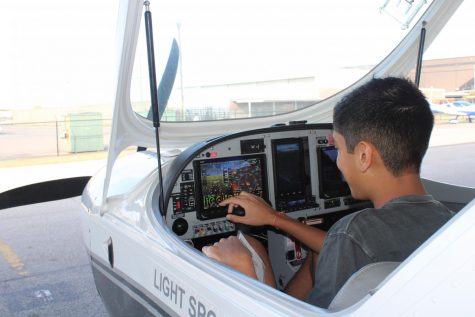 "I was pretty happy because that's what I wanted to do initially," Mr. Patel said. "But I had some health issues so I couldn't qualify, but I'm glad he's doing it. I'm glad he is taking those steps." 
When Adi realized that becoming a pilot is realistic and practical, he decided that he would rather fly planes than study aerospace engineering. 
In order to achieve his dream of joining the Air Force, Adi is currently part of the Civil Air Patrol, an organization that stems from the U.S. Air Force and prepares aspiring pilots for the military. Adi joined the Civil Air Patrol between seventh and eighth grade and started taking flight lessons this January. 
Adi plans to join the Air Force over becoming a commercial pilot because of the mindset his parents instilled in him. According to Adi, military service triumphs customer service. 
"There's a lack of a mission for the commercial side of things," Adi said. "Their mission is to get people from point a to point b safely, which is awesome. But they're not really going out of their way to do something special to help people. My parents always told me 'do what you love and make sure you are helping people ."
When his superiors needed to choose a cadet to become commander, they needed to choose a strong leader to save the squadron. Adi was then appointed as the cadet commander of his Civil Air Patrol squadron. 
"Adi outshined his peers in the work and dedication he puts [into the program] and the attitude that he has," Lieut. Luke Bainbridge said. "He never really wanted to be a cadet commander. It wasn't the most important thing in the world to him which is a pretty good sign when it comes to leadership."
According to Bainbridge, conflict resolution, organizational skills and commitment are essential qualities to have for people interested in joining the military. He thinks Adi excels in this regard, as he is willing to go the extra step for his squadron.
"[Adi's] a really good moderator," Bainbridge said. "He has a really easy time seeing things from multiple people's perspectives. He's a good planner. [These skills] assist him as a cadet commander because you have to be able to do conflict resolution, solve problems and plan meetings."
When Adi learned he was promoted to the position of cadet commander, he was beyond thrilled.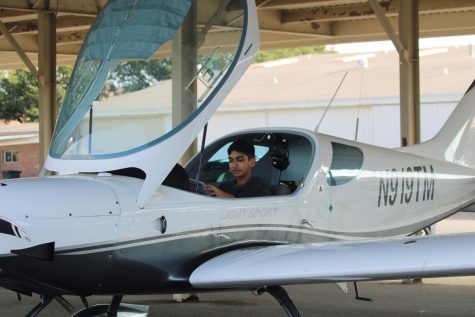 "I never really expected that," Adi said. "Our squadron was going to get shut down. I was going to have to move to a different one. But in what I thought was going to be the last meeting, the new squadron commander came up to me and said, 'We can stay open as long as we find people to keep it running. Would you like to be the cadet commander?' I had the biggest grin on my face while trying to still keep my military bearing. I was like, 'yes sir, of course."
The factor that compels Adi to fly airplanes, like the Czech Sport Cruiser, is the black and white nature of the craft.
"When you're flying, you either know it or you don't," Adi said. "There is no in between. You have to know what every switch does, all the numbers, the power settings, everything. Just knowing that I can properly manipulate the machine is a good feeling." 
Despite not having the ability to fly as frequently as he would like, Adi utilizes what he learns in his flight lessons to progress as a pilot. 
 "The passion and the love is really there," flight instructor Jonathan Purcell said. "It shows with all the hard work he does at home. He only flies [once] a week, so there's a lot that he does at home to be productive." 
Adi's friends and family think that he is capable of achieving his goal of joining the U.S. Air Force and has a bright future ahead. 
"[Adi] doesn't look like he has limits," Mr. Patel said. "He wants to try everything, do everything. If you limit yourself before you even get started, you've already failed. He likes to challenge himself and he's very self-sufficient." 
Follow Varshitha (@varshitha1128) and @CHSCampusNews on Twitter.