One home, two roles
#CHSReset: Womack returns as new assistant principal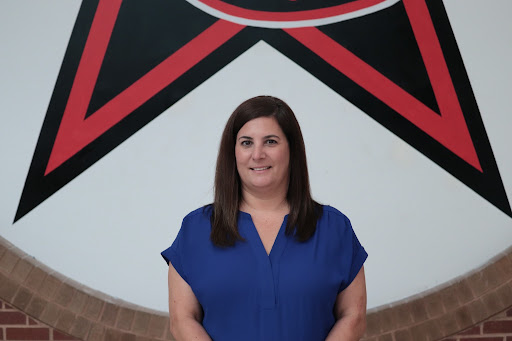 Packing the last piece in her room at Lamar Middle School in Irving into a box, Coppell High School assistant principal Alissa Womack was ready for a short drive. 
Heading back home.
Heading back to CHS.
"It is awesome and fun when educators come back home," CHS associate principal Melissa Arnold said. "We are a family here, and it's been nice to have one of my friends come back and be able to work with them every single day."
This year, CHS students are back in person at the high school.
"I've missed kids being in the hall," Womack said. "Kids, whether or not they'll admit it, are really happy to be back in person to see their friends, to be with their teachers [and] to restore [the] normal school life they've had in the past."
Graduating from Texas A&M with a psychology degree, Womack was not sure about the career she wanted to pursue. After being a permanent substitute in a Spanish class at Dallas ISD's W.T. White High School in 2002, she realized her love of working with teenagers and being in a high school setting. She was inspired to obtain a Spanish teaching certification through Region 10 alternative certification program. 
Bringing her love of teaching pedagogy and instruction to the AP team, Womack helps develop strong instructional practices to meet all CHS students' needs.
"She is one of the most positive people I've ever met," CHS Principal Laura Springer said. "It is incredibly affirming to go to work every day with somebody who is a very positive person."
Womack's experiences in education from the last 20 years, working as a CHS Spanish teacher from 2012 to 2017, Carrollton-Farmers Branch ISD's Ranchview High School Spanish teacher, Lamar Middle School digital learning coach and Lamar Middle School AP in the past, help her to be prepared for the new position at CHS.
"I love Womack," Arnold said. "I had the opportunity to work with her several years ago when she was a Spanish teacher. When she applied to be an assistant principal back here, I was very excited to see she got the opportunity, because she is so passionate about kids and passionate that they get opportunities to really learn who they are as [people]."
Outside of school, Womack enjoys reading historical fiction and young adult literature, doing anything outdoors, spending time with her kids, Coppell Middle School North 7th grader Reed Womack and Town Center Elementary 4th grader Chase Womack and her husband Adam Womack who is the owner of LandBoss in Coppell and walking her two rescued dogs from Operation Kindness, a pitbull greyhound boxer mix named Benny and treeing walker coonhound named Izzy. Additionally, Womack loves having conversations about food.
"Womack was an awesome coworker and friend," Lamar Middle School dean of students April Richmond said. "As our friendship grew, we realized we had so many similarities, especially when it came to our love for cheese. She is a hard worker and extremely passionate."
Follow Tracy (@AnhImtracy) and @CHSCampusNews on Twitter.