Chenoweth brings Broadway home
Academy-Award winning actress, singer performs at local arts center
Despite her famously small stature, Broadway alum Kristin Chenoweth has no problem commanding the attention of more than 400 people with her larger-than-life stage presence. 
Chenoweth, best known for her role as Glinda in the Broadway musical "Wicked," delivered an 80-minute performance of her latest album For the Girls in the Coppell Arts Center's main hall on Saturday. 
A natural entertainer, Chenoweth's dramatic side jumped out when she sang "Popular" from "Wicked." The audience laughed freely at her over dramatizations, and at times even her musical director and pianist Mary-Mitchell Campbell could be seen hiding her face in her hands as her shoulders shook with laughter at Chenoweth's witty impressions.
While a good part of the show was made to display Chenoweth's theatrical tendencies, intimate moments are sprinkled throughout. One of these occurred during her cover of "Desperado" by The Eagles, when her boyfriend Josh Bryant accompanied her onstage. When the song came to an end, the two shared a tender kiss.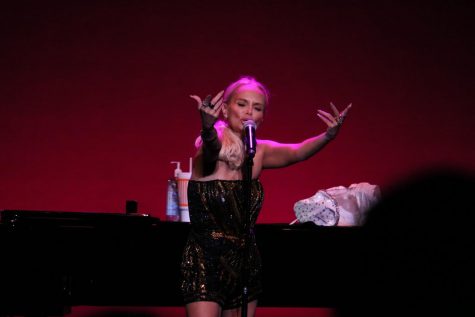 On Friday night, Chenoweth hosted a masterclass for TCU musical theater students. She provided feedback and instruction to nine students, but one stood out.
Halfway through the show, Chenoweth invited TCU junior Hannah Le Beau, whom she had taught at the masterclass, to perform Elphaba's part in "For Good." 
"I remember being in elementary school and hearing her on the 'Wicked' soundtrack, so it's crazy to now be in the same space as her and perform with her," Le Beau said. "That moment of connection [while] we were singing together and keeping eye contact and feeling her energy was incredible. I'm trying to keep that memory in my brain as long as I can."
The concert fell on the third night of the Takeoff Music Festival, which features a variety of local and national artists to celebrate the arts center's grand opening. Though the center was scheduled to open in May 2020, the COVID-19 pandemic delayed construction and hindered the ability of the Coppell Arts Council to hold live concerts.
"I'm excited to see live performance return to the world after an 18 month hiatus," TCU theatre department chair Jennifer Engler said. "For a 400–seat venue, [the Coppell Arts Center's main hall] is very intimate. I'm in the second-to-back row and I still feel like I'm almost within touching distance of the performers."
The arts center's availability as a performance venue opens the local arts and entertainment scene to endless possibilities.
"I live in Coppell because I like the community aspect of it, so I'm thrilled about the [arts center] opening," Coppell resident Stephanie Schuller said. "It's so nice to have arts brought to the local community because now we don't need to leave the city. This is just what Coppell needed."
In accordance with the theme of her album, Chenoweth paid homage to her fellow female singers sharing the stage, Crystal Monee Hall and Marissa Rosen. Hall and Rosen dueted Aretha Franklin's "(You Make Me Feel Like) A Natural Woman," and the trio closed the main body of the concert with Hall's original song "Reasons for Hope."
After a standing ovation lasting several minutes, Chenoweth reappeared onstage to sing "Smile" by Natalie Cole. Mic-less and with only a piano as accompaniment, this final intimate moment iced the cake on Coppell's fairytale evening.
Follow Trisha (@trish_atluri) and @CHSCampusNews on Twitter.