Bringing home gold
Ogbogu returns to Coppell as the city's first ever Gold Medalist
Olympic gold medalists are of the most exclusive group of athletes on the globe. Now, Coppell's own Chiaka Ogbogu has entered into this category of athletes.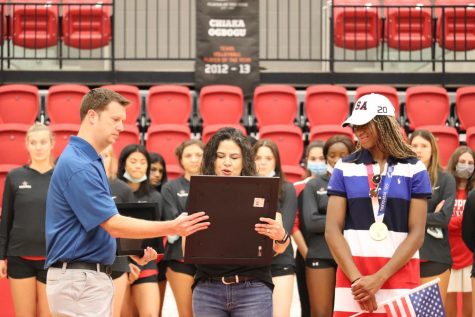 In recognition of her achievements, the City of Coppell hosted a parade on Saturday to congratulate Ogbogu on her accomplishments. Parkway Boulevard was flooded with families cheering her on as she was escorted by Coppell Police Officers Casey Sessions and Jason Odean. 
The parade made its way to the CHS Arena for a rally, where Ogbogu was greeted on the court by her former high school teammates and the current Coppell volleyball team.
In a speech recognizing Ogbogu's achievements, CHS Principal Laura Springer announced that after the current volleyball season Ogbogu's No. 11 will be retired and that a new banner will hang  alongside the 2011 and 2012 volleyball state titles congratulating her on winning gold.
"I just want to say to all of our Coppell volleyball program how proud we are of you for representing it," Springer said. "I want to tell you that you are so amazing, not just in your talent but in your integrity and who you are. To me as a principal that's one of the most important aspects of any athlete we have."
Alongside the Coppell City Council, Coppell City Council Place 2 Brianna Hinojosa-Smith presented Ogbogu with a key to Coppell and declared August 14, 2021 as Chiaka Ogbogu Day.
"
All of our kids can look at her and know that if you set a goal for yourself you can achieve that goal. That goal doesn't just happen because you are smart and talented, it takes a lot of hard work.
— Dr. Brad Hunt
"When we heard [Ogbogu] was coming and that we would have the chance to celebrate [her] this was a small token to say congratulations and never forget Coppell," Hinojosa-Smith said.
At the end of the rally, Ogbogu expressed her gratitude to everyone who came out to celebrate.
"Thank you all for coming out, I am incredibly overwhelmed," Ogbogu said. "I think the No. 1 question I'm being asked is if I ever thought I could get here. If I'm being honest, I didn't. It really does take a village and I'm so grateful for the village in this room. Thank you to everyone who is here, I would not be here today without all of you. I have so much gratitude and love for this city. Thank you for everything."
Achieving gold is a difficult feat, one that came with years of dedication. 
"We see everything that Chi has done and accomplished leading up to her gold medal, but what you might not know is that she's been an overnight success years in the making," said former Coppell High School Principal Mike Jasso, who was Ogbogu's principal when she was a student. "It's important to know that that gold medal doesn't just happen. Ogbogu spent hours in the gym and at Performance Courses honing her skills physically."
Ogbogu grew up in Coppell, attending Town Center Elementary, Coppell Middle School North and Coppell High School, where she graduated in 2013. 
Ogbogu's volleyball journey began in seventh grade, when she tried out for the CMSN volleyball team. After encouragement from her coaches she began playing club with Texas Advantage Volleyball in eighth grade.
"[TAV] is where my journey really started," Ogbogu said. "Club volleyball is a whole different beat than school volleyball and it was my first experience of true dedication. TAV prepared me for high school volleyball because I got a sense of the work it takes to become great."
While Ogbogu dabbled in other sports, basketball and track, she chose to focus on volleyball coming into high school. Making varsity her junior year, Ogbogu was quick to lead the Cowgirls. In 2011 and 2012, her junior and senior seasons, Ogbogu led the team to win back-to-back Class 5A state titles, along with being named all–district, all–state and being named the Gatorade Texas Player of the Year in 2012.
"
I have the fondest memories of UT and my time in Austin, it's super nostalgic. I have so much love and respect for their volleyball program.
— Chiaka Ogbogu
Ogbogu committed to The University of California, Berkley during her sophomore year. However, she decommitted from Berkley and at the end of her junior year committed to the University of Texas, where she later attended college on scholarship.
"Ultimately I knew Berkeley wasn't where my heart lied," Ogbogu said. "UT had always been a dream school of mine but I honestly never thought I would get the opportunity to play there. I knew I would have the opportunity to attend school there but to play there was an extra bonus that I never thought I would achieve. I just trusted God in where he would lead me, which brought me to my dream school. Looking back I have zero regrets about my decision and looking back it was scary and I had a lot of doubts but I don't regret it at all."
While playing for UT, Ogbogu racked up an impressive set of athletic achievements, including being a three-time American Volleyball Coaches Association All-American, the seventh three-time All-American in UT history. 
"A lot of people told me I had the opportunity to play professional volleyball," Ogbogu said. "At the time there wasn't a lot of information out there. It wasn't a last minute decision but I had no idea what it would look like after I graduated. It took a leap of faith on my part to trust what people were saying."
After playing her last college game, Ogbogu was approached by several agents who had opportunities for Ogbogu to play overseas.
"There was no domestic league in America at the time so the only way I could play professionally was overseas," Ogbogu said. "I signed with my first club Il Bisonte Firenze in Florence, Itay. I credit that experience to how I've further pursued volleyball. I had a great first experience in one of my favorite countries and cities in the world." 
Since graduating from UT in 2017, Obogu has played for a total of five professional volleyball clubs: Il Bisonte Firenze, Chemik Police, A. Carraro Imoco Conegliano, Eczacıbaşı VitrA, Istanbul and VakıfBank.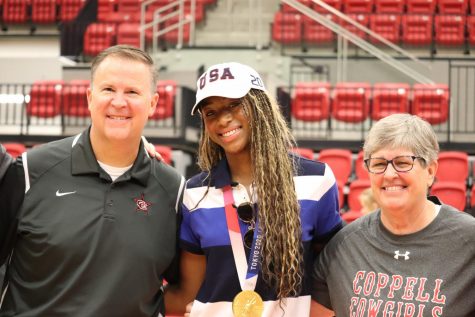 "[Playing for II Bisonte Firenze] garnered more opportunities for professional volleyball," Ogbogu said. "I was there in 2018 to get my foot in the door. I got to compete with team USA in the Pan American Cup, which is in the Dominican Republic. After that summer Kiraly mentioned that he was really impressed with my play and how I handled myself. He said he would like to see where things go for the next year but could foresee me staying."
After playing with Team USA in the 2018 PAN American Cup, Ogbogu was invited back to the gym for the summer months.
"I got to compete in more tournaments with Team USA and got more playing time," Ogbogu said. "That led the conversation to Tokyo, which was supposed to be last year. We had some conversations about that and I was getting excited and ready before the Olympics were delayed, which in retrospect helped a lot of athletes and our team. As a whole it did our bodies some good since we're usually going nonstop year round. It was nice to have that mental and physical break while connecting with our families and friends once it was safe to do so."
During the pandemic, Ogbogu continued to put in the work as she played for both Eczacıbaşı VitrA Istanbul and VakıfBank, allowing her the opportunity to compete in the Olympics.
"Everyone who had been in the gym for this quad had the ability to make the roster for the Volleyball Nations League 2021 tournament," Ogbogu said. "Eighteen players made VNL and we understood that from the 18 players 12 would be selected to be on the Olympic roster. It was a combination of our season overseas and how we did at VNL on an individual level."
VNL is a six week long tournament. After two weeks of tournament play, the coaching staff had made its final decision on who would go to Tokyo.
"
The Opening Ceremonies was my favorite moment of the Olympics and being surrounded by that many high level, high class athletes. Although there weren't fans there it was still really cool to be a part of.
— Chiaka Ogbogu
"I walked into the meeting room at our hotel, Hotel Sporting in Rimini, Italy, and all the staff was there. Team USA Volleyball head coach Karch Kiraly took me through a walk of my career with Team USA and talked about it. They said that they would like to let me know that I have earned the right to be on the Olympic roster. I was super emotional. I was crying, I thanked my coaches, called my parents and celebrated."
Four weeks later, Ogbogu and her team walked out of the VNL tournament with a first place win. But with little time before Tokyo, the team had a few days off before training for the Olympics.
In Tokyo, Team USA made history as the first U.S. Olympic Volleyball gold medalist team.
"It feels amazing. I acknowledge the fact there's so many other players that have tried to accomplish this goal," Ogbogu said. "Our team talked a lot about honoring the women who came before us. I'm very grateful for the Team USA program and I'd like to emphasize that team unity. It's not just our goal but the teams before us have laid the foundation for us to get here."
Along with earning the first U.S. Olympic Volleyball gold medal, Ogbugo now gains the title as the first ever Coppell Olympian. 
http://https://youtu.be/30bgV6G4yDg
Follow Torie (@torielpeck) and @SidekickSports on Twitter.