Coppell Student Media named one of 13 recipients of national Pacemaker award
During the week of Feb. 13, when a powerful winter storm triggered extensive power outages throughout the state, leaving many Coppell residents without heat and electricity and resulting in a week long school closure, staff members of The Sidekick reported the news, wrote personal columns, took photos of their icy streets and filmed videos of the snow to encapsulate the historical event and its ramifications on the community.
To The Sidekick senior editor-in-chief Sally Parampottil, the work was an undeniable mark of a Pacemaker winning staff.
On April 10, her prediction came true. Coppell Student Media was one of 13 schools in the country awarded a National Scholastic Press Association (NSPA) Online Pacemaker for high school journalism. This recognition marks the fourth Pacemaker and second consecutive win in the program's history.
"[Winning a Pacemaker] meant that this year's staff and the leaders on this staff can produce excellent journalism in the most challenging circumstances," The Sidekick adviser Chase Wofford said. "This year has been anything but normal, and knowing the environment we've had to work in and not lower the standard of work made me incredibly proud of how we have performed."
Coppell Student Media also won second place in Website Large School Best of Show Category while The Sidekick won 10th place for Newspaper Tabloid 17+ pages Best of Show.
This year, the majority of the staff has been working virtually. Many staffers haven't spent a single day in D115, and most editors, including the editor-in-chief, have been virtual most of the school year.
"A lot of what we do deals with interacting with people, and even though the nature of our organization means that we can do a lot of things virtually, some of the human aspects are lost," Parampottil said. "We've had to deal with COVID-19 restrictions for the entire school year. We didn't have boot camp, we had zoom presentations and google slides, and the entrance into Sidekick for first years was more difficult. The fact that we've overcome a lot of those obstacles really makes us deserving of a Pacemaker."
Parampottil also won first place in Best of Show for Editorial Leadership across the country.
"It felt really nice and I was very proud," Parampottil said. "It wasn't just your friends, fellow editors or staffers saying you're a good chief, it's an actual separate body saying you did a good job, and that makes me feel really good because it means they weren't influenced by anything other than my application."
In individual awards, senior executive news editor Shivi Sharma won fourth place for Best of Show Election Reporting, senior executive editorial page editor Camila Villarreal placed fifth for Blog Best of Show and senior executive design editor Samantha Freeman and junior photo assignment editor Tracy Tran won fifth place in Best of Show for Newspaper page design.
"I know the ability and potential of this staff, and I wouldn't trade it for any staff in the country," Wofford said. "With the campus that we get to cover and the community we get to cover, everything is in place for great journalism in The Sidekick."
Follow Avani @AvaniKashyap03 and @CHSCampusNews on Twitter.
About the Writer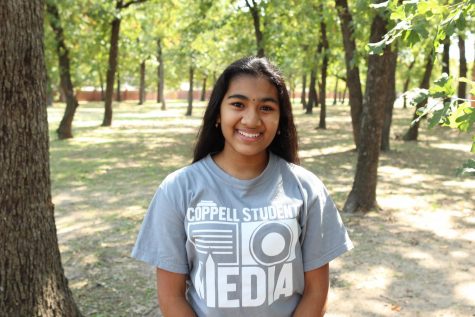 Avani Kashyap, Daily News/Assignment Editor
Avani Kashyap is a senior and the Daily News/Assignment Editor for The Sidekick. She loves animals and you can find her talking about her dog all day....