Community continuing recovery after devastating winter weather
At Coppell Middle School North, theater room F103 flooded after a fire sprinkler pipe burst. The state of her classroom stunned CMSN theater director Brittany Reese, as she, one of many teachers, homeowners and business owners that dealt with flooded properties, witnessed an unidentifiable room.
Discovered on Feb. 17, Reese's classroom lost many props and costumes. Reese, who was able to see her classroom only on Feb. 20, sorted the items as industrial fans around the room whirred, drying portions of the wall.
"I witnessed the water slowly spreading down and throughout the hall," Reese said. "When the door to my room [was opened], it was like a geyser. I lasted [a few] minutes before I had to leave since I was just crying. We lost about half the things and salvaged what we could."
Coppell residents spent the third week of February grappling with and persevering through unusual freezing weather and the resulting power outages. Impacts of that week's conditions persist even after the snow melted and the weather gradually warmed.
"
It's like a war zone in [my classroom], but it is a war that we will win."
— Brittany Reese
On Feb. 20, students were informed of the temporary closure of Richard J. Lee Elementary due to damages from the flooding of ruptured pipes. Throughout the building, carpets and drywall portions were completely saturated with water and needed significant drying time. As a result, the campus is not expected to open until after spring break next week. Until then, the staff and 102 in-person students are being accommodated at Valley Ranch Elementary.
"Our [students] are just happy to be back in school even in [a different building]," Lee Elementary assistant principal Leigh Ann Howard said. "The teachers and administration at Valley Ranch could not be more welcoming to us, and that has really helped make the transition easier. We say that we're having a sleepover with our cousins."
Howard said there are no issues with accommodating learners because of a low number of in-person students in both schools, eliminating social distancing concerns that, according to Howard, a few parents raised at the sharing of a campus.
Other Coppell ISD facilities also sustained damages, mainly water pipe related, with most repaired and all reopened on Feb. 22 with the exception of Lee Elementary and Roy C. Brock Center. Staff at the Brock Center were relocated to facilities across the district, with CISD departments consequently working to ensure technology and precautionary COVID-19 accommodations are set up in those buildings.
"The leadership team at those facilities and campuses [that sustained damages or are accommodating displaced staff and students] have been absolutely outstanding and cooperative in every way," CISD Chief Operations Officer Dr. Greg Axelson said in the Feb. 25 CISD board meeting, during which the effect of the winter storm on campuses was discussed more extensively. "They are patient with us as [the operations team] tries to get their campuses and buildings back to where they need to be."
The involvement of city departments during the week, including the fire department informing the district about Lee Elementary's leak, emphasized the role of community collaboration in such situations. CISD administrative leadership members held a meeting on Feb. 22 to discuss potential improvements the district could implement after the events of the week.
An idea for a community communication line was put forth, which would enable Coppell residents to inform the district about non-emergency issues such as water leakages. This is still an early plan and will progress through following meetings. A crisis support system was also discussed, which would involve staff members volunteering to help with issues arising in emergencies similar to the winter storm.
At CMSN, 2014 Coppell High School graduate Cole Cloutier has been substituting for Reese and helping students with upcoming shows. Reese said Cloutier's help enables students to continue learning with a person experienced in theater. CMSN theater teacher Stephanie Robertson shares her classroom with Reese's students.
"The support that we have gotten from the school and from the community has been amazing," Reese said. "Students, parents and teachers have been eager to help. It's been wonderful to know that I have [Robertson] who I can count on for support. It's like a war zone in [my classroom], but it is a war that we will win."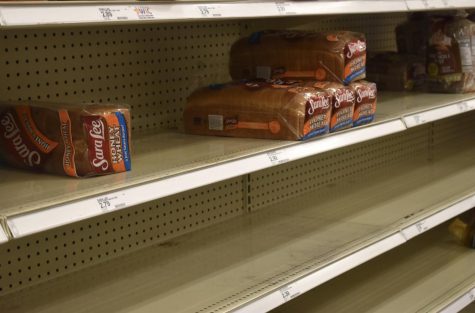 For the Coppell Taekwondo Academy, the road conditions of the snowstorm affected deliveries for their taekwondo belts, which arrive from Oklahoma City. Icy roads also hindered transportation of food items to grocery stores, a problem that has been largely resolved due to quickly improved weather conditions.
"[When classes cancelled because of the snow] we were considering conducting belt testing online, but because of all the power issues that students faced, I did not feel comfortable about that and postponed it a week," Coppell Taekwondo Academy owner Kevin Nevels said. "[The flooding damage] in our building had a bad timing because we typically have more people come in [during belt testing] and only had a smaller studio available, but [the students] kept rolling with it. As a martial artist, we talk about perseverance and integrity, things that apply to what we're dealing with right now."
Ruptured pipes at the academy were identified through a surveillance camera on Feb. 16. The building flooded due to eight burst pipes, which extensively damaged structures of the main instruction room, Studio A. With repairs still underway, the academy is using a smaller room, Studio B, to hold its classes. Nevels recalls how friends, students and relatives helped with getting water out of the building while fixing parts of the saturated drywall.
"Me and [co-owner Amanda Nevels] were up here every day from Tuesday to Sunday [that week], just getting things ready to open without further delays," Mr. Nevels said. "On social media, I [posted] that the academy had flooded, and people just started showing up to help. We've got good friends."
The extensive damage resulted in large portions of the bottom parts of walls having to be cut out, including a partial ceiling collapse because of water pressure. Nevels predicts that the repair might continue for two months, realizing that contractors have been swamped due to the high number of broken pipes and building damages.
"Most of our students are teenagers, who are very resilient," Nevels said. "With COVID-19 happening in the past year, we've learned to roll with the punches. This is another thing that we're overcoming right now, and it will take patience, but it will be OK."
Follow Nanditha (@nanditha__n) and @CHSCampusNews on Twitter.