Families utilizing resourcefulness as power outages strike city
Four inches of snow piled on sidewalks, stores and houses in Coppell on Sunday, prompting a week-long closure of Coppell ISD. The record-low temperatures brought with them rolling power outages, rendering many families in Coppell without electricity in freezing temperatures for hours and even days.
Loading ...
Coppell resident Lucy Cortez has not had electricity in her home for 30 hours as of yesterday, except for two hour and a half periods from 4:30 p.m. to 6 p.m. Monday and midnight to 1:30 a.m. Tuesday. She was forced to turn off the main water supply to her house on Monday, after a pipe burst and flooded her bathroom, closet and part of her bedroom. 
"The water pipe breaking in was really my 'you've got to be kidding me' point," Cortez said. "I cried a little, because it's flooding into my house, into my bedroom and I'm thinking 'OK, it's still freezing outside and this water is going to freeze in my walls'. I just started back at a job after nine months of being unemployed, so this is going to take a huge financial hit on me."
The Electric Reliability Council of Texas (ERCOT) manages the state-wide power grid, which is experiencing excessive demand as a result of the winter storm. To reduce this demand on the system, rolling outages began as of 1:25 a.m. Sunday. 
These controlled outages are meant to bypass areas with emergency responders and medical facilities, which is why neighborhoods are experiencing frequent and long-lasting outages. As of Monday morning, 11,500 Coppell residents are experiencing power outages according to Oncor, the company serving 36% of state-wide electrical demand.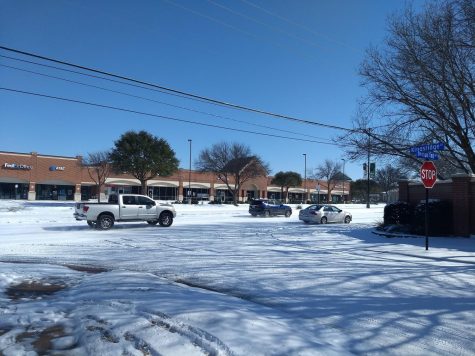 "It's definitely not been equitable between residents and businesses," Cortez said. "Someone on the Coppell Facebook page said, what about all these big companies out here? Their lights are still on. I just drove to Home Depot and they're closed but their parking lights are on. People say they have power generators, but not for outdoor lighting they don't. Even when you drive down Denton Tap Road, you can see the Capital One building is all lit up. They're businesses and I understand that, but they should play along too." 
Originally from Colorado, Cortez and her two kids, Xavier (14) and Sofia (10) are wearing their snow boots and heavy jackets, while grilling their food and using their wood-burning fireplace as a source of heat. Similarly, Coppell sophomore Stephanie Xia and her family are using their gas fireplace to stay warm and cook food. Xia's family has experienced inconsistent electricity for the past day and a half. 
"It's been frustrating without heat but also a little exciting because snow and such cold weather rarely happens in this area," Xia said via text. "The snow and cold was unexpected, but the fact that there are so many power outages is even more unexpected. You would think that America is supposed to be a modern place but people are without power for so long."
EMERGENCY UPDATE: At this time, @ERCOT_ISO is unable to predict when grid conditions will stabilize. All customers are urged to be prepared for cont' extended outages. Please also prioritize safety. Warming stations are available in many areas- check online or call 211 for more.

— Oncor (@oncor) February 16, 2021
Currently, ERCOT is unsure of when conditions and power outages will stabilize. Warming shelters have been open across North Texas since Friday to allow people a warm place to stay during the freezing temperatures and blackouts. In Coppell, the CORE was opened as a warming center at 6:30 p.m. on Monday night for residents to warm up. Face masks are required and cots and beds are not provided. 
"
You would think that America is supposed to be a modern place but people are without power for so long."
— Stephanie Xia
The city has also compiled a webpage with tips and information about winter safety. Updates including broken traffic signals and trash and recycling collection are being released on Coppell's Twitter, Instagram and Facebook pages. 
"You may not be in the greatest position, but at least try to have a positive outlook," New Tech High @ Coppell sophomore Namyuktha Prakash said. "Yesterday my family and I did go out and play for a while in the snow. By the campfire, we started playing chess and Connect 4 and other board games. There's things you can do even if you're unplugged for a while."   
Follow @CHSCampusNews on Twitter and @TheSidekickCoppell on Instagram for weather and school closure updates.