#SJW2021: Student journalism igniting dedication to industry
Sidekick alumni extending experiences in college, professional newsrooms
His daily scans of box scores, game stats and sports articles in The Dallas Morning News each day sparked his fascination for sports journalism. But, it wasn't until joining The Sidekick did he realize his own stories could appear on those pages too. 
For former Sidekick sports editor and University of Texas at Austin senior Marcus Krum, sports are like poetry. He is enamored by the emotions and moments he has witnessed while covering football games, track meets and soccer matches since his sophomore year of high school. That awe of the active, competitive atmosphere of sports has propelled Krum's career as a sports journalist, from The Sidekick to The Daily Texan to The Dallas Morning News to an internship at Sports Illustrated. 
"The most important thing I learned in high school was learning how to cover all different sports and gaining a bunch of experience doing that," Krum said. "A big part of sports journalism is being able to do a bit of everything. It's not the most glamorous or the most interesting, but it can be enjoyable if you figure out what you're doing. I wanted to be around sports, and that was the best way to be the closest to the action and have the best understanding of what was going on without directly being a part of the game."
"
A big part of sports journalism is being able to do a bit of everything.
— Marcus Krum
Today's theme for Scholastic Journalism Week, an annual occasion to celebrate student journalists across the country, is "Beyond student journalism." For Krum and other alumni, chaotic deadline days, travelling to national journalism conventions and the constancy of content production developed their skills and appreciation for journalism, which they carry into their current careers. 
"There's not a flagship newspaper of Coppell, so if you're doing The Sidekick right, that's the main source of news that students, parents and citizens of Coppell are going to," Krum said. "Students are more in the school community than any reporter could be, so they know what's going on."
Former Sidekick graphic design editor and University of North Texas senior Austin Banzon took a class from Coppell High School graphic design teacher Cindy Wolfe his sophomore year, where he paired his interest in drawing with technology. After two years on The Sidekick staff, he joined The North Texas Daily, UNT's student newspaper, as a designer. Though he is pursuing a career in advertising, The Sidekick developed his graphic design skills and motivated his college experiences. 
"
Making that shift to Sidekick was scary, but I'm glad I did it.
— Austin Banzon
"Making that shift to Sidekick was scary, but I'm glad I did it," Banzon said. "I was really happy to help the Sidekick team from a visual and creative standpoint. Everything that I've done in college and accomplished, I owe it to Sidekick. It had that kind of an impact on my life."
Like Banzon, former Sidekick editor-in-chief Rachel Buigas-Lopez brought an interest in art and a year of experience in Wolfe's class to the Sidekick newsroom, and The Sidekick helped solidify her decision to pursue design in college. After graduating from CHS in 2016, Buigas-Lopez pursued a major in Integrated Digital Media at New York University, and joined its student newspaper, The Washington Square News.
"You can write as much as you want; you can design as much as you want; but if you want to work in publications, there's a whole other layer to it that you get exposed to on Sidekick or a college newspaper," Buigas-Lopez said. "It's hard to get that feedback and really evolve unless you're putting your work out there." 
She is currently a freelance art director for The New York Times, through which she designs print pages for particular sections such as culture, food and arts & leisure on a rotating basis. Her mornings begin with an NYT print meeting, in which the contents of that day's printed issue are laid out. By 4 p.m., the finished edition is sent to the printers. 
"It's really cool to be a part of it, from start to finish," Buigas-Lopez said. "There's so many creative components in a newspaper; you don't have to be a writer to be involved. A lot of people pigeonhole journalism into just writing. But there's so much that goes on in a newsroom that uses so many different skill sets. To work for a place that you believe in and in an industry that you think is important is very important to me. I'm always very proud to say that I worked at The Sidekick."
Follow Shivi @_shivisharma_ and @CHSCampusNews on Twitter.
Leave a Comment
About the Writer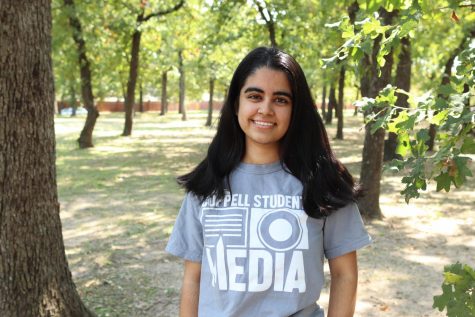 Shivi Sharma, Executive News Editor
Shivi Sharma is a senior and Executive News Editor for The Sidekick. She is part of the IB Diploma Programme at CHS and also edits for Brown Girl Magazine....