This time, it's final for Sidekick editor
One year after first convention experience, Buigas-Lopez prepares to exit high school journalism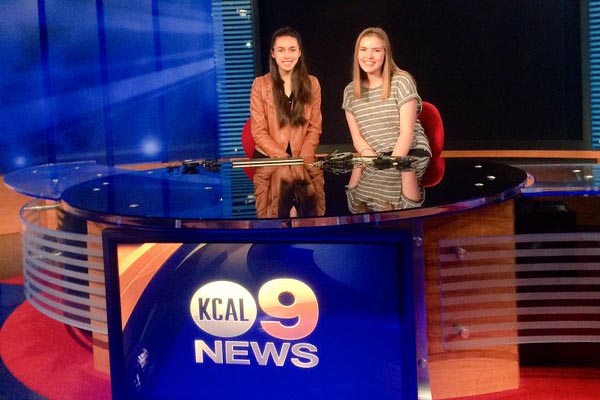 LOS ANGELES – Last April, The Sidekick arrived in Denver for the JEA/NSPA Spring National High School Journalism Convention; three hours later than expected and in a snowstorm warning.
This was the experience of my first JEA/NSPA convention, and coincidentally what I thought would be my last.
As many close friends and staffers know, I was not supposed to be on the 2015-16 Sidekick staff. I had so much room in my heart for Sidekick but simply not enough room in my schedule. My courses for senior year were full to the brim with credits I need to graduate as well as obtain my International Baccalaureate Diploma.
It clicked at that convention in Denver that I had to find a way to stay on staff. There is so much excitement and raw feeling coming out of a journalism convention – and if you do not believe me go to one and you will see exactly what I mean.
The experience of a convention and surrounding yourself with people that are willing to "geek out about fonts with you," as Shawnee Mission North High School adviser Becky Tate put it, makes you feel at home. I want to geek out over fonts and talk about what other schools are doing.
A convention like the one JEA/NSPA puts on semiannually is one of the few times student journalists have time to bounce ideas in such a large scale and bring it back home. Having a conversation about what we are going to change and improve over some enchiladas at lunch, even if we are dreaming big and out of our bounds, is not only improving our paper, but individually as a human being collaborating in a field I really care about.
I care so much for our publication, but it is important to note that I tend to doubt if I should even define myself as a journalist because I typically do not write. I think a more appropriate term is "designer who likes to be surrounded by journalists." I do not know how to take these facets I love about both journalism and design and move forward into the workforce and the rest of my life because I do not know what I want to do.
This last convention experience has made me feel like that is OK.
Sure, I do not tend to write, but I can still connect to Pulitzer Prize-winning journalist Jose Antonio Vargas saying "journalism is my church to me, reporting is my religion." I am immersed in the culture of it all.
As editor-in-chief, I have to be; and even better I enjoy it.
I encourage anyone who is passionate in a specific field to attend a convention in that area and be surrounded by people who share your passion. It is entirely overwhelming in the best way.