Never quit, never die: Moyer brothers display competitive spirit across multiple sports
Whether it is a dive into tranquil water at the Coppell YMCA pool or a flawless pass to a fellow lacrosse teammate, Coppell juniors triplets Jack, Scott and Luke Moyer possess a common attitude in their sportsmanship: a sense of competitiveness. 
Yet, the memories they create and the difficulties they encounter are distinct and unique.  
At the beginning of this school year, Jack switched from basketball to swimming after not making the varsity team. Scott had suggested Jack try out for the swim team since he had some prior swim experience and was looking for a new sport.
Despite Jack starting high school swimming his junior year, late compared to the other swimmers, he is able to compete with his brother.
"Jack is actually picking up speed and he's getting close to Scott's times," Coppell assistant swim coach David Conrad said. "They are very competitive, [but] they still support each other. It's an interesting dynamic."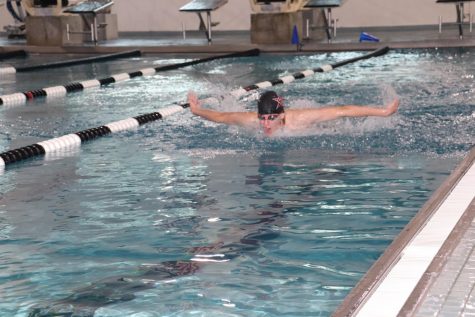 Having Scott on the team allows Jack to progress quickly in swimming. 
"[At the Coppell vs. Southlake Carroll swim meet on Dec. 3 in Southlake], I actually swam a time faster than [Scott]," Jack said. "It was pretty cool being able to compare times. I am always really competitive with my brother." 
Conrad has assisted Jack to adjust to the nature of the swim team. He has also observed his growth from initially being on the JV team to the varsity team. 
"I have coached Jack and loved every minute of it," Conrad said. "The kid has got guts. He's a tall, athletic kid, and he's working really hard." 
Scott also demonstrates this mindset, as Jack's addition to the swim team has made him more rivalrous than before. 
"We like to mess around with each other a lot," Scott said. "We always tease each other about our times, and we both push each other to go a lot faster." 
Scott made the varsity swim team his freshman year, a feat not accomplished that often. His coaches knew from the start that Scott was not a novice swimmer.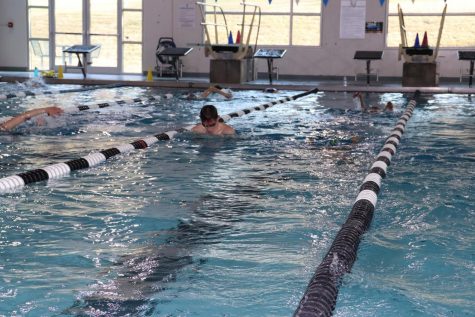 "Scott was fiery," Conrad said. "You rarely saw Scott back down in terms of working hard in a practice. He's the one you see coming back, and he may be the one who's working himself to death, but he is going to make that interval and he's going to stay on it and he's not going to take the easy way out. That's a part of his character and his intrinsic motivation." 
Luke, the only of the three who does not competitive swim, embarked upon his lacrosse journey in fourth grade. He recollects his very first interaction with a lacrosse field. 
"My first time stepping on the field was in a game, so I was extremely nervous and over my head but the [Coppell Lacrosse Association] did a really good job stepping me into it," Luke said. "I watched for a little bit and I was finally able to step on the field. My heart was pumping [fast] and it was nerve wracking but I loved it." 
Despite playing a different sport, Luke's play still reflects a similar, ambitious mindset as his brothers. 
"[When Luke faces tough situations], he brings the same energy and the same effort," Coppell lacrosse coach Matt Mueller said. "He refuses to lose, [regardless of what] we are doing. Whether it's a stick work drill, or a competitive drill, or a game, he's going to give maximum effort. Win or lose, he's going to lay it out on the line for his teammates and do everything to his ability to help [the lacrosse team] be successful." 
Luke has played for the Coppell Lacrosse Association's high school team since ninth grade. According to mother Jenn Moyer, due to the large difference in size and strength among ninth grade boys and the upperclassmen, Luke initially faced difficulties.
"[Luke] really had to fight through it," Mrs. Moyer said. "He wanted to quit, he would come home with bruises from the seniors. But [I told him] you just have to push through it, that's part of the sport." 
However, after working tirelessly with Mueller since freshman year, Mueller thinks Luke has become a passionate leader.
"Before you can even think about being a vocal leader, you've got to get out there and lead by example, and that's what Luke does," Muller said. "He's out there running as fast as he can, controlling what he could control to improve his personal skills. And that's contagious. Guys see that, guys see him give his maximum effort – not only maximum effort, but improving." 
Not only are the Moyer triplets competitive, they also portray good sportsmanship by taking advice from their parents seriously. 
"[My husband Matthew and I] always told the boys to listen to coach, play hard and have fun," Mrs. Moyer said. "It doesn't matter the result, it doesn't matter what anybody else [does]. If you are listening to coach, playing hard and having fun, that's successful. They have all taken that to heart."
The hero behind the triplets' shared temperament is their mother, as her guidance plays a vital role in their sporting careers.
"If their goals are realistic and if their coach or I think that goal is realistic, then I help them find a different way to reach their goal or set a midterm goal to get to their final goal," Mrs. Moyer said. "If their goals are unrealistic, then I help them set a realistic goal that they could challenge themselves and meet."
Mrs. Moyer is a booster for the Coppell swim team which has led Conrad to form a strong bond with the Moyer family. 
"[Moyer triplets] have a work ethic which is never quit, never die," Conrad said. "They compete at pretty much everything. They show you they are not going to quit. They know that if they work hard, they get better – and they are not afraid of working hard." 
Follow Varshitha (@Varshitha1128) and @SidekickSports  on Twitter.