Move over pumpkin spice (with video)
Gingerbread, hot chocolate recipes for holiday season
Christmas sweaters and presents start to crowd under the Christmas tree, and peppermint and eggnog smells fill the air. Gather your family and friends for these homemade soft and chewy gingerbread cookies, along with warm hot chocolate to enjoy for the holiday season. 
Gingerbread Cookies 
Ingredients 
Gingerbread cookies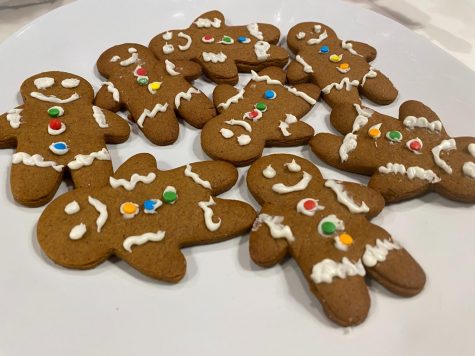 3 ¾ cups all-purpose flour

¾ teaspoon baking soda 

¼ teaspoon baking powder

1 tablespoon ground ginger 

1 tablespoon ground cinnamon 

½ teaspoon ground cloves 

¼ teaspoon ground nutmeg 

½ teaspoon salt 

¾ cup unsalted butter, room temperature

10 tablespoon packed dark brown sugar 

1 large egg 

1 ½ teaspoon vanilla extract

½ cup unsulfured molasses
Icing
1 ½ cups powdered sugar

1 ½ – 2 tablespoon milk 

1 tablespoon honey 

½ tablespoon vanilla extract

  
Preparation
Gingerbread Cookies
Combine flour, baking soda, baking powder, ginger, cinnamon, cloves, nutmeg and salt in a large bowl and set aside. 

In a medium bowl use a mixer on medium speed to cream the butter and sugar together until light in color and fluffy. Add the egg and vanilla extract mix until well combined. Add the molasses and mix well until combined.

Add the cream to the dry ingredients and mix until the dough becomes thick.

Divide the dough into two equal parts. Then shape half of the cookie dough into a log, and then roll it out to about ¼ an inch thickness between two pieces of aluminum foil.

Transfer the aluminum foil-lined dough onto a cookie sheet. Refrigerate for about eight minutes.

Preheat oven to 350 degrees.

Remove cookie dough from refrigerator and immediately use a cookie cutter to cut into gingerbread shapes. Leave the cutouts on the foil. There should be about an inch between each cookie for baking. Store excess dough into the refrigerator for later use.

While cookie dough is still cold, transfer the aluminum foil and dough onto a cookie sheet and bake for eight minutes. 

Remove cookies from oven and allow to cool on baking sheet for three to four minutes, or until cool enough to start decorating. 
Icing
Add powdered sugar into a small-medium sized bowl, then add milk, honey and vanilla extract and stir until well combined. Keep stirring as the mixture starts to become thick. Add additional milk if needed, but do not allow the mixture to thin out. The consistency should be pipeable.

Add the icing to a piping bag with a small round tip and decorate your cookies. Add sprinkles and/or other decorations (to preference) then serve.
Hot Chocolate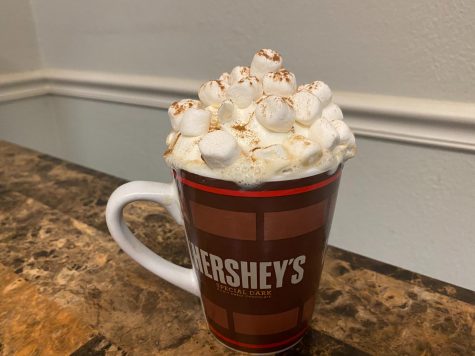 Ingredients 
4 cups of whole milk 

1/4 cup unsweetened cocoa powder

1/4 cup granulated sugar

1/2 cup bittersweet or semisweet chocolate chips 

1/4 tsp pure vanilla extract
Preparation 
Pour milk, cocoa powder and sugar in a small pot. 

Heat over medium/medium-low heat, stirring frequently until warm but not boiling. 

Add chocolate chips and stir constantly until the chocolate chips melt and distribute evenly into the milk. 

Stir in vanilla extract.  

After five minutes of cooking time, serve immediately with choice of toppings.