Adding texture to paint
Coppell's evolving, unifying artistic presence
In 1999, a small, unused fire station was converted to Coppell's first Center for the Arts. Twenty–one years later, in the midst of a pandemic, the first, brand new Coppell Arts Center had its opening ceremony.
The establishment of fine arts in Coppell originates from Pete Wilson, a life-long Coppell resident and founder of Theatre Coppell. Wilson, who was part of Coppell High School's first graduating class in 1965, created the city's first theater program in 1988 after an increased demand for local arts.
"When I started teaching in 1972 at the high school, there was no theater program," Wilson said. "We were still a very small school, and we only did one or two extracurricular shows a year, but then it grew and we eventually got classes. When I retired in 2008, we had gotten much bigger and had three drama teachers, which is typical of many big schools."
Throughout the 1990s, the arts presence grew as the Coppell Community Chorale and community band established themselves alongside Theatre Coppell. As the groups, originally performing at what is currently the Coppell High School Ninth Grade Campus, gained membership, the need for an arts center increased, and Coppell Center for the Arts was founded.
Since, the population and artistic presence of Coppell have rapidly grown, and the city is now home to five resident art groups: Theatre Coppell, Coppell Community Chorale, Coppell Community Orchestra, Coppell Creatives and the Ballet Ensemble of Texas.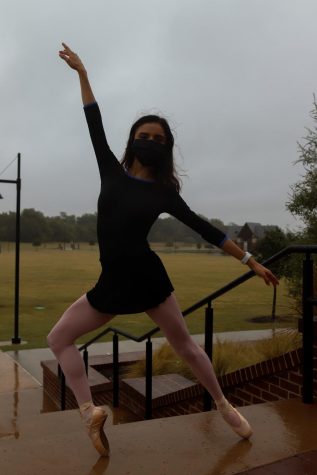 The creation of the new Coppell Arts Center had been in the works for more than 10 years, with the finalized architectural plan approved in 2017. Equipped with art galleries, theater halls and a performance plaza, the new center provides all five groups a new place to practice.
"The new arts center will be a source of education and will give people the opportunity to come out and observe the arts," Wilson said. "It's going to support the local groups, and gives some of us a home we didn't have at all."
New, diverse artistic presence 
As the painting of the city's art scene continues to develop, new colors and texture are being added at increasing rates.
In recent years, Coppell has also seen the development of new arts programs such as Coppell Creatives, which was established to support and highlight visual art in 2015, and Coppell Community Orchestra, created in 2017.
"It's really interesting to see that even though there are groups that started many years ago, there's still a lot of newer groups coming and growing inside the community," said Vanessa Younts, Coppell Community Orchestra board president. "With our orchestra, we act as an advocate for fine arts because we play within the community, share our stories and share enjoyment of music."
Local arts organizations such as the Coppell Orchestra provide avenues for adults to renew or further their passion for the arts and spread art appreciation throughout the town.
"Our orchestra allows those musicians that may not be playing currently, but played previously, to revive their instruments and connect with other people," Younts said. "We're a wonderful community that comes together to create music."
Within CHS, theater director Karen Ruth has noticed increased involvement in the arts, specifically theater, as the number of students pursuing creative arts in college has increased from two to 10 over the past two years.
In the last 20 years, there has been increased integration of digital art with performance art, and through the rise of the internet, many young creatives have been able to produce their own art through non-traditional mediums.
"Even when I got my master's degree in acting, we didn't have half of the technology at my university that we do now, here in a high school program," Ruth said. "There has been a big shift in people making their own art through having their own YouTube channels and TikTok. It's fascinating and gives us even more places to go."
"
"There has been a big shift in people making their own art through having their own YouTube channels and TikTok. It's fascinating and gives us even more places to go.""
— Karen Ruth
This year, Ruth got her first new theater class: the In Production University Interscholastic League (UIL) One Act Play class, which combines different roles within the program, in addition to the already present theater classes of Spotlight Theatre I, Broadway Bound Theatre II, Studio Premier Theatre III and IV and Fame Musical Theatre I, II and III.
Enrollment in Ruth's classes have increased from 120 to 160 over the past two years, and CHS9 has had to turn students away due to being at full capacity of around 200. As the CHS theater program continues to grow, Ruth anticipates getting a fourth theater director and expanding the types of classes a few years down the line.
"We cast, create, rehearse and perform our UIL one act play within this class," Ruth said. "It's a collaborative class that includes technicians and performers. I would love a comedy class and a specific theater history class in the future."
As diversity in Coppell's population has increased over the years, so has the presence of its multicultural art forms.
"When I started teaching in Coppell 15 years ago, there were six kids," said Vani Iswara, founder of Ellora Center for Performing Arts, an Indian classical dance/Bharatanatyam institute. "Now, the majority of my over 200 students come from the Coppell area. I'm also seeing more kids continuing dance in college because there are more opportunities. More people with similar interests are coming together, so they don't feel odd or uncomfortable talking about classical dance."
At CHS, the annual Heritage Night encourages students to come together to perform multicultural art forms, including but not limited to Bollywood, K-pop and hip-hop. The Cozby Library and Community Commons is a hub for many multicultural arts through hosting events such as the Cultural Fair, in which various international art forms are displayed.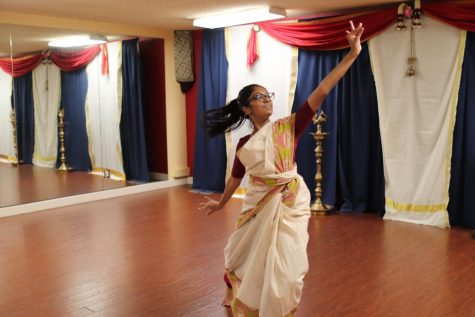 Events such as the library's Chinese New Year have also allowed those like CHS senior Kevin Ly, who has practiced Kung Fu for six years, to showcase traditional Chinese art forms such as dragon dancing. Ly's experience pursuing martial arts gives him unique perspectives to integrate into his learning.
"I have a lot of insight about the Chinese culture, especially in depth about our specific style, as well as why lion and dragon dancing is performed," Ly said. "I implement my knowledge of that into other fine arts such as artwork for [International Baccalaureate] classes or history. I use this first hand experience in order to enhance my education."
Along with integrating arts and education, CHS senior Kirti Chamkura uses her experiences learning Indian classical music, choir and western music to create her own original songs. Chamkura, who was scouted by the talent agency Septien Entertainment Company (SEC) two years ago and now performs gigs around the Dallas-Fort Worth area, has had multicultural art influences throughout her entire life.
"I used to keep them really separate, but there are a lot of similarities," Chamkura said. "Classical Indian singing is very technical and goes back generations, so it's hard to manipulate it because that's disrespectful in a way. The great thing about western art is that you can play your own original music and change your covers to be something more reflective of you, so I'm trying to involve my Indian singing into my western music to create fusion." 
COVID-19 changes the game
"As Coppell grows and as people want more close-to-home opportunities, more is going to come and evolve," Coppell Arts Center Foundation board president Penelope Furry said. "People have a lot more time now because so many folks are working from home, so rather than commuting two hours a day, you have two hours a day to pursue your art."
COVID-19 has had a drastic impact on the artistic presence in Coppell. The opening of the Coppell Arts Center was delayed, performances and tours have been canceled, and organizations, such as Theatre Coppell, have halted production. However, the new circumstances have given way to unique opportunities such as digital performances and outdoor concerts.
"The creative community has gotten even more creative," Furry said. "They come up with additional offerings and are able to market to a bigger audience. Rather than just your community, you can target anybody in the world now. The whole notion of digital is here to stay, and so that's going to be a pivot that a lot of groups are going to have to make."
"
The whole notion of digital is here to stay, and so that's going to be a pivot that a lot of groups are going to have to make.""
— Penelope Furry
To Ruth, the need to make significant changes to the theater industry has had permeating effects that will last beyond the end of the pandemic. However, she hopes the increasingly digital shift will create new, innovative approaches to theater and the other fine arts.
"There is a big feeling within the theater community that theater itself has changed permanently because of this pandemic, and we won't see packed audiences the way we used to," Ruth said. "We're looking for more creative forms of putting shows up and it's shown us how resilient and creative we can be. I'm trying to take this experience and hold on to the things that have been really positive for us and see if we want to move forward with it."
Safety precautions and a struggling economy have made it more difficult for performers like Chamkura to book gigs.
"A lot of the people that want live music are indie restaurants," Chamkura said. "It's really hard to find an upscale restaurant that would want singing rather than just a violin or cello. Since small businesses are losing funding because of the pandemic, they really aren't investing in live music."
Despite COVID-19, CHS and the city at large continue to create new classes that bolster Coppell's artistic presence.
"A real high school that cares about kids is going to offer many different outlets for them," CHS principal Laura Springer said. "It gives kids a chance to find a passion that they never knew they had and I'm so thankful for the many programs we have here that touch kids' hearts and make them better."
Since the 1980s, Coppell has been a place of artistic development. As the diversity and presence of arts groups continues to grow, the influence and appreciation of the arts is expected to follow.
At first glance, it may not seem like an artistic city. But peeling back the layers, it is clear that the arts have become cemented in the town's history.
Follow Avani @AvaniKashyap03 and @CHSCampusNews on Twitter.
About the Contributors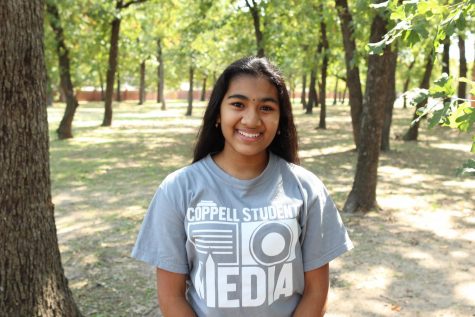 Avani Kashyap, Daily News/Assignment Editor
Avani Kashyap is a senior and the Daily News/Assignment Editor for The Sidekick. She loves animals and you can find her talking about her dog all day....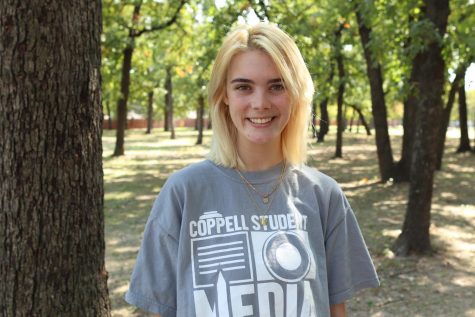 Lilly Gorman, Visual Media Editor
Lilly Gorman is a senior and visual media editor for The Sidekick. In her free time she enjoys shooting 35mm film. She has been playing bass guitar for...