Boba, say hello to pumpkin spice
Traditional milk tea meets American flavors of fall
Boba milk tea is a delicious drink originating from Taiwan made from sweetened tapioca pearls added to traditional milk tea. It has increased in popularity in the Western Hemisphere in the last few years, and Coppell residents can enjoy this drink in flavors from jasmine to taro at places such as Kung Fu Tea, ShareTea and Fat Straws. 
With the arrival of fall, this recipe puts a twist on traditional Taiwanese milk tea by adding the American flavors of pumpkin spice. This is a unique drink that can be made in the comfort of your own home. 
For the Pumpkin Spice Milk Tea: 
2 bags black tea 

½ cup white cane sugar 

4 cups water

1 tsp. pumpkin pie spice

3 tablespoons pure canned pumpkin 

2 tablespoons heavy cream 
For the Tapioca Pearls: 
½  cup tapioca flour (additional for dusting) 

5 ½ tablespoons brown sugar 

2 ¼ cups water 

2 cups ice 

Black food coloring (optional)
Preparation: 
For the milk tea: 
Heat 4 cups of water on medium heat. To lessen the bitter taste of the black tea, do not allow water to reach a rolling boil. When water begins to simmer, turn the heat off.  

Add tea bags. Steep for 20 minutes, then add sugar. Allow the tea about two to three hours to cool. 
For the tapioca pearls: 
Heat ¼ cup of water and 4 ½ tablespoons of brown sugar on the stove. Add black food coloring at this point to achieve the traditional black color instead of dark brown. Allow sugar to melt completely. 

Add ½ cup of tapioca flour to the hot melted sugar mixture and carefully begin combining until it forms a dough texture. Once cooled, begin kneading until it forms a smooth, even texture. Do not allow it to completely cool as it will be difficult to shape. Adjust the amount of tapioca flour depending on the consistency of the dough. It should be like Play-Doh. 

Separate the dough into two balls. Begin rolling the balls into thin ¼ inch snake-like strands. Cut ¼ size pieces from the strands and roll into spheres. Dust with tapioca flour to prevent sticking. 

Heat 2 cups of water until it comes to a rolling boil. Slowly add the boba and cook for about 10 minutes, then turn off the heat and allow to simmer for five minutes. Strain the boba and plunge the pearls into an ice water bath for 30 seconds. Remove pearls from the ice water bath and place in a separate container.

In another pan, heat 1 tbsp of brown sugar with 1 tbsp of water until the sugar is dissolved. Pour the sugar syrup onto the cooked boba and stir.  
Bring it all together: 
Use a separate glass and add the pure canned pumpkin, pumpkin pie spice and heavy cream. Mix vigorously, then add the milk. Shake the mixture for 1 minute or until frothy. 

In another glass, put tapioca pearls first, followed by ice, then pour the cooled black tea halfway. Add the pumpkin cream mixture until it reaches the top of the glass. Mix well and serve. Enjoy! 
Follow Angelina (@angelinaliiu) and @CHSCampusNews on Twitter. 
About the Writer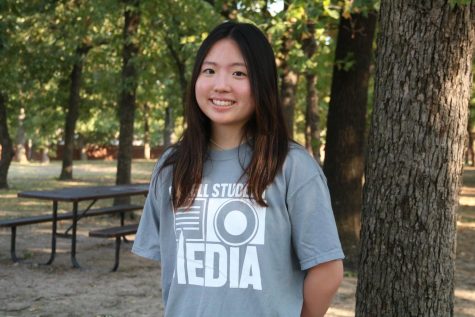 Angelina Liu, Staff Writer
Angelina is a sophomore and first year-staff writer and photographer for The Sidekick. In her free time, she likes to listen to music, spend time with...