Smile behind the mask
Wilson's positivity motivating to all during difficult times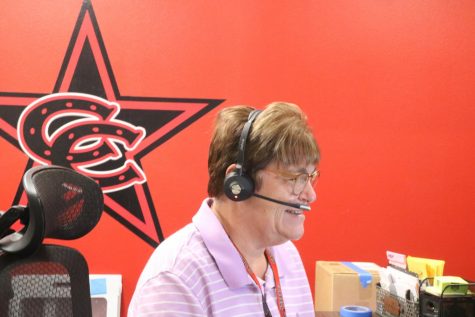 Coppell High School receptionist Julie Wilson is the first face visitors see when walking into campus. She provides support for both parents and students, as well as facilitates communication through CHS. 
With new COVID-19 guidelines, Wilson has found ways to overcome challenges COVID-19 with a smile on her face. 
"A lot of people think that a receptionist just sits and eats bonbons all day and does their nails," Wilson said. "I come in, open up the office, get my computer plugged in and then the phone starts ringing nonstop. It's busy, all day long, every day. I like to treat everyone who comes through [CHS's front doors] like they're a guest in my home coming into my living room."
Wilson's daily tasks include making sure all visitors wear masks, students and faculty are social distancing, and ensuring they know where hand sanitizer stations are located by her desk. 
"I am a very easy, go-with-the-flow kind of person so [dealing with COVID-19] hasn't been bad for me," Wilson said. "If we go by these guidelines and we follow them now, the sooner we will be out of this."
The new mask mandate may be more difficult for others to handle, but this experience is not a new one for Wilson.
"When I first moved to [Dallas from Illinois], I worked as a receptionist at the Medical City of Lewisville in the Newborn Intensive Care Unit (NICU), so I am used to wearing a mask," Wilson said. "It was a very rewarding experience, I got to teach parents how to wash their hands and be sterile so that they could be with their babies.  I'm a people person. Anytime I can help anyone or just get to chat with someone, I'm a happy camper." 
Teachers and students enjoy interacting with Wilson due to her ability to connect with others.
"She always has a huge smile," CHS art teacher Michelle Hauske said. "She's always positive, even in instances when she is overwhelmed or stressed. She greets you with a smile and sends out daily emails to the staff with positive comments and birthday wishes."  
CHS principal Laura Springer is also fond of Wilson's kindness and believes that she exemplifies the Fish Philosophy. 
"There are some people who come in and are extremely rude," Springer said. "They take it out on Ms. Wilson and I have to give her kudos because she handles the anger and sadness while doing it all with grace. She is one of my Fish Philosophy examples I use in staff meetings."
When the threat of COVID-19 closed down CHS in late March, Wilson found a new passion in walking. She often starts her days at 5 a.m. and walks six miles every day.
"It takes 30 days to make a habit," Wilson said. "I promised myself that if I could walk 30 days, I could do it. And so I did. One mile became two, two became four and four became six." 
With all of the changes occurring because of COVID-19, one thing remains the same: Wilson's love and devotion to her job. 
"I'm very blessed to be able to come here everyday and work with this amazing staff," Wilson said. "I would be devastated and I'm not sure what I would do if I didn't have this job. This is my element and where I belong." 
Follow Angelina (@angelinaliiu) and @CHSCampusNews on Twitter.
About the Contributors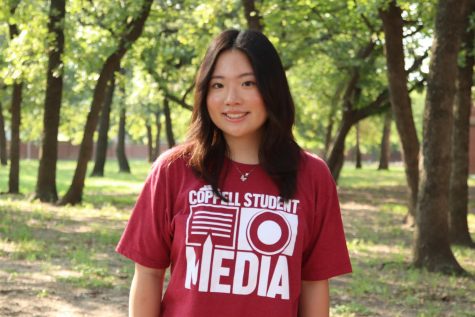 Angelina Liu, Visual Media Editor
Angelina is a junior and the visual media editor for The Sidekick. In her free time, she likes to listen to music, spend time with friends and thrift....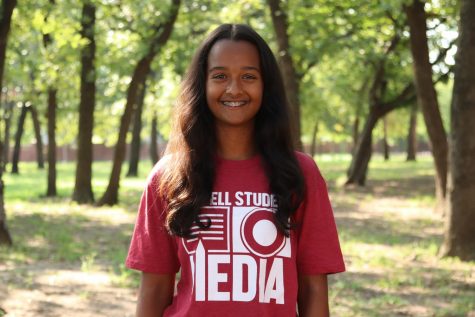 Nandini Muresh, Photo Editor
Nandini is a junior and the photo editor for The Sidekick. She is in the Coppell Color Guard, and outside of school she enjoys doing Taekwondo, dance,...