Fighting for justice for all
Supreme Court Justice Ginsburg leaving legacy
Since the 1970s, Supreme Court Justice Ruth Bader Ginsburg pioneered the fight for women's rights through her work on equal pay and sex-based discrimination cases. At the time of her appointment in 1993, Justice Ginsburg was only the second woman to serve on the court. On Friday, at age 87, Ginsburg died from metastatic pancreas cancer. 
"It was not surprising, but still devastating," Coppell High School AP government teacher Kimberly Lee said. "She's had a tremendous impact on me. Not just as a woman, but that the work I provide is now valued on the same level as what it is for men. She was writing dissenting opinions before I was even born, but those opinions she wrote in the '70s took a strong root in our society."
In 1958, Ginsburg was one of nine women in a class of 500 at Harvard Law School, where the dean asked female students to justify taking a man's place in class. CHS junior Natasha Banga sees similar, more subtle, actions favoring men in her own experiences in debate. 
"In some debate events I compete in, there are clear advantages for male competitors," Banga said. "For example, in a speaking event called [extemporaneous speaking], sometimes men have voices that are deeper and more persuasive, and mansplaining is very common. I know those aren't the same magnitude as the difficulties she faced, but I think her story of moving past those barriers in terms of gender empowerment is inspiring."
For younger generations and the internet, Ginsburg earned the affectionate title 'Notorious R.B.G.'. The nickname played on the name of famous rapper 'Notorious B.I.G.', who was Brooklyn-born, like Ginsburg. With her nickname came a powerful image that exemplified her class, tenacity and dissents, leaving an imprint not only on America's highest courts, but on people around the world.
"She reached so many generations because she was such a cultural icon," Coppell ISD trustee Tracy Fisher said. "When Ginsburg was appointed, I had just had my first child, and it was so powerful because of where she came from. She was one of very few that graduated from Harvard and was a standout. So smart, so brilliant."
Just six weeks prior to Election Day, Ginsburg's death leaves a vacancy in the Supreme Court. If a new justice is confirmed prior to the election, conservatives will hold a 6-3 majority in the court. 
"I don't want to see her importance diminished just because there's about to be a national debate over filling her seat," CHS AP U.S. history teacher Kevin Casey said. "It's hard in the present to gage how important a figure she was, not just in the American Supreme Court, but in American life. This was a woman who could have made considerable sums of money in private practice, and instead devoted almost the entirety of her professional life to serving the greater good."
Nominations for a new Supreme Court Justice are made by the president and confirmed by the Senate, which is currently Republican-controlled, before a new individual is appointed. 
"It's wrong to try to replace her in a hurry," Fisher said. "I don't want a 'token woman' in that role. If she had been a man, fighting for those things, she would have been just as revered, if not more revered. I am hopeful that people will come together and encourage their legislators in Washington, especially senators, to not vote to confirm someone in a quick way. Whoever is elected president needs to have that honor. I watched [Ginsburg] live her life and fight for justice for all. Her quote about fighting for the things you care about, but doing it in a way that will lead others to join you – that quote sticks with me. That was RBG."
Follow @_shivisharma_ and @CHSCampusNews on Twitter.
About the Writer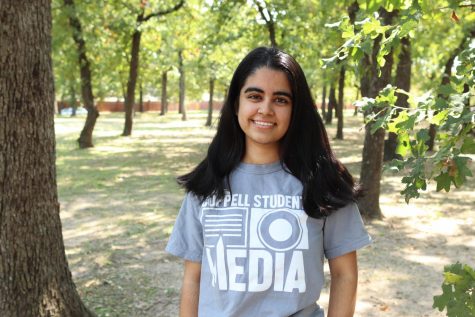 Shivi Sharma, Executive News Editor
Shivi Sharma is a senior and Executive News Editor for The Sidekick. She is part of the IB Diploma Programme at CHS and also edits for Brown Girl Magazine....