Stepping up for healthcare workers
Gottipati raising funds, supplies for local hospitals
As apprehension over the coronavirus rose in May, Coppell High School senior Naisha Gottipati watched as the long shifts at the UT Southwestern Children's Medical Center took their toll on her sister, Dr. Lasya Challa.
"[Challa] was more lethargic and she couldn't interact with us as much because she was afraid of being contaminated and spreading [COVID-19]," Gottipati said. "I started reading articles about how [the pandemic] was impacting healthcare workers. I found that some hotels would offer food and lodging to healthcare workers who are too afraid to stay with their families, and I knew I wanted to do something along those lines."
Inspired by the sacrifices Challa made for her patients, Gottipati started the nonprofit Healthcare Meals, Inc. The organization has raised more than $9,000, 900 meals and 800 face shields for local hospitals.
Gottipati's main initial challenge was contacting hospitals that would work with Healthcare Meals to accept donations.
"It took a while for the nonprofit to start off, so her persistence in contacting the hospitals and donors was a big part of the organization's growth," Gottipati's mother Pallavi Challa said via email.
Gottipati started donating to Parkland Hospital before expanding to four other hospitals in the Dallas-Fort Worth area in the next two months. 
After hours of calling representatives from the human resources departments at hospitals, Gottipati realized running a nonprofit improves her communication skills.
"I used to be the person who stuck around the corner and did the behind the scenes work," Gottipati said. "When I started this, I had to become the spokesperson to the corporate sponsors, deliverers and hospitals. It helped me become a better communicator."
Previous experience in volunteering with other organizations prepared Gottipati for her nonprofit. She has been working for the American Red Cross since 2018, coordinating volunteers from 12 counties in North Texas.
"Her experience serving as a volunteer at the American Red Cross instilled a sense of social responsibility into her," Mrs. Challa said via email.
As the pandemic continues, personalized letters of appreciation from hospital staff motivate Gottipati to continue collecting supplies and money for healthcare workers.
"I find it very wonderful that she's giving back to healthcare workers in this global pandemic," CHS senior Shreya Ravichandar said. "It definitely makes it less stressful for the doctors, nurses and everyone else who works at the hospital."
The nonprofit's quick growth encourages Gottipati to expand further. In the future, Gottipati plans to start chapters of Healthcare Meals in rural areas of Texas where donations and funding are low. 
"Starting this made me realize how good it feels to do something meaningful to yourself and the people around you," Gottipati said.
Follow Trisha (@trishatluri) and @CHSCampusNews on Twitter.
About the Writer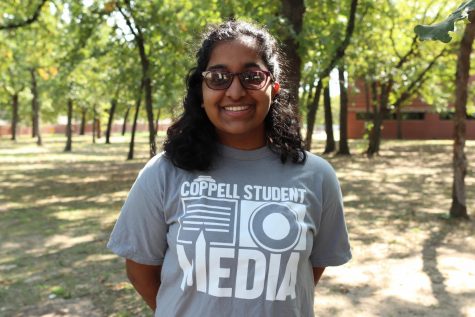 Trisha Atluri, Advertising/Circulation Manager
Trisha is a junior at Coppell High School and the advertising/circulation manager for The Sidekick. She enjoys playing ukulele and discovering new music...