Artists drawing support for racial justice
This past May, when the death of George Floyd rocked the nation and opened the eyes of a generation to racially motivated violence, Coppell High School senior Ishita Sisodia picked up her oil paints and set to work on a piece she would spend five days on. 
Sisodia, along with other Coppell-based student artists, was inspired by the resurgence of the Black Lives Matter movement to create art that would raise awareness and money for racial injustice.
The local nonprofit Pal O Valley Cards has donated $400 to the NAACP so far. Originally founded by CHS junior Rohan Palavali and sophomore Maya Palavali to raise money for Doctors Without Borders, the artists opened up their services to include donation commissions, the proceeds of which would go to the NAACP. 
"We really hope that this inspires other people to set up some fundraisers of their own or use whatever they can do to help people in need," Rohan said.
Similar to the Palavalis, several other Coppell artists put their desire to help and their skillset to use through donation commissions. CHS sophomore Kelly Park, senior Kirthika Piratla and The Hockaday School in Dallas sophomore Amber Li raised a total of $500 through commissions, which they donated to various organizations committed to addressing racial inequality.
Park, Piratla, Li and Pal O Valley Cards used individual art accounts on Instagram to advertise their commissions. They were all informed about these issues by social media, and Piratla and Park drew inspiration from other Instagram artists for their idea to fundraise through commissions. 
"There was this one day where everything blew up in my [Instagram] feed," Park said. "When people decide to use art to promote some value, it becomes more special to anyone who sees it."
For former Sidekick staffers and CHS 2020 graduates Umama Suriya and Yash Ravula, the implementation of their skills to help the movement came in the form of a documentary featuring Coppell voices of various races. Through writing, interviewing and editing, "The Last Straw – The Divide of Centuries" took almost two months to produce. In the description, the team noted their goal was to "amplify the voices of African Americans."
Piratla also recognizes the need to elevate Black people and their struggle.
"It breaks my heart, because I've been ignorant for a long time, not knowing how it feels and not properly listening to the voices of Black people," Piratla said. "There's so much frustration over years of people not listening to them. It's really powerful how they finally have a way to reach millions of people."
Follow Trisha (@trishatluri) and @CHSCampusNews on Twitter.
About the Contributor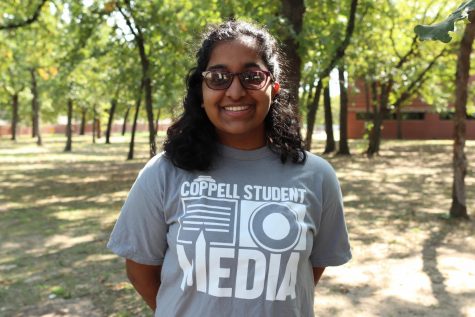 Trisha Atluri, Advertising/Circulation Manager
Trisha is a junior at Coppell High School and the advertising/circulation manager for The Sidekick. She enjoys playing ukulele and discovering new music...