Volunteers conduct mass COVID-19 antibody testing on campus
On May 2, in the midst of rain and 25 mph winds, volunteers spent their day conducting COVID-19 antibody tests at Coppell High School.
The drive-through testing, organized by Metroplex Medical Centres, was for Coppell residents, first responders, health care providers and essential workers. Participants had to pre-register for the event, and 450 slots were available.
Metroplex Medical Centres had previously conducted testing at Plano, Fort Worth and Dallas before coming to Coppell, and patients were given antibody tests that were administered within their car windows.
"I did the first testing in Fort Worth and it moved really slow because we had not done it before," CHS health science teacher and paramedic Gary Beyer said. "At CHS, we had it down to a science where we got people through there really quick."
In order to receive the tests, patients had to wear masks and remain in their car at all times. The testers, who are volunteer paramedics and nurses, pricked the patients' fingers and conducted a blood test.
The blood test checked for the presence of IGM and IGG antibodies, which are proteins the body produces in response to contact with the virus. Patients were texted the test results within 30 minutes, and those who tested positive were asked to go to a clinic for viral testing.
While the antibody testing tests for past contact with the virus, the viral testing tests for current infection. Also called PCR testing, this nasopharyngeal swab test must be sent to a lab for several days. Regardless of whether they currently had COVID-19, those who tested positive for the antibody tests were advised to self-quarantine for 14 days.
Among the paramedics, doctors and nurses present were medical assistants, college students and high school students who were dedicated to making testing more available to the general public.
"It is very important because we are opening up in stages, but I do not think we were ready or are ready," Metroplex Medical Centres physician assistant Sneha Patel said. "Texas is one of the biggest states in America but if you look at the statistics, we have been testing the least amount [per capita] of people. We need to get the word out about how important it is to test people before we go back to work."
Although the volunteers were wearing masks, gloves and face shields, they were still risking their lives to perform this public service.
"I've been a paramedic for 25 years and helping others when they feel helpless is just how I'm wired," Beyer said. "Nobody was paid to be out there, and nobody was forced to be out there. They just wanted to help."
About the Writer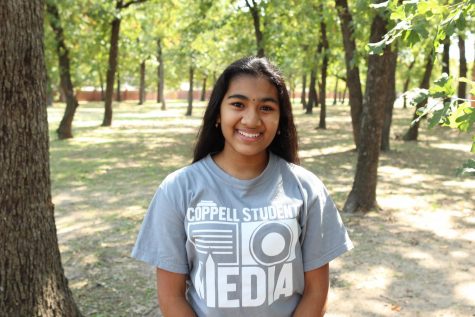 Avani Kashyap, Daily News/Assignment Editor
Avani Kashyap is a senior and the Daily News/Assignment Editor for The Sidekick. She loves animals and you can find her talking about her dog all day....