Senior Teacher of the Issue: Bearden applying experience, artistic beliefs to teaching style
Coppell High School Art I, Honors Art I and Sculpture II teacher David Bearden's repertoire is not limited to paintings and sculptures. Strong artists, productive working environments and valuable life lessons are also important additions. 
With 20 years of experience teaching and creating art, Bearden's love for making art carries over to every aspect of his life. 
"If you could have the standard epitome of an art teacher, he'd be it," CHS senior Penelope Gummelt said. "He's somebody who's very excited to see you expand your level of art and find inspiration and do whatever you believe is right for your artwork. He [is] just very excited to see all of us grow and our skill and our passion."
Bearden's art journey began with his retired grandfather Ken Langford. After starting a painting class in 1978 at the Grayson Community College as a hobby, he became Bearden's first step into the world of art. 
"I remember loving the feel and smell of his art supplies and materials," Bearden said. "He was a major influence in my conscious decision to make art a fundamental part of my life."
Bearden discovered an interest in working with young people during high school at Churchill High School in San Antonio, where he worked with the middle school youth group at the Abiding Presence Lutheran Church in San Antonio. Though he studied some graphic design in college at the University of North Texas, he found himself a better fit for a career in education. 
"My mom [Patty Bearden] is a retired career teacher [from San Antonio], and after a few conversations with her, I decided to bring my love of art and passion for teaching together," Bearden said. "The rest, as they say, is history."
Bearden officially began teaching on Feb. 22, 2000 in Plano, where he taught freshmen and sophomores at Clark High School for 17 years. As his sons, 11-year-old Elijah and 7-year-old Oliver, grew older, he decided to relocate, switching to Coppell High School in June 2017. 
Bearden largely structures his class freely, allowing students the freedom to work independently. Eighties music bounces off the walls as students chatter amongst each other, creating art in a relaxed space. 
"I give my students a lot of freedom to explore, question and experiment," Bearden said. "It might seem ironic or counterintuitive to some, but even in art class, the product is not my focus. I understand my students are human beings with personal baggage just like me, so when one or more of them needs space and time to just breathe and refocus, I encourage it."
The casual energy allows students to express themselves while taking time to themselves in the midst of what may be a stressful or difficult day. 
"I took Art I Honors and as a senior, it was supposed to be a blowoff class," Gummelt said. "But it helped me in so many ways, because just to be able to go into that cool environment and relax and just express myself through art was honestly such a comfort. To be able to talk to my friends while still being able to create something is very special and important to me."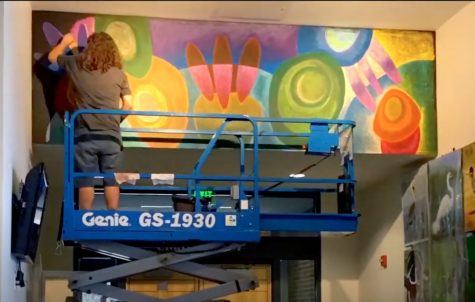 Bearden's perspective and personality impact those he collaborates with, including the rest of the CHS art team.
"It is always an interesting adventure [working with Bearden]," CHS photography, digital arts and media and AP 2-D Design teacher Cameron Tiede said. "He is a funny guy. I can count on him to make me laugh. He always seems to have a different point of view. He is very open to letting kids explore the world through their art and find their voice."
Outside of the classroom, Bearden enjoys numerous hobbies, including building fires in his backyard pit, working on his minibike, reading, listening to music, camping or hiking and shopping at Lowes. His hobbies not only offer him enjoyment and balance, but also give him inspiration for his artwork. 
"Ideas come to us at seemingly random moments," Bearden said. "I've spent many hours staring at glowing fires brainstorming ideas for art. Hobbies ground us. They remind us to seek balance, to find counterweights to our passions."
His experiences in the classroom also shape his family life, as he borrows from his insights working as a teacher to build his personal relationships.
"Working with teens for years has proven to be tremendously beneficial to my parenting," Bearden said. "It makes me a better father to witness first hand how young folks are responding to the world they live in, to be afforded opportunities to ask them questions and develop relationships." 
However, his students also act as a form of family for Bearden. His love for art is apparent in his teaching, as his excitement carries over to his students. 
"[My students] mean the world to me," Bearden said. "I feel very blessed to do what I do. I can't imagine teaching any other content area and I can't imagine working through ideas for art-making without my students. I'm constantly making art, but as a career goes, teaching art is the perfect marriage for me."
Follow Shravya (@shravyamahesh) and @CHSCampusNews on Twitter.
About the Writer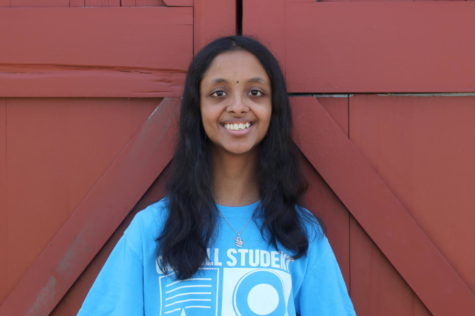 Shravya Mahesh, Entertainment Editor
Shravya Mahesh is a senior and Entertainment Editor for The Sidekick. You can usually find her blasting pop music in her room, snacking on cookies while...