To hook 'em or to gig 'em
Dedication to college traditions diminishes with increased competitiveness in acceptances
After decades of devotion to college tradition in the footsteps of relatives or friends, Coppell students have increased flexibility in which Texas colleges they apply to because of rising competitiveness in acceptance.
The University of Texas at Austin and Texas A&M University are among the most popular colleges for applicants at Coppell High School. Both colleges are similarly sized, yet include different locations, cultures and opportunities.
"A&M and UT are seen as some of the top colleges here in Texas – they used to be rivals," said Leo Swaldi, a CHS senior attending A&M. "Despite the rivalry, people apply to both because they are considered great [in-state] universities."
CHS senior Sonali Chaturvedi was accepted into both schools. Two of her three brothers attended Mays Business School at A&M. Her brother, Sunny Chaturvedi, majored in finance for two years at A&M. Her youngest brother, Shiv Chaturvedi, is a senior in Management Information Systems at A&M. 
"It took me quite a few months to figure it all out," Sonali said. "A&M has more financial aid, but personally I felt that I would be more happy at UT. I feel like UT has better opportunities [and] is very well-recognized when you go into the workforce."
Sonali visited and toured both A&M with Sunny and UT with Nidhi Patel, a freshman at Texas. Finally, she decided to attend McCombs School of Business at UT Austin this fall.
Despite both of her brothers attending A&M, Sonali never felt pressure to do the same.
"I wasn't too stuck to the family tradition of going to A&M," Sonali said. "I have all this A&M gear in my house, but I never felt like it was a thing to stick to. It was best to go with what was important to me."
UT Austin is located in the capital of Texas and is known for its musical festivals and social scene. In contrast, A&M is in College Station, a college town centered around the university. 
"I knew that I would be able to pursue my social life more at UT Austin than I would at A&M because it's in the city and there's always something going on," Sonali said.
The acceptance rate for A&M in 2018, at 70.5%, is significantly higher than that of UT Austin, at 36.5%. At UT, automatic admission, in which students who meet the top 6% requirements for class rank are guaranteed acceptance, is a large portion of the accepted freshman class. Outside of the top 6%, the admissions rate to UT for Texas residents was 19.5% in 2018. Cole Krautkramer is ranked No. 9 at CHS and received automatic admission to both UT and A&M, but chose to attend UT this fall. 
"With the academic climate because of auto admission in Texas, I feel that a lot of [students] strictly apply to A&M or both, with a focus on UT," Krautkramer said. 
Overall, students are applying to more schools. CHS KCBY-TV advisor Irma Kennedy graduated from UT Austin in 1987.
"Now, it seems kids want to get into one of the top schools and they are willing to apply to a backup just in case the first choice doesn't accept them," Kennedy said. "Back in the day, you were a die-hard commit to a particular school and there was no need for a back up."
Swaldi has two older sisters who graduated from UT Austin: CHS 2012 graduate Holly (College of Natural Sciences) and CHS 2013 graduate Rachael (McCombs School of Business). 
However, Leo is attending Mays Business School at A&M this fall. 
He was raised with A&M knick-knacks and football games because of the school being his parents' and grandparents' alma mater. Both of Leo's grandparents lived in College Station and he frequently visited the area throughout his childhood.
Leo recognizes the differences in each schools' atmosphere. He noticed competitiveness and social opportunities in Austin such as the Deep End (Austin Film Society), Sixth Street, concerts, hikes and bike rides. 
At A&M, he noted a safe environment and positive social interaction. 
"The very first time I went to A&M I felt so accepted," Leo said. "For my whole decision process, one of the biggest things I kept in mind was: it's not the place you go, but the people you go with. I think that's what makes A&M so special – the people."
Follow Victoria (@veh37936) and @CHSCampusNews on Twitter.
About the Contributor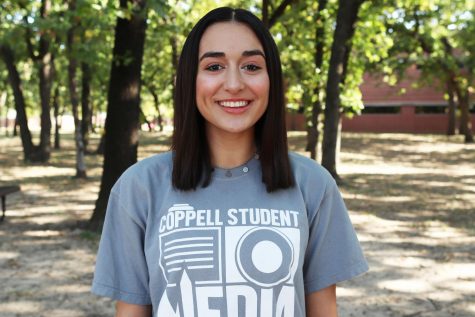 Victoria Hertel, Student Life Editor
Victoria is a senior and the Student Life Editor on The Sidekick. Outside of school, she dances ballet at the Ballet Academy of Texas. She enjoys running,...