Herron drives basketball career to collegiate level with UD commitment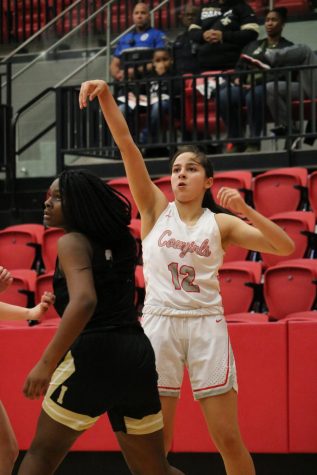 The buzz of the clock at the end of the fourth quarter ended her senior high school season but following her commitment to the University of Dallas, it will not be the last time Coppell senior guard Anika Herron hears the sound. 
On April 8, the Coppell girls basketball team announced on its Twitter account @CowgirlsBball that Herron would be continuing her basketball career at UD. 
"I feel really good about committing," Herron said. "It's a good feeling being able to continue playing basketball at the next level."
The decision to continue playing basketball into college came from an extensive history of experience stemming from watching her brother 2018 CHS graduate Nathan Herron play and encouragement from her dad Timothy Herron.
Herron began playing in kindergarten while she attended Town Center Elemententary, decided to play volleyball from sixth grade at Coppell Middle School North through freshman year and ultimately found her way back to where she felt most herself: playing basketball. 
Although Herron considered Manhattanville College, Austin College and Schreiner University, she ultimately decided to attend UD because of a gut feeling of belonging there and the abundance of academics offered at the campus. 
"I chose to attend UD because they have great academics and they really made me feel welcomed and part of the team," Herron said. "I did look at [other] colleges but when it came down to it, I couldn't see myself playing there and being happy." 
Herron has been part of the varsity team for the past three years after competing on the JV team freshman year. 
Although playing basketball has proved to have highs and lows for Herron, she pushed past self doubt and negative mindsets to push herself to become a better player. Translating this into her team, she has supported and encouraged the other girls on the team to do the same and push past any tough times. 
"She wanted improvement for both herself and her teammates, and was always pushing to be better," Coppell junior varsity team manager Harmony Charles said. "I am confident she will continue to do so in her years at UD." 
This spirit Herron brought to the team lifted up those around her and contributed to the overall attitude of the team. This inclination towards teamwork impacted the girls on her current team and will be her mindset for her future collegiate team.   
"She brought a certain zen and happiness to the team," Coppell sophomore power forward India Howard said. "Everytime she entered the room she said, 'Hey guys,' and waved. Everytime, no matter the mood. It was her thing and we all loved it." 
With her time at UD quickly approaching, Herron is focusing on becoming a better player and individual so that she can approach next season with a strong physical and mental disposition. 
"I knew I didn't want to stop playing basketball and I really couldn't picture myself not playing after high school because I've been playing for so long and I love the sport," Herron said. "My goals are to learn as much as I can and become the best person I can be so I can be successful during and after college."
Follow Jillian (@jillianmoore_) and @SidekickSports on Twitter.