V is for vegan
The rise of vegan/vegetarian friendly dishes in restaurants
It is the little asterisk, the green leaf, the "v," the check mark to look for. It is a symbol of inclusivity, a respite from the alienation faced when going out. It is what plant-based eaters/vegans and vegetarians look for with hope that suitable options exist when eating in a restaurant.
Veganism refers to a diet and lifestyle that excludes all animal products and byproducts, such as dairy, poultry, honey and more. A plant-based diet focuses on primarily plant-sourced food but might include a small portion of animal-based foods. However, restaurants often interchangeably use the terms.  On the other hand, vegetarianism refers to a diet that excludes poultry but includes dairy and egg products.
Some menus have dedicated sections for vegetarian, while others take it a step further by being fully vegan/plant-based and vegetarian restaurants.
The rise of more vegan/plant-based/vegetarian options is not just a coincidence. 
Though vegan/plant-based/vegetarian stigmatization and stereotypes still persist, veganism/plant-based eating has grown significantly in recent years. As of 2017, there was a 600% increase in the number of vegans since 2004. 
"[Spiral Diner] definitely noticed a lot more diversity over the years," said Amy McNutt, founder of the all-vegan restaurant chain Spiral Diner. "We definitely have seen an increase in the African American community. We look around the dining room and we see a very diverse crowd between ethnicity, age range and gender."
Part of this rise can be attributed to social media. Since millenials are the leading group of plant-based eaters and the biggest users of social media, the popularity of veganism or plant-based diets on social media has increased. 
In fact, Google searches for "veganism" and "vegetarianism" have been on the rise and searches for them comprise 46% of searches compared to 54% of searches for "meat" in the Dallas-Fort Worth area. 
"[Social media] 100% influences [younger generations to lead a more plant-based lifestyle]," said Coppell High School senior Chloe Barker, who is a vegetarian transitioning into a vegan. "I learned what I learned from social media. I only started [becoming a vegan/vegetarian] because I started seeing videos on my feed about what happens in a slaughterhouse. [I asked myself], 'how can I be a part of this?'"
Documentaries such as Cowspiracy, Forks over Knives and The Game Changers all highlight the benefits of going vegan/plant-based and some expose the meat industry, revealing shocking revelations to viewers.
"I started to become vegetarian because I used to watch a lot of videos about what happens to animals," Barker said. "I watched movies and documentaries like Forks over Knives. I wouldn't [change] anything about [how I ate] at first. I hated seeing [what happened to the animals]. I started to research more and then I became a vegetarian." 
Environmental concern is also a major factor when considering a plant-based, vegan or vegetarian lifestyle. Research has found that an individual's carbon footprint can be reduced by up to 73% depending on geographic location. Additionally, high impact beef producers use approximately 370 square meters and produce approximately 150kg of CO2 equivalents for 100 grams of protein. On the other hand, low impact plant-based proteins, such as beans and peas, require 1 square meter and produce 0.3 kg of CO2 equivalents per 100 grams of protein.   
CO2, also known as carbon dioxide, is a type of greenhouse gas. Greenhouse gasses prevent the reflection of infrared radiation back into space which traps heat and gradually warms Earth. 
Despite the 1.62 degrees Fahrenheit rise in Earth's temperature since the late 19th century, the planet has been heating up 10 times faster than ice age reheating levels. Additionally, it is more than 95% likely this dramatic increase in heating levels is partially due to human-related activities, including agriculture.
This big boom in the number of plant-based/vegetarian/vegan eaters catches the attention of not only those scrolling through social media but restaurants too.
Initially, vegan/plant-based and vegetarian options were only possible at some restaurants by substitution or omission of already existing meals. Soon, these options were part of a secret menu found through online sources and YouTube videos. Eventually, some of these items became part of the menu, publicly available for all.  
But even for those who are not vegans/plant-based eaters, the curiosity of eating vegan/plant-based meals persists for some. These individuals who mostly eat vegan/plant-based or vegetarian meals, also known as flexitarians, contribute to the rise of increased options in restaurants.
"People are sometimes wandering around and they walk in to [Spiral Diner] and don't realize that it's all vegan," McNutt said. "They come in and are usually skeptical. The [nachos] usually win them over." 
Now, finding vegan/plant-based and vegetarian options is not as hard anymore. 
"I love Little Greek [in Coppell]. They have delicious falafels," Barker said. "Chipotle has sofritas. Taco Cabana [in Lewisville] has really good Beyond Meat tacos. [Being plant-based] really doesn't hinder your social life. You can go out with friends and not have to eat meat. I don't feel like there are that many obstacles." 
But what does this mean for restaurants?
For some, it means incurring higher costs in hopes of making a return. 

Increasingly popular vegan/plant-based burgers such as the Impossible Burger and Beyond Burger often cost more than their beef counterparts, adding increased burdens for restaurants who chose to carry such products. 
In fact, as of December, the average price of ground beef was about $3.86 per pound whereas the Impossible ground plant-based meat cost about $12 a pound, almost four times the price of ground beef. 
"The Beyond Burger is really delicious," McNutt said. "The more restaurants that start to buy it, the cheaper it gets. Beyond Meat's goal is that eventually their products will eventually be the same price [or cheaper] than beef." 
Though over time prices might decline for plant-based patty alternatives, this stark difference is one of the main deterrents of plant-based "meat" options. 
"Over time, the [price of vegan/plant-based and vegetarian alternatives] will go down as they become more available," Black Walnut Cafe food and beverage director Cisco Marquez said. "As there are more options available and as consumers drive those markets, the price would and should go down." 
But hesitation about selling vegan/plant-based food also exists.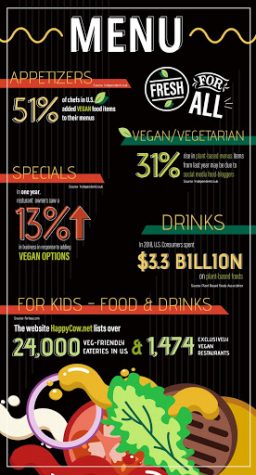 "[Spiral Diner] didn't know for sure [if there was going to be a market]," McNutt said. "There were no other vegan restaurants to show [an all-vegan restaurant] could work." 
Hesitance about going vegan or plant-based goes far beyond stigma from peers but includes concerns about proper nutrition, cost, familiarity, convenience and taste. 
"It is the right thing to do to be hesitant when [meat alternatives] come into the market," Marquez said. "It's important to know that with anything new there are going to be pros and cons. As time goes, we will know the effects of [meat alternatives], whether it's to your health or environment." 
Hesitation can perpetuate the "it is not a meal if there is no meat" mindset. This means decreased demand and subsequently decreased sales for restaurants offering such options.
Armed with this knowledge, restaurants still choose to offer vegan/plant-based food. Why?
"With all the different diets that are out there, more people are understanding how everything is good for you in moderation," Marquez said. "[People are] understanding some people just don't eat meat."
At the forefront of this decision to offer more options is inclusivity. Having more vegan/plant-based options available can contribute to a balance between carnivorous and plant-based options in a restaurant. 
"In general, guests are very happy there is a [vegan/vegetarian] option," Marquez said. "As we get more creative and understand what guests are looking for, we are able to create things like our vegan tacos. Our guests don't really think about it as 'I am eating an alternative' as opposed to 'man, I am eating these really great tacos.' They forget about the fact it is beef, chicken, fish or plant-based."
Overall, increased options lend themselves to  a broader consumer demographic. A broader demographic can result in more customers and more revenue.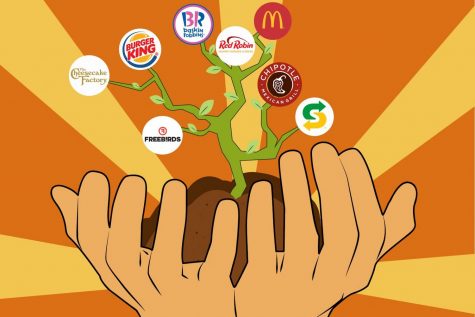 Del Taco's Beyond Taco may even be one of the most lucrative new menu launches not only by increasing revenues but also by sparking dialogue about the menu item and increasing traffic. 
Though some vegan/plant-based alternatives (such as the Impossible burger) may not be the epitome of health, vegan/plant-based diets have been shown to reduce the risk of cancer and contribute to bone and heart health. Since vegan/plant-based diets are devoid of animal fats, they also have a lower risk of contracting conditions such as diabetes, heart disease and hypertension. However, extra consideration of essential vitamins and minerals such as zinc and B12 might need to be implemented due to the lack of animal products. 
But vegan/plant-based food is not just for vegans/plant-based eaters. Carnivores, flexitarians and vegetarians can still enjoy vegan/plant-based food. Having more options contributed to a 13% rise of profits in restaurants in 2018. More than 90% of consumers who purchased Beyond Meat consume animal meat as well.
Though we may not see a big boom in fully vegan/plant-based restaurants, there is a definite possibility of seeing more restaurants incorporate plant-based options.
"For sure [I see more vegan/plant-based options in the DFW area]," McNutt said. "You can go into almost any [restaurant] these days and they have things labeled what's vegan and what's not vegan." 
Even in Coppell, many vegan/plant-based options exist in restaurants such as Zoe's Kitchen, JC's Burgers, Black Walnut Cafe, Chipotle, Little Greek, Salata, Tommy Tamale and more. 
Accompanying this increase is a changing culture towards a plant-based lifestyle.
"I could find a vegan option almost anywhere I go," Barker said. "People are interested in [veganism/plant-based eating and vegetarianism]. A lot of people who aren't even vegan or vegetarian are trying new options and loving it. The more people who are vegan or vegetarian, the more restaurants will listen." 
Follow Shreya (@BeldonaShreya) and @CHSCampusNews on Twitter.