Friendly face in nurse's clinic
Dorn keeps large campus healthy and happy
Tracy Tran, Staff Writer/Photographer
April 3, 2020
In a small corner near the Coppell High School Attendance Office, a heroine works hard everyday, making sure to keep the safety of more than 2,800 students and 300 staff members. 
Each time the clinic's door opens, it could be a student who needs mental support. It could also be a student with illness, or a student who has his finger stuck in the water bottle. 
Cooperating with other nurses and special education teachers, the life of CHS nurse Beth Dorn in the clinic is unpredictable and chaotic.
"The type of work I do as the high school nurse can and does change on a daily basis," Dorn said. "I am there to meet the physical and social emotional health needs of the students at the high school. You truly never know what you are going to encounter on any given day. There are emergencies, illnesses, injuries and social emotional issues, as well as daily medications, ensuring all immunizations are up to date, care plans and making sure that the clinic runs smoothly with adequate supplies and equipment."
Coming to the CHS clinic with no school nursing experience, Dorn experienced the challenges in dealing with various cases daily.
"I was amazed at the number of students we saw every day and the variety of reasons," Dorn said. "The reasons could be a hangnail, a finger stuck in a water bottle, a nose bleed, a splinter or someone fainting in the hallway and the list goes on. I was also surprised by some of the complexities of some of the medical problems that we saw. Thinking on your feet and multitasking are two really good skills to have when working in the clinic."
Through time, with the support from other nurses in the clinic and self taught, Dorn has gained expectations, being able to help students at CHS.
Former CHS clinic aide Lee Perryman worked with Dorn for 11 years.
"I have always liked and cared about her. When you work in such close proximity in the clinic, you learn so much about each other," Perryman said. "She is an excellent nurse and is such a gift to the students and staff at CHS. In the clinic, you never know what will happen next and you have to be ready for any kind of emergency at any time. 
"Students as well as staff have so many issues that require knowledge as well as a sympathetic heart. Nurse Dorn treats each individual with utmost respect and kindness. Those are the most important qualities needed to excel as the nurse in such a big school. She never prejudges anyone who comes for help."
Dorn learned her bedside manner from her mother, who recently died. Her mother worked as a substitute school nurse into her 70s after retiring.
"She taught me compassion, hard work, perseverance and to have a positive attitude among many other things," Dorn said. "She was my role model. She was the first college graduate in her family. Her integrity, compassion for others and strong will to succeed inspired me. She always went the extra mile for people. She went out of her way when someone was in need."
Besides taking care of injured students, Dorn also supports the special education students by training the clinic staff members and working with the special education teachers.
"It was the first day of school about nine years ago, and we had two medical emergencies in my classroom within just a few minutes of each other," CHS special education active learning teacher Eileen Higgins said. "Watching her take care of the learners and knowing they were in such good hands, helped me to also stay calm, so that I could call the learners' parents and be reassuring."
During this COVID-19 pandemic, Coppell ISD campus nurses meet virtually via Zoom to learn about the virus and keep health plans updated. Dorn advises people to follow the guidelines from the public health authorities to control the spread of the virus.
"We are making sure all immunizations are up to date and looking at what immunizations are required for the students for the upcoming school year and sending out emails as needed to parents, Dorn said. "Also working with our community resources to make sure that students who need food are getting it."
Follow Tracy (@AnhImTracy) and @CHSCampusNews on Twitter.
About the Contributor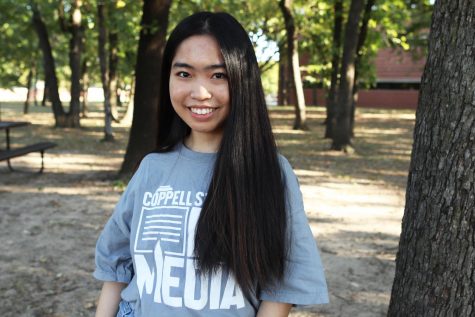 Tracy Tran, Photo Assignment Editor
Tracy is a junior and photo assignment editor for The Sidekick. She loves to spend quality time with friends, try new foods and volunteer. You can contact...