Lauv's ~how i'm feeling~ relates to generation's feelings of "modern loneliness"
"Modern Loneliness", the closing song on Lauv's debut album  ~how i'm feeling~  could instead be a name for the entire album, if he wanted to be a little more specific. 
Although not every song fits under this umbrella, the majority deal with themes of this generation's loneliness and/or yearning for the past. Both feelings are ones I relate to, and I enjoy about half the songs, but at 106 minutes and 21 tracks long, the album as a whole drags on, feeling like a book series meant to be a stand-alone. Since its release on March 6, I have only repeatedly listened to about ⅓ of the songs. Lauv's repetitive feelings are drilled into our heads so forcefully that by the end, we're a little tired of them, even if we understand him on every level. 
Still, a few of the songs following these shared themes are unique enough to stand out from the rest, including "Invisible Things" with its cinematic lyrics, the catchy "Drugs & The Internet", the aforementioned "Modern Loneliness" with its specific relatability and "Who (ft. BTS)" with its dreamy, echoing vocals. 
"Billy", "El tejano (ft. Sofia Reyes)" and perhaps "Canada (ft. Alessia Cara)" are the only upbeat songs that contrast the album's main themes; unfortunately, these are also some of the weakest songs, offering neither particularly profound thoughts nor a particularly catchy tune. In a way, they feel out of place, especially "El tejano", which is jarringly lighthearted and fluffy compared to the other songs. It breaks the album's cohesiveness and begs the question, how did that song earn a place here? It should have been a standalone single. 
Despite the aforementioned negatives, throughout the album, Lauv intertwines lyrics that are relatable I look forward to them every time I listen. Relatability is its greatest strength. 
"Yeah, we built castles out of couches / felt fire without matches / made promises without fear of getting burned / now, we're always second-guessing," he sings in "Invisible Things", which is hands down my favorite track. The words utilize vivid, wistful imagery to pull you back into your childhood, when you were carefree and unapologetically passionate. Although I still consider myself to be passionate, it is not the same as when I was a child, and Lauv understands that. 
"…we're never alone / but always depressed, yeah / love my friends to death / but I never call and I never text, yeah," he expresses in "Modern Loneliness". Constant contradictions through the word "but" emphasize this generation's complex struggle with feeling alone and withdrawn, despite the seemingly endless ways to stay connected to others. 
Overall, "~how I'm feeling~" is a good story. It is simply not concise enough. The album is a step up from Lauv's playlist "I met you when I was 18", digging deeper and conveying important social commentary, but Lauv has a long way to go before reaching his full potential. 
Follow Pramika )@pramika_kadari) and @CHSCampusNews on Twitter 
About the Writer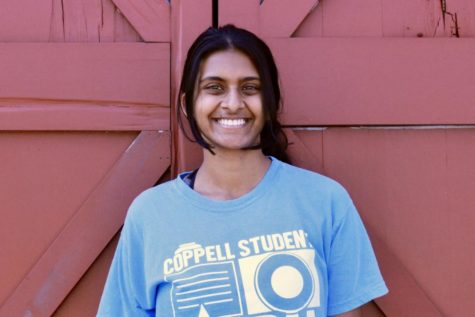 Pramika Kadari, Executive News and Enterprise Editor
Pramika Kadari is a senior and the Executive News/Enterprise Editor on The Sidekick. In her free time, she enjoys reading, writing, watching movies and...