Cowgirls leave Irving scoreless in blowout
The match was decided in 37 seconds. 
Coppell junior midfielder Maya Ozymy broke away from Irving defenders and took on Irving goalkeeper Day Limon one-on-one to score with 39:23 in the first half with an assist credited to Coppell junior defender Addison Martin. 
Under heavy Coppell attack for the rest of the match, Irving was unable to keep up with the pace and was kept scoreless by the end.  Last night, Coppell defeated the Tigers, 10-0, at Buddy Echols Field. 
"It was good, [the first goal] was within the first minute and that was a goal for us: to score in the first five minutes," Ozymy said. "I was focused on putting it in the back of the net because our goal tonight was to finish our chances [to score]."
Ozymy aided in the second goal, giving the assist to Coppell junior forward Jojo Alonzo who scored just over 10 minutes after the first goal. Within two minutes, Alonzo found the back of the net again with an assist from Coppell junior defender Chloe Phan. At just over 24 minutes left in the half, Coppell sophomore forward Michelle Pak scores off a long shot with an assist by Coppell junior midfielder Ellie Stewart. Pak scored again four minutes later a shot by Alonzo ricocheted off the side of the goal. 
Coppell sophomore midfielder Claire Yaney took the sixth goal of the night with 17 minutes left, followed by a near-halftime goal from Coppell sophomore forward Grace Turman with an assist from Martin. 
Throughout the first half, Coppell remained the dominant offensive force, holding the ball in Irving territory a majority of the time. Though after conceding five goals Irving began an offensive push, the Cowgirls' defense, led by Coppell junior goalkeeper Zoe Goodale, shut out the Tigers. Ending the first half, Coppell was up, 7-0.
The remaining three goals came from Coppell senior forward Clara Centeno off an assist by Coppell senior forward Alyssa Roemer, Turman with an assist by Coppell midfielder Allison Scrivner and Scrivner with an assist by Turman. The Cowgirls ended the night with 10 goals, the most goals scored in one match for the team this season.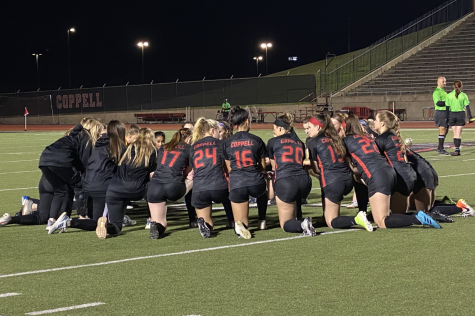 The match provided an opportunity for the starting players to rest, as a majority of them were substituted out in the first half, as well as an opportunity for the lesser experienced varsity members to gain some playing time. 
"It's super important for all the players who got to rest tonight because we have a big game coming up on Monday against Flower Mound, who's seeded No. 1 right now in our district," Ozymy said. "The rest is really important, I know everyone's legs are tired and working through injury." 
Coppell (8-3-1) is still third in District 6-6A standings, behind Flower Mound (10-0-2) and Flower Mound Marcus (9-2-1), who played each other last night and came to a 0-0 draw. Hebron stands fourth with a 7-3-2 record.  
"We're still in complete control of being able to finish in third if we want to," Coppell coach Ryan Dunlevy said. "It just kind of depends on Monday and then when we get back from spring break, that last match [against Irving Nimitz]." 
The Cowgirls travel to Flower Mound on Monday to face the Jaguars at 7:30 p.m.
Follow Sally (@sparampottil) and @SidekickSports on Twitter.